iPhone Game That Allows Kids to Perform Plastic Surgery on "Barbie" Pulled
Plastic Surgery Barbara gets cut out of mobile stores.
iTunes and the Google Play store have removed a mobile game that allowed players to perform plastic surgery on "Barbie."
The game was known as "Plastic Surgery for Barbara" and "Plastic Surgery & Plastic Doctor & Plastic Hospital Office for Barbie Version." Though the game was not officially sanctioned by Mattel, it featured an overweight likeness of the blonde doll (in some forms of the app she was referred to as "Barbara"), and players were instructed to perform plastic surgery on her to make her "slim and beautiful."
Players would inject the woman, use a scalpel to create incisions, perform liposuction and then stitch back up the wound.
The official description of the game read:
The unfortunate girl has so much extra weight that no diet can help her. In our clinic she can go through a surgery called liposuction that will make her slim and beautiful. We'll need to make small cuts on problem areas and suck out the extra fat. Will you operate on her, doctor?
After you complete the surgery, you take apart the dolls bandages so that you can see her scarred face, and then you can dress up your "Barbie" in cute clothes. The game even has a "Before and After" section so you can compare the two versions.
The game was pulled after complaints, specifically those from Twitter account @EverydaySexism.
Tweet @itunes if you think they should reconsider marketing this crap to players aged 9+ #EverydaySexism pic.twitter.com/8zo6b6uCM1

— EverydaySexism (@EverydaySexism) January 14, 2014
Mattel has released official word denouncing the game and stating that they have no involvement with its creator, known on both app stores as Corina Rodriguez:
At Mattel, we take our commitment to children seriously and work hard to ensure there are no unauthorized uses of our brands that may be unsafe or inappropriate to children.
There doesn't seem to be much information on the creator Corina Rodriquez, except that she has created several other games available in app stores, including "Beauty Nurse Makeover," "Hair Salon for Justin Version," "Santa Eye Doctor," and "Barbie Dentist."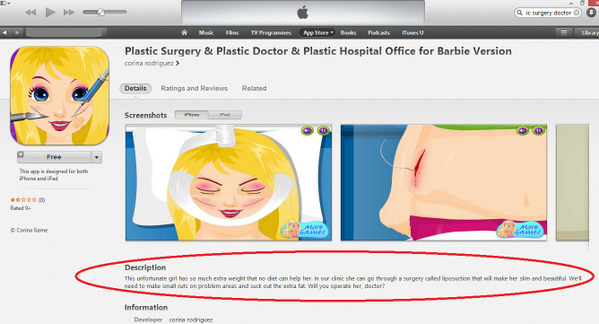 The above picture, broadcast with the initial tweet from @EverydaySexism shows that the game was reviewed only eight times, so it seems unlikely that it had a huge following on either store.
There has been no official word from Google, iTunes, or Corina Rodriguez in regards to the removal of the app from their marketplaces.
Published Jan. 23rd 2014