Marvel's Deadpool Gets His Own Game; Lord Help Us All
The Merc with a Mouth gets turned loose on your X-Box 360 and PS3 - June 25th.
Marvel Comic's violently wise-cracking, loud-mouth, psychotic anti-hero who often talked directly to his readers is about to start talking to you as part of this own edgy, out-of-control and darkly funny as Hell video game from Activision and High Noon Studios.
Some of Marvel's big names will join Wade Wilson in his brutal adventures. Names like Cable, Domino, Psylocke, Mister Sinister, Vertigo, and many more will be fighting side-by-side or toe-to-toe with Deadpool.
Mature Audiences Only? Define Mature.
Be WARNED!
This NOT a kid's game. Bad language. Graphic violence. General insanity.
But, this is a full on action game. Fight villains, annoy allies and cause mayhem on a grand scale with flashing katanas, an arsenal of firearms and explosives and DP's wicked charisma.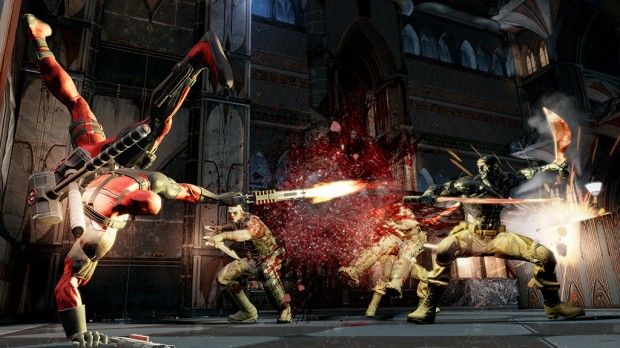 The graphics look great. There is a lot of detail in the gameplay animation and very creative movements and styles of combat for Deadpool to pull off various attacks.
Wade's potty mouthed sense of humor is in full force as well; from countless wisecracks in combat to off-the-wall cut scenes, this game will have you giggling. I admit I'm guilty of snickering while listening to the banter, just from the gameplay videos with all his snarky comments. I felt like a kid listening to their Dad's Richard Pryor album in the basement.
Too Dumb or Too Smart?
Deadpool definitely has his place in the Marvel Universe. Whether it's the cutting edge, self-mockery of comics or the breaking of the fourth wall, The Merc with a Mouth confronts a lot of what is stereotyped in comic books by amp'ing up those elements and reveling in them all with a knowing wink.
So, you've been put on notice gang. Don't come back to the Amazon saying you didn't know what you were getting into. Just like that old Richard Pryor album, this game may end up tucked in many a drawer until the little ones are safely in bed.
Can't wait until June 25th? Take a peek now at some Deadpool madness at http://www.deadpoolgame.com
Published Jun. 14th 2013