Moral Quandaries in the Prison Architect Alpha
Several shades darker than your average tycoon game
While writing a recent article on some of gaming's strangest simulations, we stumbled across Prison Architect, a management sim from British developer Introversion Software. While it didn't make our list, the premise intrigued us. Most sims of this nature charge players with constructing entertainment venues, like theme parks, arcades, or nightclubs, and even those games with a slightly more sinister take on the genre (like the Tropico series) mask their darker side under a sunny, playful veneer.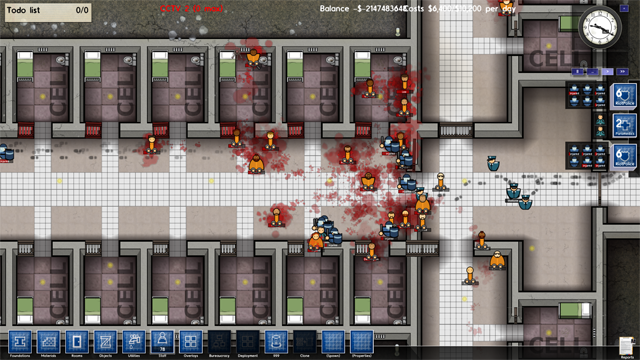 Management Sim or Thought Experiment?
Prison Architect puts its darkness on front street. The most insidious thing about Prison Architect is how easy it is to get lost in the management aspects of the simulation (constructing buildings, running utilities like power and water, managing prisoner moods) and lose sight of the broader context of what you're doing. Then, suddenly, the game will give you a stark reminder of exactly what you're building, like tasking you with constructing an execution chamber.
Oh, that's right. This isn't a luxury resort. I'm not catering to fat-cat tourists and pleasure seekers. These are convicted criminals, some of whom the state has marked for death.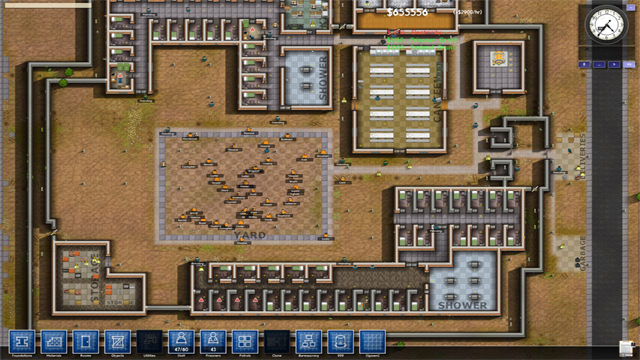 The Game
It's because the game is so engrossing that it's easy to lose track of that troubling fact. It's good that the game gives you the option to pause or speed up time, because there are times both when everything is happening too fast and you need to catch your breath, and other times when things are under construction and your direct intervention isn't required. As the game proceeds, and prisoners continue to be delivered by the busload, you'll find yourself more often in the former situation than the latter.
You'll be marking out spaces for offices, holding cells, storage space, cell blocks, and a large number of other buildings essential to operating a penitentiary. You'll also need to hire workers to construct all of these buildings, staff to operate them, and guards to keep a wary eye on your inmates. To ensure you continue operating in the black, you'll fulfill government contracts and move through a (for now) fairly rudimentary tech tree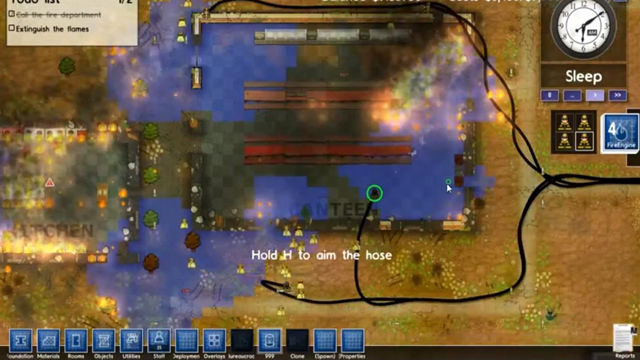 The Dilemma
We spent a lot of our time with Prison Architect contemplating why constructing a prison and executing prisoners disturbed us more than, say, gunning down waves of enemies in any of the dozens of shooters we've played. While we didn't come to any definitive conclusions, we did formulate some theories.
For one, the prisoners we're charged with holding or executing are (ideally at least) helpless. They're not armed enemies actively trying to kill you, destroy your home, or enslave humanity. Each prisoner has some biographical information and a unique appearance, which contributes to the sense that they're not just faceless cogs. Getting acclimated to the idea of satisfying their basic needs and keeping them happy makes the idea that you'd be asked to execute one of them very jarring. It's a bizarre shift going from thinking of them as "clientele" to thinking of them as enemies of the social order that need to be eliminated. There's something reminiscent of cattle in a slaughterhouse about striving to keep your charges docile while you're preparing to put some of them to death.
Another element of our discomfort is that Prison Architect casts you in the role of The Man. Your goal is to subjugate and oppress the men who are your wards. Your entire task is the elimination of their freedom, to make absolutely certain they can't reclaim that freedom, to the point that you may even be required to take their lives. And all of your work is in service of the all-mighty dollar, the cold hard cash you need to make your facility larger and more efficient. It's not a recipe that leads to a lot of heroic sentiment.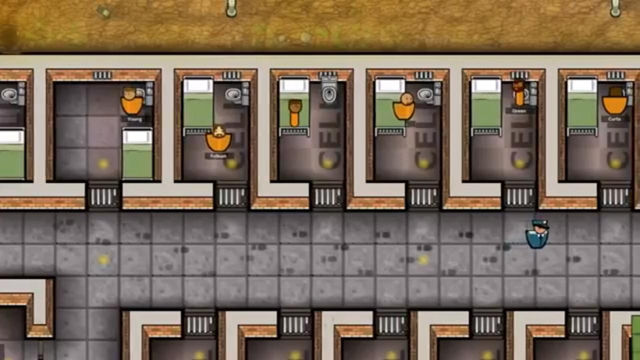 Under Construction
Don't get us wrong, Prison Architect is a remarkably fun game, especially given that it's still in an alpha state. A lot of the moral heaviness and atmosphere is relieved by the art style, which, as you can see in these screenshots, is fairly cutesy. But the thing about it that's most interesting, the thing that feels almost subversive, is how that art style contrasts with the central theme of oppression and imprisonment.
If you haven't checked it out, $30 on Steam gets you access to the alpha and the full game when it's released. If you like the idea of a game that provokes some interesting thoughts and discussions, we highly recommend it.
Published May. 17th 2013