The Great Migration: European Pro Gamers Head to the North American LCS
European players make their way to the states to compete in the League of Legends Championship Series.
With the European League of Legends Championship Series underway, I got to thinking about all of the European players that will be making their debut in the North American LCS this week.
In total, 5 new players join the competition North America, scattered across three different teams. Don't worry if you're not familiar with some of the foreign players; here's a rundown on what you need to know for each player.
Marcel 'Dexter1' Feldkamp - Jungler for Counter Logic Gaming
Søren 'Bjergsen' Bjerg - Mid Laner for Team SoloMid
Stephen 'Snoopeh' Ellis - Jungler for Evil Geniuses
Peter 'Yellowpete' Wüppen - AD Carry for Evil Geniuses
Mitch 'Krepo' Voorspoels - Support for Evil Geniuses
Dexter
First off, let's take a look at Dexter. You may recognize this talented jungler as the terrifying Jarvan player behind Lemondogs. Leading the team to a 2nd place finish in the summer playoffs and a shot at the world championships, Dexter and Lemondogs performed expertly, but ultimately fell to roster changes in the preseason.
Before and after the dispersion of the former Lemondogs roster, rumors spread that he might be trying out for the open jungling position on Counter Logic Gaming. These rumors were confirmed when Feldkamp posted on Facebook about the situation.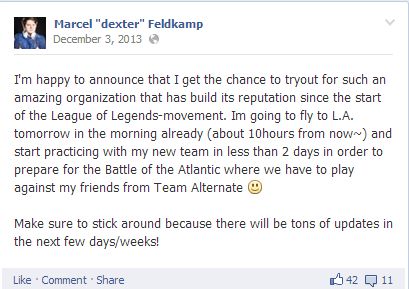 It's no doubt that he'll be a great addition to the CLG roster, though there have been hiccups along the way. Due to a slew of visa issues leading to his deportation, Dexter will not be able to join his team and compete in the opening week of LCS.
At first there were worries that he wouldn't return at all, though current head coach of CLG, George 'HotshotGG' Georgallidis, confirmed in an interview with onGamers that Dexter would indeed be back in the States to compete in week 2. While we won't be able to see the new Counter Logic Gaming in full swing just yet, we eagerly await Dexter's return, and the LCS matches that follow.
Bjergsen
If you're a TSM fan, chances are you're already a fan of BjergerKing, aka Søren 'Bjergsen' Bjerg. The world already knew Bjergsen from his performance with European teams Copenhagen Wolves and Ninjas in Pyjamas in the last season of LCS, but his decision to join Team SoloMid in North America skyrocketed the young mid-laner's popularity. The way Bjergsen has taken to TSM and the growth of his fanbase not only bode well for the team, but for the SoloMid organization as a whole.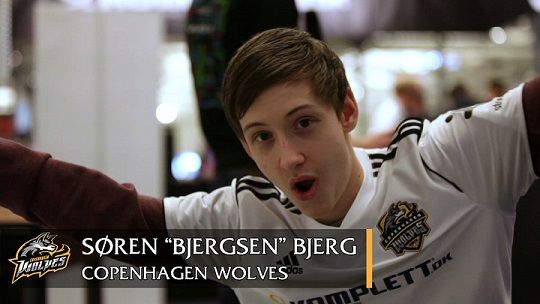 Bjergsen may offer a shiny bit of EU flash, but he also provides an explosive mid lane for TSM. Known for his high level of mechanical play, he can be dangerous on champions such as Syndra, which we're sure to see in upcoming games. Bjergsen may just be the X-Factor that TSM needs to deliver their best LCS performance yet.
The Evil Geniuses (Snoopeh, Yellowpete, Krepo)
Regarded as one of the best teams in the world, the original Evil Geniuses roster won many games against a host of formidable opponents in Season 2. After a lackluster performance in the previous season of the LCS, EG ultimately failed to qualify for world championships, decided that something needed to change, and the team was split into two.
Evil Geniuses, the original team, would be comprised of Snoopeh, Yellowpete, and Krepo; while mid laner Hendrik 'Froggen' Hansen and top laner Mike 'Wickd' Petersen would leave to form their own European 'Superteam.' The EG roster would then come to the United States to compete for their own spot in the North American LCS.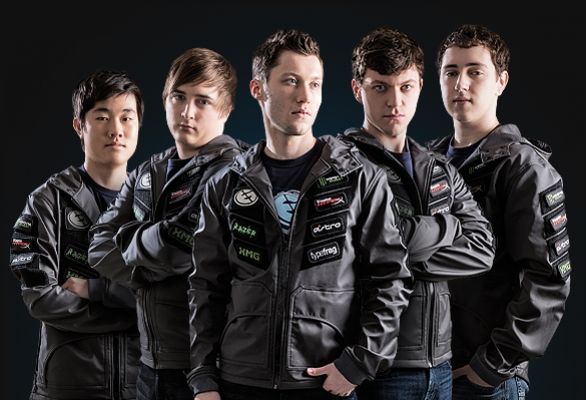 After moving to the United States, Evil Geniuses still needed to find a top and mid laner to fill the roster. With the acquisition of Eugene 'Pobelter' Park and Tyson 'InnoX' Kapler, EG was able to sweep their competitor, Determined Gaming, in a 3-0 victory that would secure their position in the upcoming LCS season. The roster is new, but dare I say improved? We'll have to see how Evil Geniuses fares against their new North American opponents before making any judgement calls.
The LCS begins soon, and at the end of the day, a game is a game. Regardless of region, these players know what it takes to compete at the highest competitive level, and will assuredly bring their A-Game. Now that you're officially up to speed on the new rosters, all that's left is to tune into the North American LCS, and cheer for your favorite new foreigner!
Published Jan. 15th 2014