Passion versus Skillset
The best methods to get into te gaming industry.
PAX East attendees gathered in the Sphinx theater this morning to hear several representatives speak about the best methods to get your name in the gaming industry.
Present was:
John Lindemuth, with Warner Bros. and Turbine
Holden Link with Magic Pixel Games
Cory Johnson with Zynga
Elliot Mitchell with VT Digital Arts
Ichiro Lambe with Debojaan Games
Benjamin Callavari with Academic Relations Consulting
Caroline Murphy with Boston Indies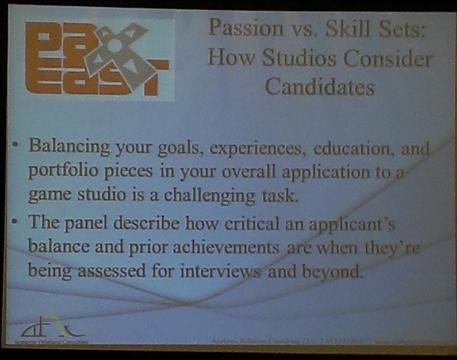 Be Passionate
How do you define passion? Lambe strongly expressed that the people he wanted to work with never slept--they only create.
"Basically you make games, and you can't stop yourself from making games."
Murphy suggests knowing where passion ends and fandom begins. Fandom does not always work in your favor, and developers know the difference. "Passion bombs" are lines of fandom on a cover letter that may hurt you in the long run. You need to present your skill set first, and save your passion for the interview. On paper, a hiring manager needs to be able to pick out your skill set and not just see the passion you have for gaming or a specific series.
Do something different with your cover letter
50,000 people will be sending in e same cover letters, so find something that helps you stand out. Get to know them through gaming events such as PAX--demo your games in the indie section, show off your art, or just participate in community events that show off your skills.
That's not to say you shouldn't send in a cover letter. Cover letters are great things when done right. Write a letter to each individual company; don't copy and paste the same letter for all of your applications.
It's also important to note that if you aren't passionate about gaming, it will come out after the interview. Passion is extremely important, and gaming is a highly competitive industry that many find "sexy." It requires hard work. If you aren't ready for that commitment, perhaps this isn't the industry for you, at least right now. "There's nothing better than sitting across the table in an interview and thinking 'oh thank god, someone who knows what they're talking about.'"
Your Portfolio
If you're currently in school, your portfolio will include class work that you've done. That is fantastic, and you should include it. However, small demos or projects you've done on the side will make your presentation far more powerful.
Developers want to see what you can do--they want to see your power and your drive, but they also want to see you put your skills to work and show them what you've got. Even if you aren't attending school and don't have a formal education, you can grab a mentor who can help you develop your skills.
It's also important to understand your skill set in a general space--what goes into making art, or developing, needs to be a concept you grasp firmly.
As to what to include: your portfolio should always be current. "If you have eight pieces and five are crap, then just take them out. Take them right out." Judge your older work against your current work and decide which would be best to include.
Corporate Culture
Get a feel for the company culture before you go interview. Play their games, even if they aren't you favorite. Look the company up on YouTube and get a feel for them before you go on site.
Some companies are notably smaller--"We want to know why someone would ant to work for us. We mostly hire people that we know already... But every once in awhile we'll get a cover letter... Telling us why we're a good fit for them right now. It catches our attention." Ask questions about the culture and show them you have an interest.
Do's and Don'ts
Do be stellar. Be amazing. Be the most awesome person in the room.
Do makes games.
Do get friends to help you understand different aspects of the industry like developing and art.
Do think about getting a reference from someone who is experienced in the industry.
Don't overdo your enthusiasm, or drink too much coffee beforehand.
Don't give up. Find your inspiration and stick with them. Talk people and stick with it.
Do not be afraid to leave a bad situation.
Do shower.
There are no games, platforms, genres, or tags associated with this post.
Published Mar. 26th 2013