Details On the Kingdom Hearts HD 2.5 Remix Limited Edition
Kingdom Hearts HD 2.5 Remix preorders will automatically get upgraded to the Limited Edition version of the game.
Last year, when you preordered a copy of Kingdom Hearts HD 1.5 Remix, you were instantly upgraded to the Limited Edition version, which came with an art book. For Kingdom Hearts HD 2.5 Remix, coming this year, Square Enix is taking a similar route. What comes in the Limited Edition this time around will be a little different, however.
Anyone who preorders Kingdom Hearts 2.5 HD Remix will automatically be upgraded to the Limited Edition version. Instead of a book, gamers will receive a collectible pin instead. The pin features Sora and Mickey back to back, and measures in at 1.68".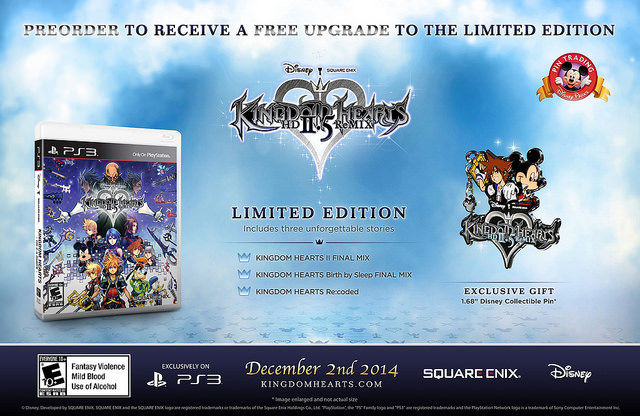 Like the 1.5 HD Remix before it, Kingdom Hearts HD 2.5 Remix will come with 3 games: Kingdom Hearts 2 Final Mix, Kingdom Hearts Birth By Sleep Final Mix, and Kingdom Hearts Re:coded. Both the Kingdom Hearts 2 and Birth By Sleep Final Mixes feature content that was not originally released outside of Japan, making it the first time that those outside of Japan will be able to play the definitive edition of these games.
While I would have liked there to have been another art book featuring art from the 3 games that come in the 2.5 Remix, the pin does look nice. I know that these pins are highly collectible, and I am sure that both Disney and Kingdom Hearts fans will enjoy them, especially if they are only available through a preorder.
Regardless of what comes as a preorder bonus, I am anticipating this collection. I have always wanted to play the Final Mix versions of both Kingdom Hearts II and Birth By Sleep for a while. It will help to tide me over until we get word of when to expect Kingdom Hearts III.
Kingdom Hearts HD 2.5 Remix releases on the PlayStation 3 on December 2.
Published Jul. 25th 2014