E3 2014: Steel Series Debuts The Sims 4 Peripherals, The Sentry, and The Stratus XL
SteelSeries shows off an impressive line up for E3 2014.
With gaming's most anticipated event, E3, taking off officially tomorrow, many are looking forward to debuting games, hardware, and upcoming announcements.
As I reported two weeks ago, Steel Series will be debuting their set of The Sims 4 exclusive peripherals. This includes a mouse, qck pad, and headset. In addition to these exclusive peripherals, SteelSeries is also releasing a new eye-tracking device (The Sentry) and mobile controller (The Stratus XL).
The Sentry
The Sentry is an eye-tracking "...visual coach [that] provides players with the ability to track, analyze and benchmark eye movement and behaviors during gameplay in order to improve and ultimately win."
The Sentry tracks things like fixations per minute (FPM), which can be critical in games like League of Legends and DOTA 2. It is "designed to analyze, train, and improve competitive play."
The Sentry will also allow gamers to create benchmarks so they can aim for improvement in certain areas. According to the press release,
"In order to provide gamers with a standard for their eye-tracking stats, SteelSeries is working with some of the world's top-performing professional gamers to establish peak performance goals. This benchmarking will allow users to compare their eye movements in gaming sessions with those of professional-level champions. It's these benchmark comparisons that will allow users to gain deeper insight into how to use their eyes to improve their game."
This will also include the benchmarks of pro gamers such as former captain of Team Fnatic, Patrik 'cArn' Sättermon. Gamers can use the Sentry to see how they measure up against pros, and how important visual efficacy is in pro gaming.
Gamers can check out the Sentry here.
The Stratus XL
Finally, SteelSeries will be releasing a full-sized controller for mobile gamers in the form of the Stratus XL. The wireless Stratus will work with Apple devices in both a full-size and pocket-size version.
The Stratus will feature a console-style layout with 40 hours of gameplay on two AA batteries. It includes a pressure-sensitive D pad, four action buttons, and four shoulder buttons; two bumpers, and two triggers.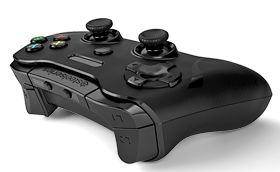 "Similar to the Stratus, the highly-rated wireless iOS controller that launched earlier this year at CES, the new controller features red LED indicator lights found in the middle of the controller that displays the number of controllers or players connected during multi-player gameplay – allowing up to 4 controllers to connect to a single device."
Gamers can check out the Stratus XL here.
Published Sep. 8th 2017