Interviewing Crazy Tooth Studios: Making the Leap from Casino Software to Mobile Game Development
Casino devs of Urp! know how to make an addicting game (to no one's surprise).
Reno developer Crazy Tooth Studios is taking a break from making casino games to launch their new mobile title Urp! on iOS and Android. The colorful puzzle platformer follows Urp, a world-saving alien... dog... thing.
The twist? Well, it's more of a spin.
Each level is completely circular, and you will guide Urp left or right in a full 360 degrees as you push balls, jump on platforms, as well as collect eggs and coins. Urp! features over 60 core levels, 7 bonus stages, and 50 achievements. The title is available on iOS for $1.99, specifically iPhone 4s and newer, as well as iPad 2 and iPad Mini or newer; Android is to come soon.
But the question remains: after making a name for themselves in the casino software scene, why would a game company change up a successful business model to risk doing something totally different?
Simple: passion and a dash of crazy (the really, really good kind of crazy).
Will Burrows, their VP of Design, joined me to discuss making the leap from casino to mobile, and what it's like working at Crazy Tooth.
So, who are you and what's your background in gaming?
Will: "Crazy Tooth Studio is a six-person multimedia studio that specializes in all things gaming… but with our broad skill set and experience, we do other stuff too. In 2011, our fearless leader Ben Hoffman started Crazy Tooth primarily as a third-party game studio in the casino gaming industry. Ben's background working at IGT (International Game Technologies) as a game designer and his passion for art, music, and math (and games!) spurred him to seek out like-minded creative professionals and form his own studio - thus, Crazy Tooth Studio was born.
"The first game we created was a video slot game called Choco Choco™ for Bally Technologies based entirely on Ben's dog - who has a snaggle tooth. Choco and his tooth gave us our start so we named the studio Crazy Tooth Studio in honor of that crazy dog.
"We like to think of ourselves as The Avengers of multimedia - except less dysfunctional."
"Our animator, Jason Newmark, comes from film and advertising; I, our main artist and designer, come from architecture and design; our sound wizard, Joey Berger, is a professional musician and instructor; our code magician, Farhad Ahmadzai, has a Masters in Engineering; our IT/Operations dude, Luke Munns, has an IT degree and served in the Navy; and Ben Hoffman, our President and leader, can do it all, including incredible math design. We like to think of ourselves as The Avengers of multimedia - except less dysfunctional.
"Under Ben's tutelage, we've become students of the gaming industry. Mix that with a serious passion for games in general and a huge set of skills, and you get an extremely efficient and prolific little studio."
Where did the idea come from? What the hell is an Urp anyways?
"Having established ourselves rather quickly in the casino gaming industry, we wanted to create something from start to finish that satisfied all of our game design hopes and dreams"
Will: "Urp!™ is the product of a game design perfect storm - having established ourselves rather quickly in the casino gaming industry, we wanted to create something from start to finish that satisfied all of our game design hopes and dreams and could be released to everyone. Making an iOS game just made sense. So we blocked off some time over a few days and had sort of a game design summit amongst ourselves - What did we want in a game? What would combine everything we love about iOS gaming?
"Quite organically, we landed on the idea for a platform game where the level itself was a puzzle. Adding the twist of 360 degree levels was what made it unique.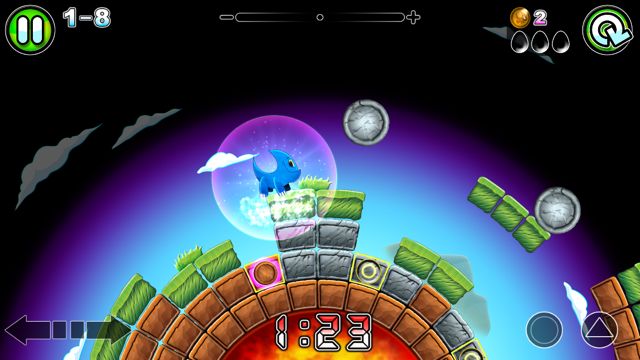 "We wanted a character-driven experience to give the player something to attach to and also add a bit of humor and whimsy. Urp - part alien, part dinosaur, part dog - just sort of fell out. "Urp" originally came from his ability to "urp" balls into their respective holes during gameplay and even his body shape was meant to be the "U" in his name. As these things go, we later referred to his "urping" as "popping" for clarity, but the little guy just became so familiar and likable that he's pretty much been what you see now in the game from the start!"
Why Urp! and why now?
Will: "Like I touched on above, we built this awesome, versatile team and studio and just wanted to point our efforts at something that we could pour ourselves into and release to everyone. We also felt that there was space in the App Store for a game that really did blur the lines between genres - something that would satisfy both the casual gamer and the fans of retro-inspired platform games with some old-school difficulty. So far, we've gotten some great feedback from all types of gamers."
How has your casino game history influenced Urp!'s design?
"We wanted the player to be able to beat the game and complete Urp's story without spending more than the cost of the app."
Will: "There are a few things about designing casino games that have really influenced how we do everything. First of all, cranking out premium gaming products have caused us to value the process of iteration and group critiquing. Every piece of Urp! (art, animation, sound, game controls, interface…) was done over and over until the whole group (and outside testers) was satisfied. Secondly, when you're tasked with making the non-skill-based mechanics of a slot game as exciting as humanly possible, it really makes you focus on the nuances of art and sound and gameplay - and dial it in for the best possible result. Lastly, we pride ourselves on creating a variety of game experiences which has made us all explore new ways of doing things - so when it came time to develop the Urp! universe, we had a pretty big bag of tricks to pull from."
Double jump seems like a pretty core mechanic, especially in a puzzle platformer, could you explain the decision to make in a coin-bought unlockable instead of being part of Urp's standard movement set?
Will: "Urp's abilities were certainly something that ebbed and flowed throughout the development and we feel strongly that we struck a great balance. We wanted the player to be able to beat the game and complete Urp's story without spending more than the cost of the app - which you absolutely can. However, by adding in power-boosting accessories to the store, we gave real value to the coins and gave the game some depth and re-playability. Yes, Urp's main goal is to stabilize each planet and save the Urp! universe - but with things like the All Coins and Perfect Badges, bonus levels, accessories, collectibles, and 50 Game Center achievements the game has more than one layer and encourages more of an exploratory experience."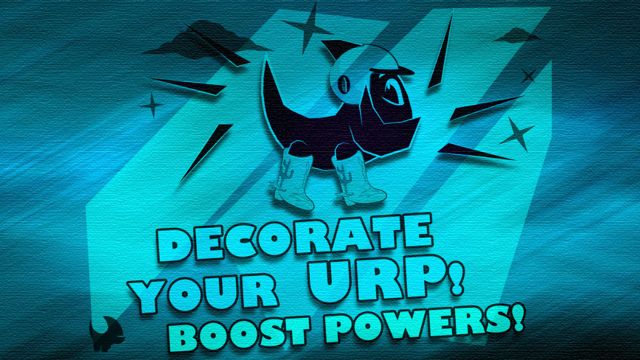 Urp! is a great game - do you plan to continue to make casino games or settle into the mobile market?
Will: "Thanks! The fact of the matter is that casino gaming keeps the lights on and the coffee stocked - and we love the opportunity to make games! Urp!, or any mobile game, was something we've been talking about doing from the start and will definitely continue to pursue the mobile markets. In fact, Urp! should be out for Android very soon. We will continue to create casino games and keep pushing what we can do in that industry - this generation of gamers expects a certain level of gaming experience and we feel that the casino world shouldn't ignore that.
"There's nothing we won't try and no ring we don't wish to throw our hat into - so as long as the coffee is flowing, we'll keep making games."
"So as long as the coffee is flowing, we'll keep making games."
Are you keen to leave the casino gaming scene?
Will: "There is plenty of innovation available in the casino gaming scene, which is a driving force for us, and with the introduction of mobile casino gaming, we don't think there will be that much of a distinction in the near future and we'll certainly try to be a part of that. So, no - wherever there are gamers, we'll try to give them great games to play."
What's next? Urp! 2? Urp! expansions? Should we expect to see Angry Birds style themed expansions?
Will: "We're always talking about Urp! 2, an extended Urp! universe, and completely new game ideas. I wouldn't rule anything out for Crazy Tooth."
What kinds of casino games have you made? And where can gamers see your cabinets?
Will: "www.crazytoothstudio.com/games has a lot of our games displayed. We primarily do video slot games and have had the opportunity to create some premium products for Bally Tachnologies - Crystal Spider™ and Tree Of Eternal Fortune™. We have several games coming out this year which will be available in casinos everywhere! We pride ourselves on making every game different and pushing the envelope when it comes to math models, game features, art, and sound - look for the Crazy Tooth Studio logo!"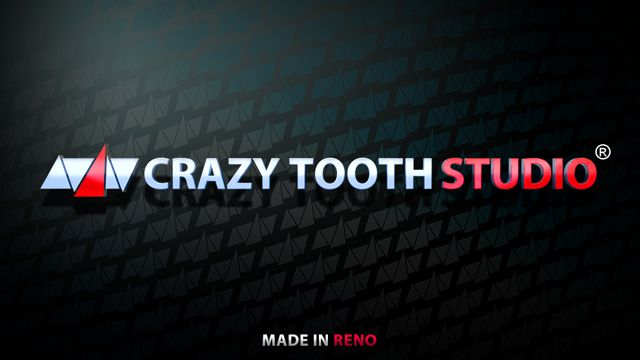 The videos on the Crazy Tooth YouTube channel are hilarious, who is the mastermind behind those? And will we be seeing more? Please?
Will: "Haha! We LOVE making videos. Usually it works like this: after weeks of hard work Ben will announce that on a random Friday we will be taking a break to write, shoot, edit, and score a new video for our channel - just to mix things up a bit and make sure the world (or at least a few friends and family) still know that despite our hard work, we'll still having a blast at our dream jobs. We will definitely be making more :)"
Meet the team in this Crazy Tooth YouTube video.
Those videos really give a sense of a great work environment – how did you get such a team together?
Will: "I may have answered this earlier - but I have to give major credit to Ben for cultivating a studio environment that somehow demands equal parts hard, quality work and complete silliness. Whenever we have outsiders to our studio (such as our latest New Year's Eve Bash) we get the question "How do you guys get any work done?" a lot - and honestly, I'm not really sure. Perhaps when you love what you do and trust each other to put in the time and effort, you can afford to act like ten-year olds and still know that we're going to put out a great game."
Anything else you would want our readers to know?
Will: "Play Urp!! haha We're super proud of Urp! and really hope that players have a blast playing it. And look out - we're just getting started :)"
In Closing
I want to extend a warm thanks to Will Burrows for taking the time to answer our questions! If you are looking for more details about Urp! or Crazy Tooth Studios you can visit them on Facebook, Twitter @CrazyToothGames, and the hilarious YouTube channel. Also, you can visit their website at CrazyToothStudio.com.
Published Jan. 17th 2014