Promise for eSports: Record Breaking Numbers For IEM Katowice 2015
IEM Katowice 2015 sets record breaking numbers for the event itself.
A month ago ESL's 2015 Intel Extreme Masters was hosted in Katowice. Being one of the biggest gaming conventions throughout the year, the event covered Legends of Legends, CS:GO, StarCraft II, and Fifa 14. Recently the statistics for the four day spectacle has been released, and the groundbreaking numbers have set new records for viewership and attendance, surpassing last year's already record breaking stats.
Not only the did the large number of attendance surpass 100,000, but the number of viewers on Twitch alone topped one million, breaking the record for the most amount of concurrent viewers for a single event on the online streaming service. What once began as a small eSports convention trying to find its niche in the gaming community, has now found itself with viewership numbers that rival the top sports teams throughout the world.
There is no question that IEM rocked the house in Katowice this year, and Michal Blicharz, the director of pro gaming at ESL, commented:
"It is amazing to see how in five years, Intel Extreme Masters went from being a side show at a tech or comic expo somewhere to being its own exhibition with a truly mainstream level appeal. It is a massive turnaround that represents incredible cultural growth for eSports as a whole, with steady viewership that regularly rivals that of other major sports productions."
With the recent statistics from ESL, there is no denying the growth of eSports. Ralf Reichart stated:
"I remember what people were saying when we decided to take Intel Extreme Masters to the Spodek arena in Katowice, the first stadium event for esports in the western world 24 months ago. People said that the community wasn't ready for a pioneer event like that. Three seasons of competition later, I think we can safely say that esports can create unparalleled memorable experiences. The community was ready then, and they're more than ready now. A very big thank you to everyone who made this event possible. We all share in its success."
IEM Katowice 2015 was a huge success, and it could easily be deciphered from its huge spike in viewership. The funny thing is that IEM is still young. Having only covered three seasons of eSports, the event still has a long way to go, and with the bright future it has, surely even more people will be converted into eSports fans.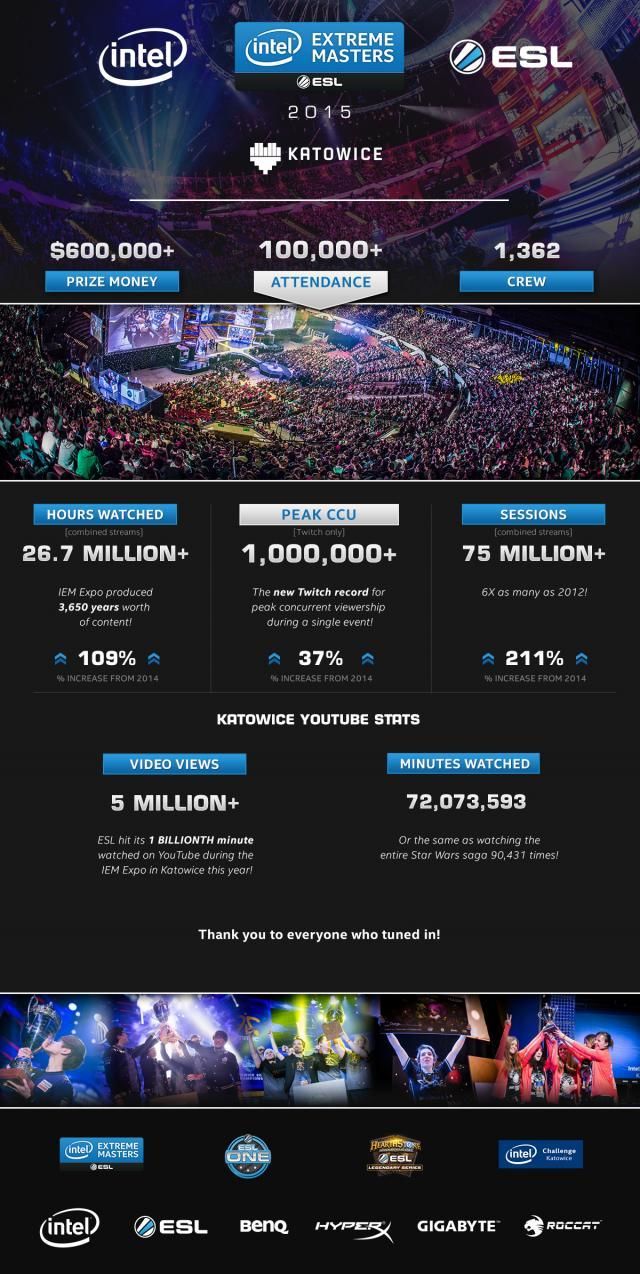 Open full-size infographic here.
Published Apr. 9th 2015