League of Legends 2014 World Championship Final Survival Guide
Everything you need to know to prepare yourself for the World Finals this weekend!
With the 2014 League of Legends World Championships coming to a close, only two teams remain to fight for the coveted Summoner's Cup. On the 19th of September, Samsung White and Starhorn Royal Club will fight for the title of World Champion from the Olympic Stadium in Seoul, South Korea.
Samsung White will have the home field advantage playing from their home country of Korea. Royal Club hails from China and is making their second consecutive appearance in the final as the first team in history to accomplish that task.
Tournament Overview
The tournament started with 16 teams from across the globe put into 4 round robin groups. After a double round robin stage the top two teams from each group advanced on to play in the quarterfinals.
Three teams from North America, Europe, China and Korea; Two teams from Southeast Asia and a single team from each of Brazil and Turkey made up the composition for this year's group drawing. Europe was the only major region to fail to have any of its teams reach the bracket stage of competition.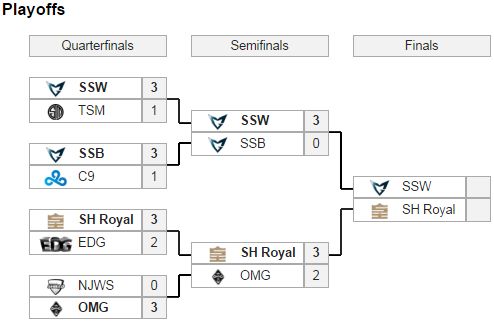 The most shocking upset during the knockout rounds of the tournament was OMG's 3-0 sweep of Najin White Shield in a match where Shield was predicted by some to win as heavily as 3-0. The rest of the bracket has played out as expected apart from how dominating Samsung White's win was over their sister team Samsung Blue.
Recent Results
Samsung White

These teams have had a differing amount of adversity on their way to the finals. Samsung White has only lost a single game and holds a 12-1 record combined over the group stage and knockout stage. The game they lost was arguably due to overconfidence and a lack of respect for their opponent Team SoloMid. White has looked untouchable for the better part of the World Championship and seem to be peaking at just the right time.
Since June 20th, SSW has a record of 27-6 for a crushing win rate of 82% which is nearly unprecedented in League of Legends eSports. Going back even further, SSW has won 48 of their last 62 games dating back to the middle of March this year. With a team this consistent it becomes easy to entertain the idea of White truly being the best team on the planet.
Starhorn Royal Club

Starhorn has had a much less dominating trek to the finals. They endured a loss to Team SoloMid during the group stage and dropped two games in each of their quarter and semi final wins against Edward Gaming and OMG for an overall tournament record of 11-5. Similar to their tournament performance SHRC has a lower win rate over the months leading up to the tournament, they have won 41 of their last 64 games since June 14th. Starhorn are also winning when it counts.
After historically losing series to their Chinese rivals during playoffs, they dispatched both other Chinese qualifiers en route to their spot as a finalist at this year's worlds.
Featured Matchup: AD Carry - imp vs. Uzi
Gu "imp" Seung-bin (구승빈)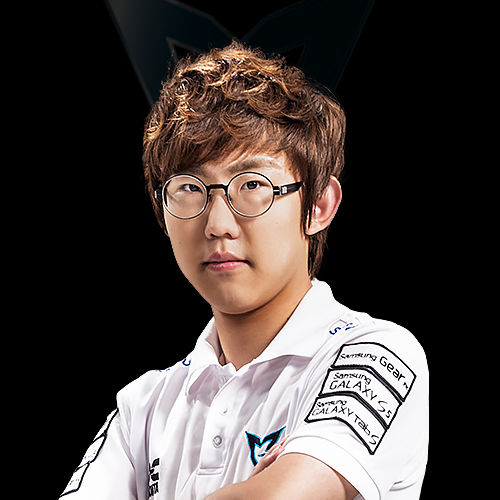 Both imp and Uzi have very similar play styles. They are both extremely aggressive and that sets the stage perfectly for a featured matchup.
Imp has put a heavy emphasis on Twitch, picking him in 7 of 13 games so far. The next closest being Corki and Tristana with 2 picks each. While imp's love of Twitch should not dictate the pick and ban phase, if he has the option, this Champion will be his first choice. Imp is very effective at roaming during the mid-game to pick up kills in either mid-lane or while setting up for neutral objectives (Dragon, Baron, Enemy Buff Control). Look for his support player, Mata, to pick Thresh. Thresh's kit will facilitate imp's aggressive playstyle with hook/Flay engages and percise uses of Dark Passage to save imp from near death experiences. During the group stage, imp flashed into a 5-man Edward Gaming squad and lived to tell the tale.
Jian "Uzi" ZiHao (简自豪)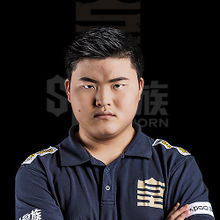 Uzi has a more diverse set of champion picks than imp so far in the 2014 World Championship. Caitlyn, Vayne, Tristana, Twitch, Lucian, and Corki have seen play on the Rift from Uzi.
With 4 games each; Twitch, Lucian, and Tristana are the go-to carries for Uzi. He has a tendency to prefer carries that fit well in Teamfight compositions to synergize well with the rest of his team. Possibly the most mechanically skilled ADC in the world, this play from last years World Championships should be almost everything you need to know about him:
Predictions
Samsung White 3-1 Starhorn Royal Club
Both teams have a similar playstyle, however, when it comes to vision control and objective play outside of team fighting Samsung White should come out on top. With that said, Samsung White have historically gotten themselves in trouble by being overconfident. If that situation arises, SHRC is more than capable of taking advantage of it and hoisting the Summoner's Cup on Sunday.
Images Courtesy of eSportspedia
Screengrab from "Warriors" M/V by Imagine Dragons
Published Sep. 1st 2017