GTA Online has Launched
The highly anticipated online component of Grand Theft Auto V has launched as of 7 AM EST!
Rockstar has answered some questions about their venture into the online world!
How can I access GTA Online?
Access to GTA Online is included free with your copy of Grand Theft Auto V; just download the patch and it will be added to your game's main menu.
When does GTA Online Take Place?
According to Rockstar, GTA Online is set a few months prior to the events of GTA V's single player story.
Home and Garage Security
That's a statement, not a question! Fear not though, Rockstar dealt with it anyway!
Several anti-greifing measures are in place, "House Parties" are invite-only so you don't have to worry about other people trashing your property and stealing your cars.
It's also important to note that in the event that two players in any given lobby own the same properties, they can each visit their own instances or visit each others if invited.
Will GTA$ affect the fairness of the game?
Rockstar says it better than I, so here's a direct quote from them:
To allay some concerns we've heard on this subject, we can assure you that the game is designed such that the option of purchasable GTA$ should not disrupt the playing field – and there are a few mechanics in place to help ensure that. All players still have to rank up with Reputation Points (RP) in order to get access to purchase high-end items. No one can begin GTA Online and simply spend a lot of money out of the gate to get a leg up. You will have to earn your stripes and play to unlock access to the aspirational clothes, guns and other items. Please also remember that in GTA Online, hustling to afford the finer things by earning GTA$ doing robberies, stick-ups, winning races and other profitable activities is a fun gameplay experience rather than ever being a 'grind'. As we mentioned on Wednesday, we will constantly tweak all areas of the game to make it play fairer and iron out any balancing problems (while fixing all the other problems we encounter!), but we really need your help in figuring out what those issues are. So please work with us on that!
Will GTA Online get more content?
Rockstar says that GTA Online is a long term, ever-growing experience. "In the coming weeks, months, and beyond," they will be regularly adding new jobs.
Rockstar also announced that they will be releasing a content creator later this fall that will enable players to create their own community content.
They will also be keeping a close eye on the feedback they receive at the email address [email protected]!
Genetic Character Creation?
GTA Online features a unique character creation system. GENETICS! Decide your gender then pick your parents, afterwards you can decide which traits get passed down.
Then you manipulate a series of lifestyle variables that determine your character's starting stats.
Is Rockstar Social Club still special?
Totally! Look at all the perks you get as a member of the Social Club!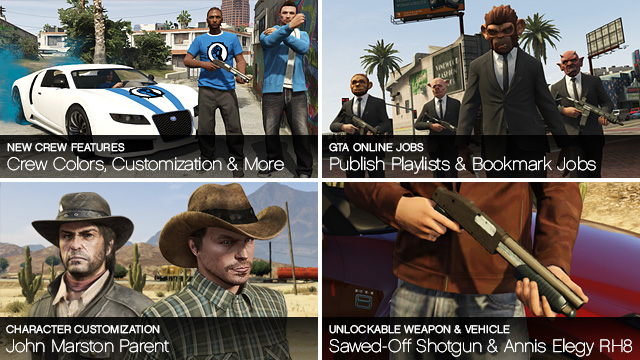 Enough reading! Go and enjoy Grand Theft Auto Online!
Published Oct. 1st 2013