Mystic Messenger and Tokyo 13: Breaking the Boundaries Between Reality and Gaming?
Extending beyond the screen, Mystic Messenger and Tokyo 13 takes mobile gaming to the next level - by simulating it in real time.
[Mystic Messenger and Tokyo 13 are both free-to-play for iOS and Android]
While the idea of "mobile gaming" is looked down upon by many in the gaming community, it is undeniably a growing medium that many companies have picked up on, porting many console and PC games series' from old school games like Sonic the Hedgehog and the Final Fantasy series, to newer games such as Dragon Quest, GTA and Minecraft. The newer games usually require downgrading to make it playable however, so some companies have even made many multiplayer games directly on the mobile, such as Taichi Panda, a (massively) multiplayer mobile action RPG (so rather than MMORPG... it's MMMOAPRG?)
The reason for this? Convenience and Accessibility.
Most of us have our mobiles with us 24/7 and thus, can easily reach into our pocket and open these apps for easy, and quick gaming. Even for non-gamers, most mobile games are less demanding, and only require you to check up on the game every few hours.
However, this year marked the start of a new generation for mobile games. Along with the massive popularity of Pokemon Go due to the use of its AR (augmented reality), making us one step closer to becoming real Pokemon trainers, there were two other games that had piqued my interest. Before I step into the main point of this article, let me briefly summarise these two games.
Tokyo 13
Tokyo 13 is a Japanese horror, puzzle game that markets itself as a "Fake Social Network" -- as the interface of where the game is played on is essentially a Facebook-like website where lovers of puzzles and riddles come together to share them with one another.
The player is also one of these fanatics and is required to participate in posts and also private messages with other (fictional) members in order to progress. By 'progress', I mean that the website will either update with someone posting a new riddle on the 'feed' or a member will strike up a conversation through PM. Some puzzles are harder than others, but for people that aren't great at figuring out riddles (such as myself), the game will still progress even when you get them wrong.
Mystic Messenger
Mystic Messenger is a Korean mobile otome game by Cheritz, who have been making a name for themselves with visual novels such as Dandelion -Wishes brought to you - (2012) and Nameless ~ The one thing you must recall ~ (2013), which are both available on Steam.
Mystic Messenger is their newest game that was exclusively released on mobile and with good reason: The game in itself takes place on a 'messenger app' that the player stumbles upon by a stranger who messages her with the name "Unknown". She joins RFA (Rika's Founding Association), an organisation that hosts fundraising parties that the player is now tasked with planning, along with 5 other members. The game spans 11 days in which the player will need to invite as many guests to the party as well as bond with one of the members.
The player progresses by participating in chatroom 'events', responding to the member's texts and calls and most importantly, answering emails in order to invite guests to the party.
So what is it about these two games that makes them noteworthy?
As already mentioned, mobile games require the player to check their phone every few hours in order to progress the game. These games take it a step further by simulating social media sites and messaging apps like we are associated to in real life. The games could be considered as AR similar to Pokemon Go by how it blurs the lines between reality and fantasy.
For example, when you respond to a PM in Tokyo 13, the other character may not read it straight away and you would have to wait for their response before progressing the game. In addition to this, the images of the other members profiles or photos they 'post' are all actual photographs, whether it be a scenic shot or actual people (Whose faces are either hidden one way or another).
For me, this brought the game to life. Because of the 'instant' messaging aspect, it really brings a sense of realism to the game because of how realistic the characters speak and how the use of real photos makes you forget it's a game.
With Mystic Messenger, the AR is brought about in an entirely different way. Whereas in Tokyo 13, you control your progression pace by not replying to messages, with the latter, it is vital to check the game periodically or you will miss essential chat room conversations with other members.
The game will still require you to view the conversation but you will miss the opportunity to participate (thus missing out on potential bonding). The conversations will happen during certain hours every day relying on your phone's clock in real time (from 6AM to 3AM) thus when I say you have 11 days, I mean, you have 11 days in real life. The members will also send you text messages (you can turn notifications off for that) and phone (the game has 60 hours worth of voice acting for all the phone calls) that will accumulate when you open the game.
While on the app itself, a member may call you that will actually pop up in the game as a call screen, with the option to pick up or drop. The character's icon will appear with the (Korean) voice actor speaking, along with English subtitles, which you will respond to them in form of options, similar to visual novels -- which it still is classified as.
The concept of AR, such as how it essentially breaks the fourth wall, has always been an interesting concept to me. Like how people enjoy parodies making fun of movies or games, we live in a society where everything has 'already been done', thus we find joy in poking fun or pointing out the problems with it. But with these games, it extends further than that, actually simulating something making use of the medium (texting via mobile) and this brings a new form of entertainment, rather than being invested in the characters in terms of the story like they were real, simulating them literally brings them to life as they actually communicate with us.
An earlier experience I found was with Mr. Resetti in Animal Crossing: Wild World who would scold the player when they turned off the game without saving. The fact that there was a case that the character made many children cry is proof of how breaking the fourth wall brings that sense of realism.
Credits to JPhip.com user 'Haonan' for above screenshots.
In general, earlier Animal Crossing games have always required the player to come on at certain times (such as catching particular fishes or insects at certain times of the day, or New Year's Day celebration) and this has been true for other days on the 3DS such as Tomodachi Life or Nintendogs.
Another example is Eternal Darkness: Sanity's Requiem (2002), which I haven't actually played before but have been told that the game has a "sanity meter" that when lowered, causes some simulated errors on your TV and Gamecube, such as the "blue screen of death", "changing" the volume of your TV or making your screen black, weird glitch effects and noises like sprites and noises such as exploding torsos or crying babies, and other hair raising effects that will definitely scare the socks off of anyone.
An example of the "Blue screen of death" screen in the game -- Credit to Goggle Bob.
With recent consoles and other platforms usually implementing "real time effects", it's interesting to also note the release of the various VR (Virtual Reality) headsets that have been released recently, showing that gradual rise of fantasy passing over the borderlines of reality. But with the lack of love for mobile gaming, I wanted to acknowledge how the innovative game-play mechanics of Mystic Messenger and Tokyo 13 is something that more companies should learn and possibly develop from.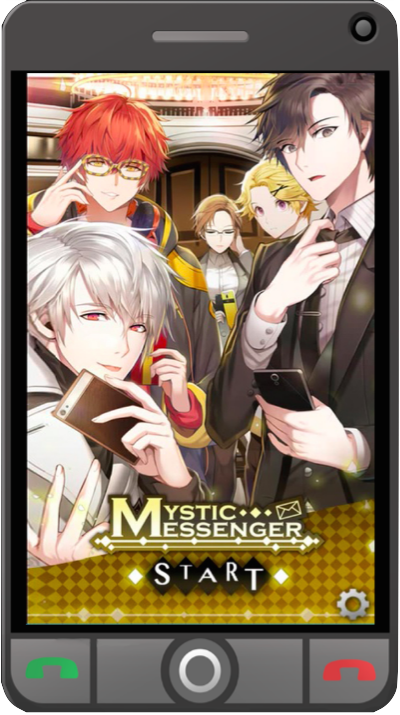 Do you have any experiences of games like these? What do you think of this growing gaming mechanic? Let me know!
Published Oct. 28th 2016