Max Payne 3: The Complete Series Graphic Novel Review
For those of you who missed the graphic novel form of the original games, or just missed Max Payne altogether.
Max Payne 3 had a pretty rocky road to release. Originally scheduled for 2009, the game saw numerous delays until eventually releasing in spring 2012. It had been nearly nine years since the last Max Payne game was released; and the 2008 film adaptation starring Mark Wahlberg certainly didn't help re-ignite much interest in the series.
Rockstar Games also took a pretty controversial direction with the character; the first official piece of artwork released for the game in 2009 was an older, bald, overweight Max Payne. It was almost as if the character was self-aware of how far his franchise had fallen in the eyes of fans. Then of course Max Payne 3 came out, was one of the best games of 2012, and it's almost like that nine year period never happened.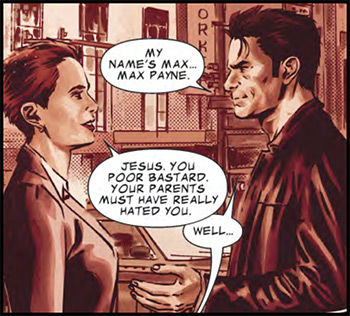 A Max Payne comic was made in conjunction with Max Payne 3 by Marvel and Rockstar. The comic served partly as a way to fill in the gaps between Max Payne 2 and Max Payne 3, but also just as a general way to tell the backstory of the character for those who were new to the series. Still the best way to really experience the backstory is to play those games, as they are available on modern platforms like Steam and Xbox Live.
So why make a Max Payne comic then?
Comics are very much a part of the Max Payne DNA. The original game, made by Remedy in 2001, used graphic novel style panels rather than animated cut scenes. This wasn't so much of a style choice as a budget choice; the creators of the game simply doubled as actors in these photoshopped comics because they had no money.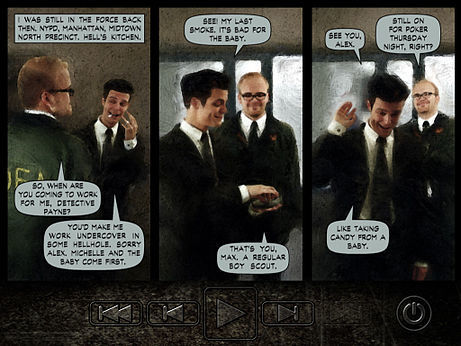 Max Payne was actually portrayed by the game's writer, Sam Lake. In fact, Sam has been a writer on every Remedy game and even co-wrote the Max Payne 3 comic as well as contributing to game script. Max Payne 2 had similar cut scenes, but with a budget to hire actors. Max Payne 3 broke the series tradition with in-game cut scenes, so it is nice that this comic exists as part of the original heritage.
Is the comic any good?
In terms of writing, you could not possibly ask for a better team. Dan Houser wrote practically all the Grand Theft Auto games, Red Dead Redemption, Bully, and the game version of Max Payne 3. Sam Lake is freaking Max Payne… and they both wrote this comic. The art is the level you come to expect from a Marvel comic. The art is done by Fernando Blanco, who is an industry vet that's worked at Dark Horse, D.C., and Marvel. The really amazing part is this comic was done as a free promotion; in fact you can still download it for free right now from Rockstar's website.
The comic largely covers events from all 3 games, but also delves into a bit of Max's childhood… a subject that was never touched on before. For many people, Max Payne is just that guy who introduced the slow motion bullet time leap to video games, but the series has always had a great storyline. Considering who wrote this comic, it is safe to say it is part of the Max Payne canon.
Is it worth 10 bucks though?
Titan Books has collected the comics into a hardcover "complete series." The quotations are being used because the Max Payne 3 comic series is really only about 40 pages long. You are paying $10 for a comic that was released online for free anyway, just to get it in a hard cover, along with a handful of Max Payne 3 concept artwork.
It's not like there's an excessive amount of Max Payne related merchandise out there, but if you are a Max Payne collector, then I'm sure this will interest you. For anyone else, I would just say read the online version for free.
Our Rating
For those of you who missed the graphic novel form of the original games, or just missed Max Payne altogether.
Published Feb. 12th 2014