PlayStation TV Heads to the West [Updated]
The Micron Console, formerly exclusive to Japan, has a launch window for NA and EU.
The PS Vita TV, released last year in Japan, is coming to North America and Europe in 2014.
Hold on, It's Had a Name Change
Well, that is interesting. Ladies and gentlemen, I present to you the PlayStation TV. Go on, take it.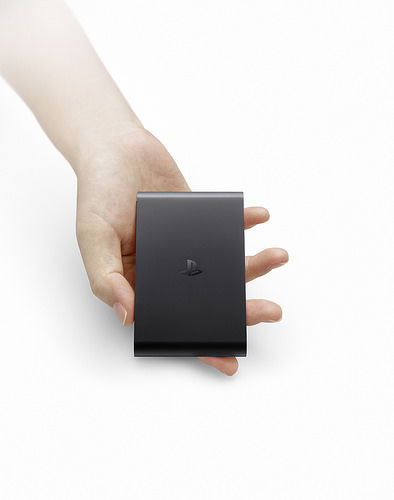 You'll get access to over 1,300 games from the original PlayStation, PS Vita, and Portable. You will also be able to play the PlayStation 3 catalogue via PlayStation Now when it launches in North America later this year.
The 'little box that will' is going to cost $99/€99. For that you will get the system and a way to content it to your television or monitor. If you add $40/€40 you will get a Dualshock 3 controller, 8GB memory card, HDMI cable and a voucher for The Lego Movie Video Game. Well worth the extra chunk of change.
Update: The PlayStation TV will cost £84.99 in the UK, great news. Happy days.
Feature Recap
PlayStation 4 remote play: As with PS Vita, PS TV supports PS4 remote play and Wireless Controller (DUALSHOCK 3 or DUALSHOCK 4). This will allow PS4 owners in the living room to continue playing a game on a PS TV system in their bedroom. You can also enjoy most of your PS4 games on PS TV as if you were playing it on your PS4 system*.
PlayStation Now: Once PlayStation Now is rolled out across the PAL region, PS TV users will be able to comfortably enjoy PlayStation 3 games via streaming.
A vast line-up of software titles: PS TV offers a huge library of PS Vita*, PSP and classic PS One titles. You'll be able to enjoy all of these titles using a DUALSHOCK 3 or DUALSHOCK 4 controller.
All in all, the PlayStation TV seems a create move for Sony. The micro console market is largely untapped, for now.
* Games requiring PlayStation Camera are not compatible.
** Since PS Vita is equipped with special features not supported on DUALSHOCK 3 or DUALSHOCK 4, such as touch screen, rear touch pad, motion sensors, camera, electronic compass and microphones, not all PS Vita games are playable on PS TV. Supported titles differ by country and regions.
Published Jun. 11th 2014