The Truth About the Doge Meme's Face
>wow 
> much backstory 
> very emotion 
> so truth
The top 2013 internet meme almost died.
While the "doge" meme has been around for a few years, it really only managed to pick up stride in 2013. In fact, if you were to say that you've never seen a picture of a Photoshopped Shiba Inu dog labeled with nonsensical phrases in a rainbow of Comic Sans which read like a surreal narrative of a dog's sudden ability to have an internal monologue... well, then you're probably a liar.
"Wow," says doge. "Such funny. So hilarious."
Wow
Doge has quickly spread to every single sphere of the internet machine. A photo of one special Shiba Inu perched on a couch looking sidelong into the camera with eyebrows raised, paws crossed, and mouth pulled back has been Photoshopped onto a Twinkie, a giant rock, a Canadian landscape and a Christmas sweater.
The dog's face was used as the symbol of Dogecoin, turned into a popular graphing calculator trick, and turned into a means to lampoon United States and Canadian politicians. Everyone has been using it, from Redditors, to Facebook, to the blogosphere.
It has been made into a (Finnish) credit card.
Man gets Doge credit card & successfully completes internet #muchcredit #veryvisa #wow #manymoney pic.twitter.com/Mrn21rglEi

— Osh Rice (@oshkosh) December 30, 2013
Blizzard has been using it to promote its recent 75% off World of Warcraft holiday sale.
#WoWsuchdeal. so discount. much saving. http://t.co/LZ1UurGQvt pic.twitter.com/pAzEKsn82B

— World of Warcraft (@Warcraft) December 11, 2013
Even politicians have been trying (and failing) at it to prove they know what's hip and cool for all the young people today.
wow. such obamacare funding. oppose ted cruz. pic.twitter.com/bIgXNNpimi

— Rep. Steve Stockman (@StockmanSenate) December 23, 2013
Much backstory
51-year-old Japanese kindergarten teacher Atsuko Sato began seeing strange pictures of her eight-year-old Shiba Inu dog Kabosu popping up on the internet last year in August 2013 - and she was a little freaked out.
"I was taken aback," Sato, an elegant, brown-haired woman given to wide smiles, recalled. "It felt very strange to see her face there. It was a Kabosu that I didn't know."
Sato had not realized that Kabosu had unwittingly become the face of doge, according to Kyle Chayka who traced the origin of the meme to this post from 2010 on the owner's blog.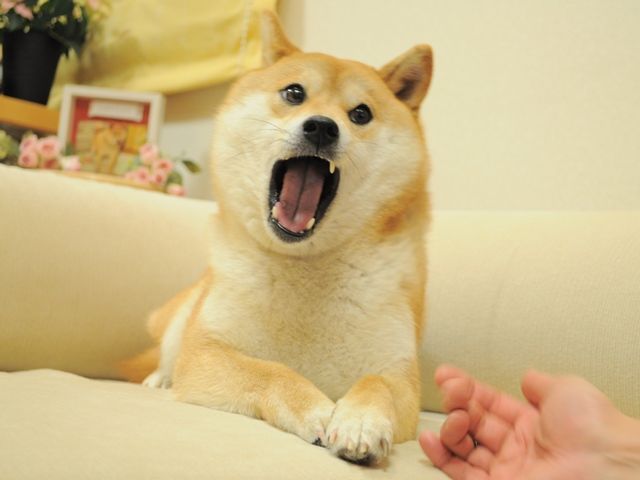 She had just been trying to share cute pictures of her pets on the internet.
The furry face that launched a thousand quips nearly never made it to the web. Sato adopted Kabosu from an animal shelter in November, 2008, saving her from certain death. "She was a pedigreed dog from a puppy mill, and when the puppy mill closed down, she was abandoned along with 19 other Shiba dogs," the teacher explained. "Some of them were adopted, but the rest of them were killed."

A volunteer at the shelter gave the dog her name, a type of Japanese citrus. "Her face is very round just like kabosu [fruit]," Sato said. "I thought the name was perfect, so I kept it."
So emotion
According to other Shiba Inu owner, Jonathan Fleming, whose dog Suki has also been co-opted into the doge meme, the breed "tend[s] to be very intelligent, aggressive, and aloof to other dogs. They're considered a primitive breed, almost like wild animals." They date back to the third century BCE when they were bred to flush game from bushes.
But according to Sato, Kobosu is very different from the typical temperament of Shiba.
"She's very gentle and calm; she loves being photographed. ... She was not loved when she was little, so I want to shower her with love as a member of my family."
The surprising part is that Kabosu has also become a celebrity in Japan... but in a very different way.
Sato began her blog in June 2009 in an effort to raise awareness about the dangers of puppy mills and adopted pets, joining a network of pet blogs where Kabosu quickly found an audience. The site is now the fourth most popular pet blog in Japan with about 75,000 hits a month according to With, the country's largest blog-ranking website.
In their home country they are seen as real woman and dog with lives and personalities, completely at odds with the anonymous nature of doge.
What a world.
There are no games, platforms, genres, or tags associated with this post.
Published Feb. 7th 2014