Girls "Didn't Feel Remorse" After Stabbing Friend 19 Times to Prove Devotion to Slender Man
Two 12-year-old girls, who claim that fictional horror protagonist Slender Man is real, stabbed friend 19 times in order to prove his existence.
A horror game has come to life in Waukesha, Wisconsin, where two 12-year-old girls are facing attempted murder charges after a gruesome assault on a fellow classmate and friend.
An attack, the girls say, that was meant to satisfy their intense devotion to horror game protagonist, and internet myth, Slender Man.
The accused, Morgan Geyser (left) and Anissa Weier (right), were said to have invited a friend to a sleepover with plans to murder the girl in an attempt to prove their worthiness to the Slender Man.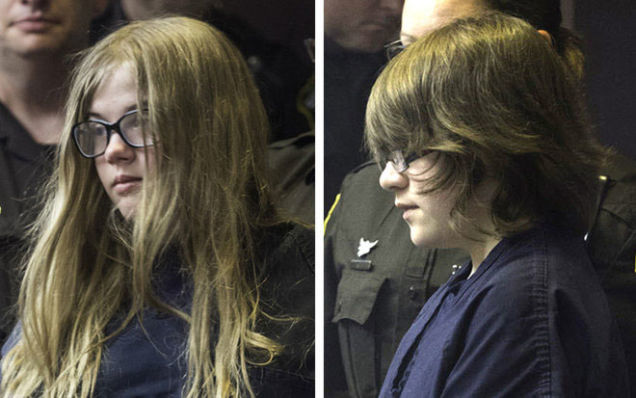 Who is Slender Man?
For those who are unaware of Slender Man, he is a fictional character who first appeared on an internet photo editing forum. This man, who is incredibly tall and lean with no facial features, was being photoshopped into the backgrounds of pictures in an attempt to create the most horrifying image.
The creature was so intimidating that he soon inspired his own eerie game, Slender: The Eight Pages, where the players attempt to collect all 8 pieces of paper from an abandoned, pitch black forest with nothing but a flashlight.
The internet did as the internet does, and the Slender Man phenomenon exploded throughout the web, causing multiple documentaries to be created about the myth surrounding Slender Man, and his background story.
The Morbid Attack
According to the Journal Sentinal, Geyser claimed that Slender Man, who lived in a nearby mansion on the countryside, threatened to kill her family if she did not prove her devotion by committing the murder:
Weier told police that Slender Man is the "leader" of Creepypasta, and in the hierarchy of that world, one must kill in order to show dedication. Weier said that Geyser told her they should become "proxies" of Slender Man — a paranormal figure known for his ability to create tendrils from his fingers and back — and kill their friend to prove themselves worthy of him. Weier said she was surprised by Geyser's suggestion, but also excited to prove skeptics wrong and show that Slender Man really did exist.
The morning after the sleepover, Geyser allegedly proceeded to stab her friend 19 times before leaving the girl to die in a park.
Miraculously, the friend managed to survive by lumbering to the nearest street and then being rushed to a hospital upon discovery.
Geyser and Weier will be charged as adults due to the harshness and hideousness of the crime. If the accused were tried as juveniles they would have been released at age 25 if convicted; however, tried as adults the girls face up to 65 years in prison.
Published Jun. 3rd 2014