Batman: Arkham Origins Release Date Change on Steam & New Arkham Origins Blackgate Footage
It looks like Steam had the release date for Arkham Origins a day early. Meanwhile, the people behind Batman: Arkham released about 10 minutes of gameplay footage for Arkham Origins Blackgate.
Hugely successful Batman: Arkham Asylum was released in 2009 with widespread critical acclaim, featuring the voice talents of Kevin Conroy and Mark Hamill reprising their roles as Batman and Joker from the DC Animated Universe. Arkham Asylum holds the Guinness World Record for Most Critically Acclaimed Superhero Game Ever based on an average Metacritic score of 91.67.
The second game, Arkham City also received wide critical acclaim and won multiple awards including Game of the Year. For his performance as the Joker in the game, Hamill received a BAFTA - but also announced that it was his last time working on the project. Arkham City was also Conroy's last reprisal of Batman in the series.
In many ways, the latest Arkham game is a slight departure from the previous two. A prequel to the events of Arkham Asylum and Arkham City, it is set in Year 2 of Batman's long and colorful history and features new voice talent Roger Craig Smith and Troy Baker as Batman and the Joker.
The game focuses on a younger, more unrefined Batman with a bounty on his head thanks to crime lord Black Mask, drawing eight of the world's deadliest assassins to Gotham City on Christmas Eve. Fans could look forward to a liberal mix of familiar characters from the DC Universe, some expected (Bane, a female Copperhead), and some that you would never have guessed (Electrocutioner was announced at New York Comic Con less than two weeks ago).
Thanks in large part to some pretty fanboyish promotion and genuine excitement from the folks on the Batman: Arkham Origins panel at New York Comic Con, I have been pretty excited to get my hands on the preorder of this particular title. And I am hardly the only one. Steam is raking in orders as fans rush to cash in on the Steam preorder bonus: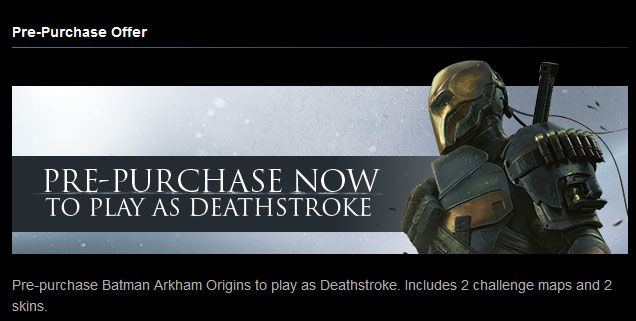 What release comes without complications?
Unfortunately, it looks like Steam also managed to mess up the release date. While all Batman: Arkham Origins announcements have the date set for release on October 25, Steam apparently had the release date set for late afternoon on October 24.
Bigger fans than I who had eagle eyes on their clocks watched with excitement to see that it would be released hours earlier than expected.
At around one 11:40 this morning, one fan took a screenshot of the countdown on the Steam page:
A few hours later, he checked back, and found that the release date on Steam had changed as well:
The Steam forums have since exploded with threads complaining about this, citing misrepresentation and false advertising. It seems Arkham Origins also appeared briefly as Newly Released, but was still unplayable by those who had already preloaded the game.
As it stands, it looks like this is not a devious money-grabbing tactic to sneak in more preorder money - but rather just a small goof on Steam's part that they found out and fixed. The game release looks like it's back on track, and fans will be able to play their game when it finally releases - in about 8 hours, at the time of this writing.
New Batman: Arkham Origins Blackgate Footage
Meanwhile, as the excitement for Arkham Origins continues at a fever pitch, the people behind Batman: Arkham are not slowing down in the least, not even to celebrate.
Arkham Origins Blackgate for the PlayStation Vita and Nintendo 3DS is also slated for worldwide release tomorrow on October 25 (3DS release in Europe is November 8), and follows the events of Arkham Origins. The majority of Gotham City's most notorious thugs have been locked up - but a mass prison breakout at Blackgate has occurred and James Gordon calls in Batman to investigate.
This gameplay footage of a Cell Blocks walkthrough in Arkham Origins Blackgate was released earlier today on the BatmanArkhamCity YouTube channel:
It illustrates some of the free-flow combat system that allows Batman to move left and right, but also have the ability to be in the foreground or the background.
Between the release of Arkham Origins and Arkham Origins Blackgate tomorrow, it looks like Batman fans will have plenty to occupy themselves with for a very long time.
8 more hours!
Published Oct. 24th 2013