Injustice (Mobile) - John Stewart Challenge Mode
NetherRealms expands the Green Lantern Corp. with their newest Injustice Challenge Mode.
Another month, another Injustice: Gods Among Us Challenge Mode.
Curiously enough, this follows my article about what to expect in 2014 from NetherRealms for the game. One question I posed was what new additions to the roster would we see; including console characters missing from mobile versions.
And starting TODAY (1/23/14) until February 10th, you can take the latest Challenge Mode to add John Stewart Green Lantern to your roster.
Light'em Up!
To play him, you have to earn it.
You must complete 63 battles against increasingly challenging opposition. You will have to pay for each battle with Challenge Currency, which can be earned in regular play or purchased. But, you do start with 25 free Challenge Credits.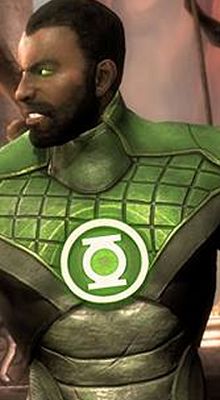 There are five series of challenges. For each you complete after the first two, you win a prize. So, you don't need to complete them all to win something.
2 Challenges Completed - Free Bronze Booster Pack (worth 8,000 credits)
3 Challenges Completed - +15,000 Power Credits
4 Challenges Completed - Free Silver Booster Pack (worth 35,000 credits)
Each set of battles you win, you get a part of John Stewart's gear (Ring, Artillery Shell, Lantern Battery, Jet, Emblem). Once you have won all five challenges, a Gold Level John Stewart Green Lantern is added to your collection.
As always, once you complete the Standard Challenge, feel free to go back and try the Expert level version and so on. See if you can finish all 5 challenge series, including the Dampening Field-filled Nightmare level.
John Stewart - Master Builder
Unlike former hot-shot pilot, Hal Jordan's often Top Gun attitude, Stewart is a former Marine but highly educated man. He was an architect at the time the Guardians chose him to be Hal's back-up Lantern.
Stewart's experience in construction and geometry has transcended and the constructs he makes with his ring are considered to be some of the most refined and strongest of any lantern.
He first appeared in Green Lantern in 1972 and has been part of the Lantern Corp ever since, even appearing regularly in the animated Justice League series.
Curious Timing?
It's likely that Stewart's creation in the early seventies was part of DC Comics expanding the universe and adding more diversity. He was one of the first dominant black characters in the DC canon and now is almost instantly recognizable.
Stewart's addition to the mobile roster happens to be ending in February, which is also Black History Month.
Whether this is just coincidence or a conscious decision on NetherRealms' part is irrelevant since he will be a welcome addition by most players and fans (especially after that dreadful Green Lantern movie). Maybe, we can get a Denzel Washington reboot on that.
Slade Wilson - Superstar
For Android Users, prepare to meet the Red Son version of Deathstroke.
Remember, each set of battles you win, you get a part of Deathstroke's gear (Utility Belt, Dog Tags, Sword, Rifle, and Mask). Once you have won all five challenges, a Gold Level Red Son Deathstroke is added to your collection.
Deathstroke seems to be a pretty popular guy lately. Not only is he featured in Injustice, but Slade also makes appearances in the latest Arkham title, Arkham: Origins.
And Manu Bennett brings him to life on the CW's Arrow series.
In both the console and mobile games, Slade's considered a favorite and many players consider his combos very strong and a good offensive choice. Plus, you can't beat his cinematic attack for style. (Bicycle kicking a sword to the gut, awesome sauce, right?)
Published Jan. 23rd 2014