Super Smash Bros. Roster May Have Just Leaked
It seems the roster for Super Smash Bros. for 3DS and Wii U may have been leaked
WARNING! MASSIVE SPOILERS AHEAD!
We have a little over a month before the release of Super Smash Bros. for the 3DS. Little by little Nintendo has fed us information about the new entry in the series. Now, however, the roster for the upcoming games might have been revealed.
Last week an anonymous user posted what he claimed are screenshots from Super Smash Bros. on 4chan. In one of the screenshots, compiled here by NeoGAF, is an image of the game's roster. In it, we see new characters, along with series veterans, who have not yet been revealed. Some of these include the dog from Duck Hunt, Ness, and R.O.B.
Then today, some videos popped up on YouTube showcasing two of the leaked characters: Shulk from Xenoblade as well as Bowser Jr.
Nintendo has since taken these videos down.
Kotaku has noticed that a username is found in both the screenshot and video: ESRB0083. The name seems to indicate that the video was originally intended for the US ratings board ESRB. While they do not usually play the game themselves, they do look at footage sent from the developer. This points to the leak coming from someone at Nintendo.
It is interesting to note that some veteran characters are not seen in the roster. This includes the Ice Climbers and Solid Snake. However, the poster on 4chan claims that these characters will be available later as DLC.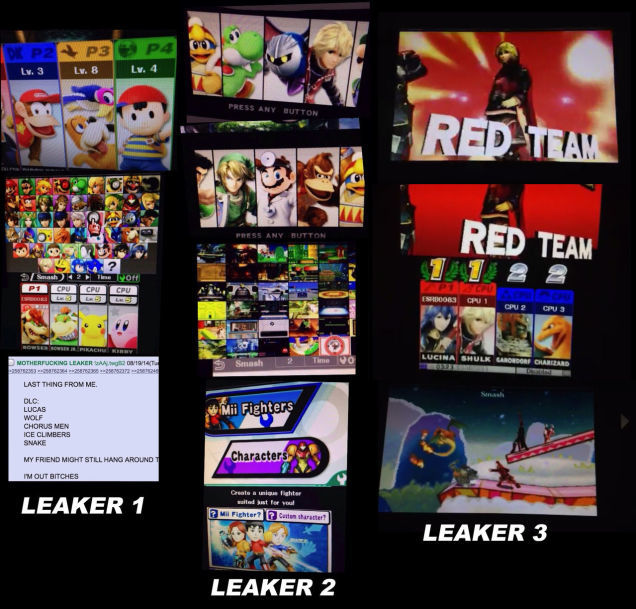 Of course, this is speculation. There is evidence that this is legit at all, at the very least because of the videos. Nintendo removing the videos from YouTube due to copyright claims hints that this is real. If it is, this means that the roster for the new Smash Bros. will be interesting. The dog from Duck Hunt piques my curiosity, and I am glad that Jigglypuff is coming back. We will find out if this is all true when Smash Bros. releases soon.
Super Smash Bros. will release for the 3DS on October 3. The Wii U version will release some time later in the winter.
Published Aug. 26th 2014