Superfrog HD: "A Retro Classic Reborn"
Superfrog HD is now available on Steam! But don't feel left out console gamers, you can pick it up on PlayStation 3.
Today on Steam Superfrog HD released, and it's definitely not something to be trifled with. The game might have debuted in 1993, and 20 years later it'll still kick your butt. The game got a revamp with new graphics, and is a bit more difficult than it's 16-bit version.
How has the game changed so much?
Well, with new technology brings in the opportunity to not only improve, but to tweak the game. You'll still be your favorite superhero, Superfrog, so you can expect to hop around with the same green guy. The cartoon style artwork will hit you with a bit of nostalgia, and win the hearts of those Superfrog long-time fans.
A bit of *spoilers* about the story
If you're familiar with fairy tales, this won't shock you one bit. The suave, dashing and handsome prince is turned into a slimy green amphibian by an evil and jealous witch. She then kidnaps the prince's fiancé and heads to the hills. The lucky prince, er, frog finds himself a potion that bestows amazing powers that gives him the skills to find his fiancé and stop the evil witch.

What kind of gameplay are we in for?

Being a side-scroller game, you can expect 24 spectacular levels with boss levels across 6 themed worlds. Each world will be different in theme, and will give you a nice change of style and scenery as you proceed through the game. When playing each level, you want to collect coins, and only a certain amount will let you proceed onward. There are also some cute cutscenes in the game that enhance the gameplay and bring the story to life!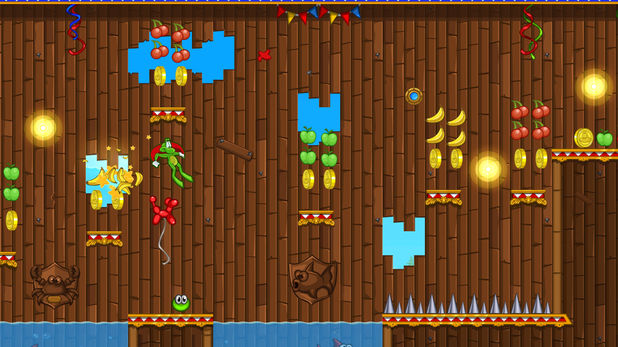 You might recognize the angle for the game. Rescue the girl, defeat the villain. Will you help Sir Prince Frog save his true love from the clutches of evil? Now you get the chance on the popular PC platform Steam, for the small price of $9.99. If you wish to console it, you can purchase it for the PlayStation 3 as well. Happy hopping!

Published Sep. 12th 2013