Resident Evil Revelations - A Nice Surprise
Resident Evil Revelations took me back to the original games. It's not quite the same, but it offered a welcome familiarity.
Resident Evil Revelations has been a nice surprise. I wasn't very happy with the demo of the game; there wasn't a lot to go on. I did think it was neat, but I really don't care for these third-person Resident Evil titles. I miss the first 3 games camera angles so terribly. The camera angles in those games are what really gave the survival-horror its true effect.
Revelations managed to make me feel like I was playing the first game again, but in third-person. It surely doesn't have the same feel as the first, but there is a familiarity.
The music is good and sets the mood nicely, even though some of the voice-acting is pretty cheesy (not that I prefer cheesy voice acting). It doesn't offer the same shock factor as the first three games, unfortunately. There are a few really cool spots in the game that made me go "Whoa!" but it's still not quite the same.
The scenery reminds me a lot of the original game too. The areas of the boat you will explore are absolutely gorgeous. It made me think of the Titanic.
The game plays out in episodes, which I liked. Each episode has a few chapters, and once you move on to the next episode you get a recap of the most key moments of the previous episode.
I liked it a lot since I have a terrible memory. It really helped me maintain the thread of the story. The game is really linear, but it does reward exploration. There are some little corners and dead-end paths you can explore that can lead to extra ammo, herbs, or weapon upgrades.
There are several different types of guns offering a really nice variety to play with. I was surprised at all the weapon types and customization. And none of it distracted me or took me out of the mood of the game. It was comfortable.
My favorite mechanic was the scanner. I don't remember exactly what it was called, but you have an item that you use much like you would when aiming a gun, except it's not deadly. The scanner reveals hidden items in rooms and hallways, offering even more extra ammo and weapon upgrades. I thought it was pretty neat, and it also contributed to the games exploration, not a lot of course, but it was a nice addition.
Another thing I really loved was the removal of the insane inventory micro-managing. Oh what a relief that was. Not that I hated it in the original game or anything, but it's nice to have moved away from that. You don't have a bottomless inventory, but you don't need to manage the living crap out of it either.
My final favorite new thing was the underwater scenes. The controls kind of sucked on them. You can't strafe underwater so you have to always center your camera to move forward. It was more annoying than problematic. Control issue aside, swimming was really neat.
The bosses are epic! I had never thought it would be possible to make a grotesque but somehow still sexy zombie. That was definitely a highlight, too funny. There was one boss in particular that was pretty silly because you literally don't move as you fight it. You just stand there and shoot. It was a neat scene, and the creature itself was cool, but the fight was just derp. So other than that one, the bosses were very cool.
Something I really enjoyed that was both funny and annoying was that I could run past enemies into the next door and just completely avoid them. The reason it was funny was because sometimes I could tell the enemies were put there to purposefully force me into killing them. I'd just run right by them anyways. Sometimes enemies would block the next door, and I'd just walk up to them and squeeze myself behind them and walk through it.
There's a dodge mechanic which is neat, but I never did figure out exactly how it works. Every time I tried to do it when I wanted to, it wouldn't work, but then it would work when I really didn't care. Fortunately you can run past enemies and even strafe around them. There were a few fights where I would strafe around the enemy and just keep poking them with my dagger or axe. (You don't stand in place while fighting melee!) It was funny and fun but certainly not perfect, nor reliable.
Other times I was forced into fighting off waves of monsters that pretty much ran me completely out of ammo. I kind of liked those too. I only got annoyed once when I was at a part of the story that I really wanted to continue on with, and got stuck fighting off stupid waves.
I just realized I hadn't even mentioned the story yet! Without spoilers, it's a pretty decent conspiracy with a lot of crazy stuff going on. It kept me interested even though it was far from original, and it never really slowed down. Great pacing.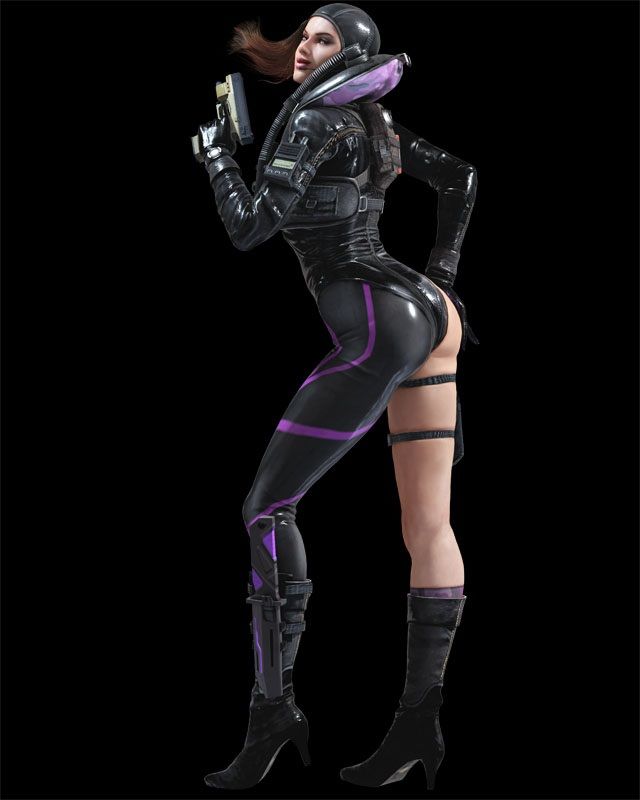 A couple of things that were a little off to me - one of the characters, Jessica, is super hot, but for some reason she's missing a pant-leg. Why? Not that I mind of course, it was just funny. Second, what's with all the military story stuff? Just give me something to be scared about!
Thankfully the military stuff in this game didn't bore me like it did in RE5. Now that I've played this though, it makes me want to play 5 again. But then I think about how terrible 5 is, and I don't.
I really liked Revelations. As usual, it has the best version of the Tyrant in the Resident Evil games although the fight itself was a bit aggravating. (I haven't played 6). There are a few more cool things I want to tell you about but I would consider them spoilers so I've left them out.
Our Rating
Resident Evil Revelations took me back to the original games. It's not quite the same, but it offered a welcome familiarity.
Published Sep. 30th 2013