Dragon Age: Inquisition Wins Game of the Year, but Nintendo Dominates the 2014 Game Awards
Dragon Age: Inquisition, I'm really happy for you and I'm gonna let you finish, but Nintendo really owned the 2014 Game Awards with their gameplay footage and musical performances.
Awards shows have never really been the strong suit of the video game industry. From G4's G-Phoria to Spike TV's VGAs, many have attempted to throw a good end-of-the-year event, and they have failed to draw in the same prestige and large audiences that music and film awards shows do. But that didn't stop Geoff Keighley from trying.
Without the network support that he previously had from Spike TV hosting the VGAs (now defunct since they retooled the titular event to the more trailer-filled VGX), Keighley decided to personally fund an entirely new gaming awards show.
Backed by the holy trinity of gaming - Nintendo, Sony, and Microsoft - along with a slew of other industry heads, the inaugural Game Awards was set to be a different kind of video game award show, more focused on bringing together developers, journalists, and fans from all aspects of gaming. In fact, the new format allowed for free submissions, giving indie and small developers a chance to really shine alongside the big industry players.
The result: a more intimate evening with video game lovers from all walks of life rubbing shoulders together and enjoying their trade without the slog of sponsorships and blatant pandering seen in other events.
The Big Award of the Night
Screenshot of Dragon Age: Inquisition Gameplay, which was voted as the Game of the Year.
The elusive Game of the Year title, went to BioWare's Dragon Age: Inquisition. Although the game has been receiving generally positive reviews in its first few weeks of public release, it has been under a fair amount of criticism for its filler content, and was not as highly regarded critically as some of the other contenders, such as Dark Souls II and Bayonetta 2. It should be noted that the panel of judges included developers and journalists alike, so maybe BioWare's solid track record influenced the decision.
Other games that performed well at the Game Awards include:
Hearthstone (Best Mobile/Handheld Game)
Far Cry 4 (Best Shooter)
Valiant Hearts: The Great War (Best Narrative AND Games for Change awards).
A full list of the nominees and winners can be found here.
Despite popular fan opinion...
Mario Kart 8 took home both the Best Sports/Racing Game and Best Family Game awards for the evening.
Nintendo didn't win the Game of the Year award for Bayonetta 2 or the Best Mobile/Handheld Game award for Super Smash Bros 3DS. But before you start feeling like they were robbed, you should know Nintendo walked away with four awards, including:
Best Fighting Game (Super Smash Bros. for Wii U)
Best Sports/Racing Game (Mario Kart 8)
Best Family Game (Mario Kart 8)
Developer of the Year
Special mention should go to the Best Fan Creation and Best Independent Game awards, as they both involved properties closely associated with Nintendo (Twitch Plays Pokémon by Anonymous and Shovel Knight respectively).
As if winning 4 out of the 18 awards available to developers wasn't enough, Nintendo also took control over the screen time. Nintendo of America President Reggie Fils-Aimé himself was there to do what he does best, which is get us excited about games we're dying to play already. Along with opening the evening with footage from Mario Maker (seen here along with every other trailer and footage clip shown at the Game Awards), we were treated to the world gameplay premiere for Code Name: S.T.E.A.M., Nintendo's new 3DS title that looks like their take on XCOM: Enemy Unknown - if it borrowed some of Borderlands's aesthetics and threw in a healthy dose of steampunk design choices, that is.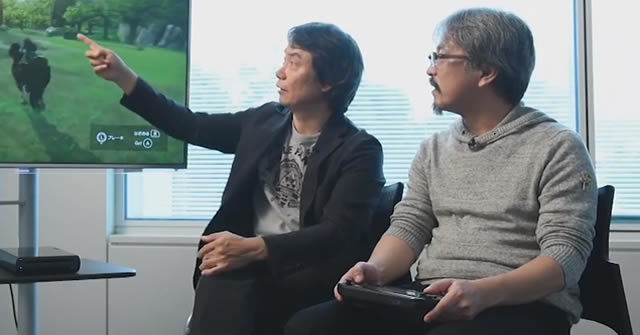 Eiji Aunuma demonstrating horseriding and exploration gameplay for the Legend of Zelda Wii U title to Shigeru Miyamoto.
As exciting as this was to see, it probably paled in comparison to the headliner event of the evening: the Legend of Zelda for Wii U gameplay footage. The game is set to be released sometime next year after the Majora's Mask remake for 3DS and Star Fox Wii U title.
To top it all off, Nintendo finished the event strong with a combined Legend of Zelda music medley involving American rock band Imagine Dragons and the prolific Koji Kondo, who is responsible for just about every iconic Nintendo earworm tune you've ever heard.
To top it all off, Nintendo finished the event strong with a combined Legend of Zelda music medley involving American rock band Imagine Dragons and the prolific Koji Kondo, who is responsible for just about every iconic Nintendo earworm tune you've ever heard.
The event signed off with a collaborative acoustic performance of Imagine Dragon's breakthrough hit "It's Time," which really demonstrated the more personal and unorthodox tone of the evening.
That's not to say that no one else made a big scene at the Game Awards.
The Metal Gear Online gameplay footage was one of the highlights of the evening.
Several other trailers and games were announced (again, all of them can be found here), including new titles from Gone Home's creators and Hazelight Studios, well-known for indie darling Brothers: A Tale of Two Songs.
We also got to see gameplay footage for Metal Gear Online and The Witcher 3: Wild Hunt (which won Most Anticipated Game that evening). Not to mention everyone's favorite gamer violinist, Lindsey Stirling, also offered her own musical contribution with her (beautiful) rendition of the Dragon Age: Inquisition theme.
But being able to open and close the first Game Awards really showed Nintendo's pull in the gaming industry and their prowess as a titan of gaming. Good game, Nintendo, good game.
Published Dec. 8th 2014