DOTA 2 World Championship Prize Pool is Currently at $4,713,225!
Talk about a prize pool worth winning in DOTA 2!
For all you DOTA 2 fans out there, Valve's digital compendium for the World Championship has reached way over $4.5 million presently and is rising.
For every Compendium purchased at $9.99, $2.50 is put into the prize pool. You can earn points, level up, collect player cards, and more. In addition, you can purchase additional Compendium points and even treasures that contain random bonuses as well. It's almost like being there!
As the prize pool reaches each stretch goal, the rewards will be unlocked for each Compendium owner. Some stretch goals have extra bonuses depending on the Compendium Level.

$1,600,000: Evolving Battle Point Booster - Unlocked
$2,000,000: Loading Screen Treasure - Unlocked
$2,200,000: Arcana Vote - Unlocked
$2,400,000: Special Edition HUD - Unlocked
$2,600,000: Solo Championship Vote - Unlocked
$2,900,000: New Game Mode - Unlocked
$3,200,000: Immortal Treasures - Unlocked
$3,500,000: Chat Emoticons - Unlocked
$4,000,000: Mini-Pudge Courier - Unlocked
$4,500,000: New Music - Unlocked
$5,000,000: New Matchmaking - Locked
$5,500,000: Environmental Effects - Locked
$6,000,000: Base Customization - Locked
NEW FOR 2014
New Scoring System
Every 100 points will level up your Compendium. You'll receive extra immortal treasures, obtain new custom in-game effects, get bonus Loading Screens and increase your Battle Point Booster percentage as you progress. Higher level owners receive custom visuals, which will include modified teleport effects, base healing effects, and even new appearances for Bottle, Blink Dagger, and Dagon. These level up Custom Effects last until July 28th. As an added bonus, upon reaching level 50, receive a special alternate version of the Mini-Pudge courier when the stretch goal is reached. How cool is that?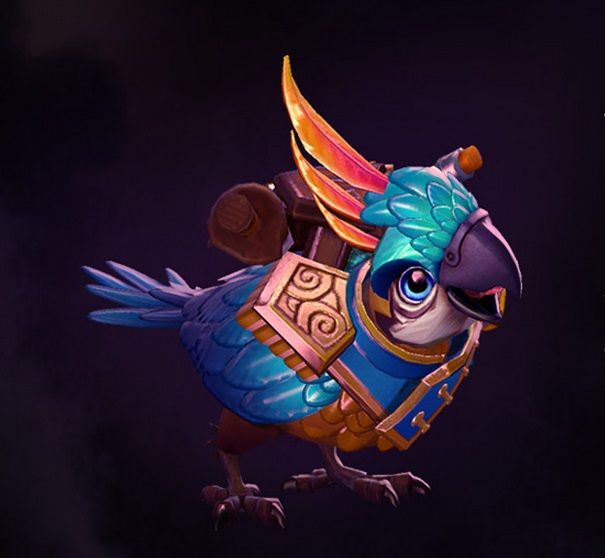 The International Courier
Once you reach Level 4, the International Courier will be yours--Kunkka's faithful Lieutenant Squawkins, a parrot unique in all the lands of DOTA. Continue to develop your Compendium and you'll unlock alternate styles for Lieutenant Squawkins at Level 24 and Level 41. The alternate styles available at a later date.
Evolving Battle Point Booster
You'll see an increase to your battle pointer booster percentage as you level up. This item is unique in that it stacks with any other booster that you have active. The duration of the boost lasts from the time it's activated until July 28th, with no limits on how many matches it can be used in or how high the boost can go. Pretty sweet huh?
Immortal Treasures
Once the Immortal Treasure stretch goal is reached, you'll receive an extra Immortal Treasure every 10 levels. Each time you open a treasure, you will find a different item, with a chance to get an exceptionally rare item.
Compendium Objectives
This year's Compendium has several new objectives you can work toward to earn points. Take the 10 Hero Challenge and try to win a game with each of ten randomly assigned heroes. Offer up your unwanted items for exchange with the Offering of the Aegis. Every week your offering will be collected and Compendium Points and items will be left in its place. Explore the new fantasy format. Each Compendium owner will be granted a ticket to compete in Dota Fantasy Season 1, starting on May 19th. With more details coming soon.
SCORING SYSTEM
Pick Your Favorite Team - 25 points
Pick Your Favorite Player - 25 points
Qualifier Prediction - 50 points
Qualifier Prediction Accuracy - 100 points
Vote On The All-Stars Match - 50 points
Complete the 10 Hero Challenge - 300 points
Watch 10 Qualifier Matches - 100 points
Collect 5 Player Cards - 25 points
Collect a Team's Player Cards - 100 points
Collect All Player Cards - 500 points
Offerings of the Aegis - 25-50 points per week
Play-In Series Predictions - 25 points
Play-In Series Accuracy - 25 points
Top Six Predictions - 25 points
Join DOTA Fantasy League Season One - 25 points
Participate In Fantasy League Draft - 25 points
Watch 10 games at The International - 200 points
Top Six Accuracy (Any Order) - 2000 points
Top Six Accuracy (Exact Order) - 10000 points
You can purchase additional points to further increase your Compendium level.
25% of point sales goes to the overa
ll prize pool.
$2.49 USD – 500 points
$4.99 USD – 1100 points
$9.99 USD – 2400 points
The International World Championship 2014 will be held at Seattle's Key Arena from July 18th - 21st. Last year's Champions, Alliance, along with runner-up, Na'Vi, will be there. Regional qualifiers for the remaining spots in the tournament are presently still up for grabs. As of late, they're finishing the American bracket this week, then Southeast Asia, China, and then in Europe.
Published May. 14th 2014