Family Guy: The Quest for Stuff Review
While including its humorous yet infamous dialogue, Family Guy The Quest For Stuff leaves many other aspects to be desired.
Considering Family Guy already possesses a massive footprint in popular culture, it's no surprise the mobile game, The Quest For Stuff, already has over 89,000 downloads since its release on April 16, 2014.
The mobile game is available for Android and Apple phones and harnesses the original, vulgar Family Guy humor that everyone has come to know and love.
However, I don't believe the writers' coarse jokes and crude dialogue is enough to salvage Family Guy: The Quest For Stuff.
It's Free... But Not Really
While the game is in fact free to play, quests that require you to pay money will continue to clog up your quest bar with no way to clear them.

For those with even a bit of OCD, which I can notably sympathize with, this will literally drive you insane. Not only will your quest log be full of microtransaction congestion, but you'll be staring at your phone twiddling your thumbs for a grueling amount of time if you refuse to spend any money.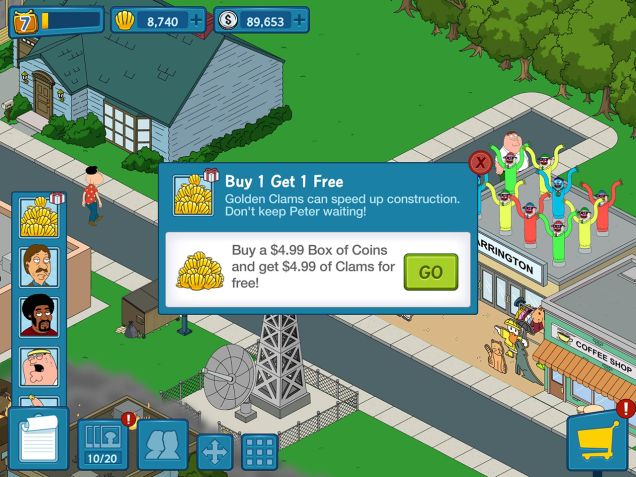 In this quest-and-timer city building game, you'll be performing many actions that require the player to wait until they are finished to continue on with the game.
In the beginning of the game, the timers are only a couple of seconds to a minute long. As you progress, the timers begin to reach 6-8 hours and longer, and I'll give you one guess at the only way you can skip these timers-- spending more money!
Fans aren't happy:
"The most offensive thing about this game is the microtransactions." -
Glitches, Errors, and Force Closes, Oh My!
The first time the game force closed on my phone, I didn't think much of it. After the next 3 times though, I began to get a little frustrated.
Taking my curiosity to the Google Play store, I started reading reviews that assured me that I was not alone:
"Update mess up, keeps saying I can't connect."

"Awesome game, but it does give a can't 'connect to the server' error quite often."

"Doesn't let me open at times. Always says 'Data error, please try again later.' I keep trying it for about 10 times and still doesn't work."
It seems like even if you don't want to fork over the money necessary to progress quickly through the game, you will also have to deal with the game force closing as well.
Uninstalling Is In The Future
I've already decided that after only playing Family Guy: Quest For Stuff for a couple of days, there's a significant chance that this game won't stay on my phone for long.
Don't get me wrong, I enjoy a good city building game now and then, but getting constantly harassed for money isn't one of my favorite things. Neither is a game giving me error messages every 15 minutes.
While the raunchy, offensive script did have me laughing, it wasn't enough for me to look past the rest of the pitfalls.
To download the game, and formulate an opinion of your own, Family Guy: The Quest For Stuff is available here for Android and here for iPhone.
Our Rating
While including its humorous yet infamous dialogue, Family Guy The Quest For Stuff leaves many other aspects to be desired.
Published Apr. 19th 2014