Dumb Ways to Die - Hilarity with a Message
If you think the best thing about The Simpsons is Itchy and Scratchy or if Happy Tree Friends makes you laugh, Dumb Ways to Die will find a place in your heart.
Having experienced some disappointing smartphone game experiences recently, I idly browsed the App Store for something different.
A free game called Dumb Ways to Die caught my eye. So many "free" games could be called Dumb Ways to Pay, so I wondered if this was some kind of final solution for people who get suckered in by freemium honeytraps.
Sadly, it wasn't. Instead, I found a fun short-term distraction with a wicked sense of humour.
Five Dumb But Fun Minutes
Dumb Ways to Die is a just a collection of very simple and well-executed mini-games in which a cast of colourful but dumb jellybean-like characters expose themselves to potentially fatal situations.
The player must tap, flick, blow or swipe in various ways to divert them from an assortment of grisly fates such as train-related deaths, a plane crash, animal attacks, food poisoning and more.
The game's charm and black humour tickled my schadenfreude spot and I can't help but love it a little bit, despite the fact that a hot drink has more longevity. Maybe there's something wrong with me, but I found it more entertaining to fail and discover the cause of death than to prevent it. Sadly, you don't get points for that. When I played properly, the best score I managed was 1,743 points. I'm sure you can do better.
The Hidden Purpose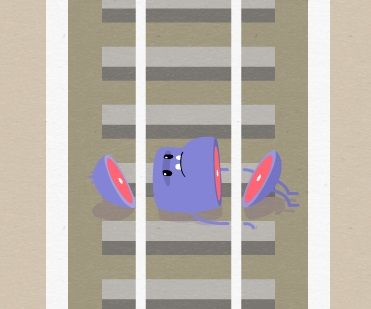 Investigating the Dumb Ways to Die website, it transpires that the game is part of a campaign to promote safety awareness on the Australian Metro. The website itself encapsulates the best of the cartoon death-related humour and has links to download the charming theme tune as featured in the header video.
Dumb Ways to Die isn't going to change your life, but if you are a potential Darwin Award candidate, it may just save it.
Dumb Ways to Die is available on the Apple App Store for iPhone and iPad.
Our Rating
If you think the best thing about The Simpsons is Itchy and Scratchy or if Happy Tree Friends makes you laugh, Dumb Ways to Die will find a place in your heart.
Published Jun. 4th 2013