XBox One Doctor's Note
This doctor's note from Microsoft probably won't get you out of work, but hopefully you'll be able to play your new XBox One anyway
Many of you will be getting a new XBox One today. You might receive it and want to play, but have pesky responsibilities such as school or work. Fear not! Microsoft has thought of everything for their XBox One release day. If you need an excuse to get you out of your life so you can sit around and play games, the developers of the console have you covered with this letter to any boss who may wish for your mental or physical presence.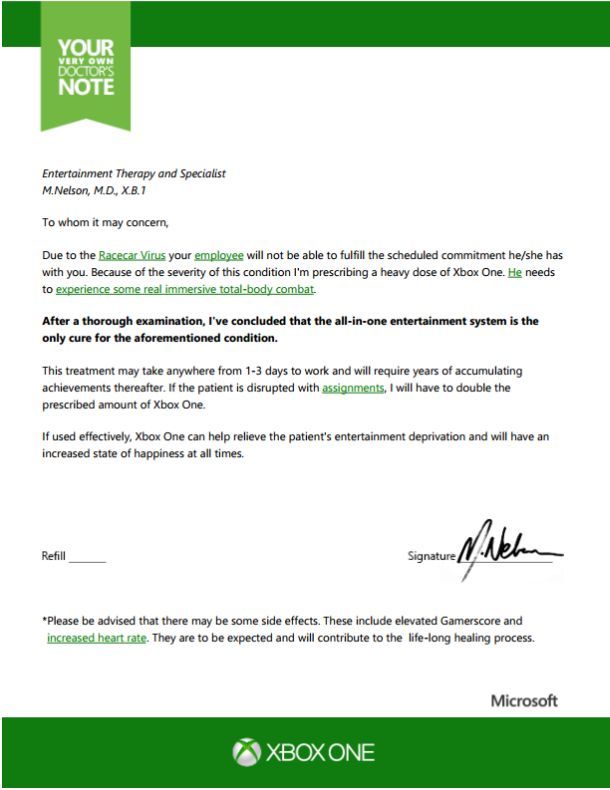 Microsoft does not guarantee, however, that you won't be fired. They have no liability if this note gets you in trouble with your spouse or employer. Use it sparingly and at your own risk. Significant others, friends, bosses, family, and acquaintances will have varying reactions, but few will initially understand why it is that you have to play with your new console. The ploy might just work on someone who's interested in games and has a huge sense of humor, but it's a big risk.
After customizing you can save the note as a .PDF or e-mail it directly to your employer if you have the guts and are free from the zombie flu, racecar virus, and other game-related illnesses.
If you submit this please comment. We want to know how this awesome joke worked for you.
Published Nov. 22nd 2013