Towerfall to No Longer Be Ouya Exclusive
Towerfall creator says games port to PC does not signal an end for the Ouya.
The flagship killer IP of the Ouya announced today that it is moving to PC in a few months. Matt Thorson, the creator of TowerFall announced the decision last night on Twitter, and made sure that fans knew that the decision was not based on what some consider to be disappointing sales from the Ouya.
"Ouya version is doing great! Just want to expand :)" Thorson tweeted yesterday.
TowerFall has been declared a major selling point for the small-time console, with it's retro Super Smash Brothers feel. On the Ouya, the game is selling for $15 and Thorson says that that price will remain consistent with the PC version, unless additions warrant a surcharge.
Some are speculating that the reason Thorson is porting the game to PC is because of the relatively light sales. The Ouya has been suffering from some slight issues since it's release, both from it's inability to fill orders right after it was lauched, it's relative low awareness (it is a new console), and what many view as a lack of major launch title. For many, TowerFall has been that wanted "launch title," but whether or not it is a Halo or Super Mario 64 remains to be seen.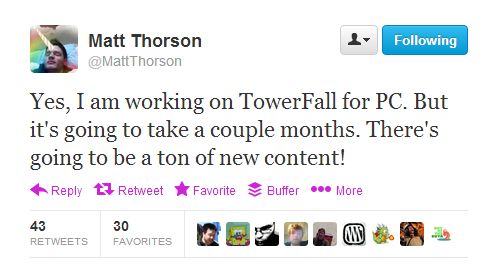 Thorson says that the PC port will take a few months, and if he has time it will hopefully be launched on Mac simultaneously. For now, you can enjoy this ridiculously addictive game on the Ouya.
Published Jul. 19th 2013