Sunset Overdrive Goes Overboard on Character Customization
Sunset Overdrive to feature thousands of vanity-based character customization items, some of which are sure to garner awkward laughter. Kangaroo codpiece, anyone?
Insomniac Games released recently a trailer for their upcoming Xbox One exclusive Sunset Overdrive, in which the team revealed some of the many character customization items that will be available to players.

All customization items are vanity-based, meaning that they have no bearing on playstyle or performance. A football helmet won't give the player +1 Armor.
Game director Drew Murray's opinion of personalization is that it should stay just that: personalization.
It was really important to me and Marcus that vanity stay as just a purely vanity element, that we didn't attach RPG stats or any other bonuses to it, and it was something that was a really big fight around the studio.

It's really important to this game that players be able to wear whatever they want to wear to express themselves.
Customization items will be categorized into what the team refers to as "buckets", a fancy word for "genre". The three buckets--Mainstream, Street, and Costume--will be used to navigate easily through what could be hundreds or thousands of different vanity items.
In order to accommodate diversity in character customization--other than having the choice of different races for your characters--many of the vanity concept artists do not originate from or live in the United States.
Other than the more conventional clothing options, and in typical Insomniac fashion, many vanity item choices will be more... erm... original. The team revealed one of these items in the trailer, aptly titled "Kangaroo Codpiece."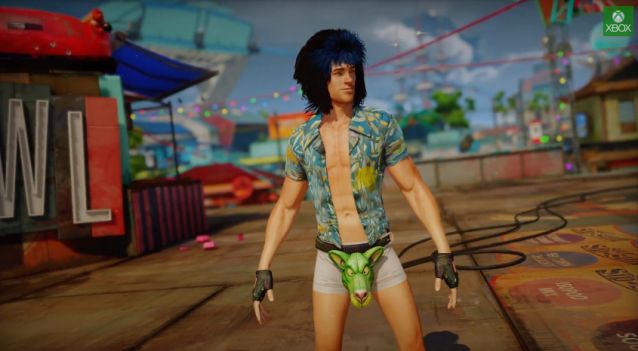 For those not "in the know"
Sunset Overdrive is Insomniac's upcoming open world third person action game set in the world of Sunset City, a dystopian metropolis which is run by the energy drink-manufacturer FizzCo.
FizzCo's latest drink, Overcharge Delirium XT, has turned the entire city's inhabitants into mutant freaks, and it's the player's job, as a FizzCo employee, to eliminate the threat.
The game will release exclusively on Xbox One October 28th in the US and October 31st in Europe.
Preorder at your preferred retailer to obtain access to the "Day One Edition," featuring three unique weapons, and several retailer-specific exclusives.
Published Jul. 29th 2014