Lara Returns In Lara Croft: Reflections... An iOS Social Card Game
Lara revisits her roots in this stylistic throwback to Guardian of Light - a free-to-play card game soon to hit NA.
Plenty of news is coming up Tomb Raider these days, between the announcement of the prettied-up Tomb Raider: Definitive Edition hitting next-gen consoles soon, and the original Tomb Raider hitting the Apple App Store.

And now we have a brand new Lara Croft game to expand the English archaeologist's legacy, Lara Croft: Reflections... and it's a social card game for iOS.
Oh, okay.
From the gritty, emotional, heart-pumping action of Tomb Raider to "epic card battle adventure?" It seems Square Enix has gone a little far off the mark considering the time, energy, and though that went into the recent revamp of the First Lady of Gaming's franchise. Of course, maybe they're trying to cash in on some of the impressive success story that is Hearthstone.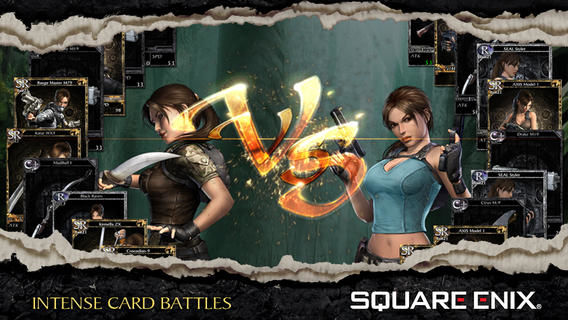 One might say this is even a step back into the days of pretty girl pandering. Everything from the look of the character models to the title text reflects more Lara Croft and the Guardian of Light than the recent reboot (This is not to say that Guardian of Light was a bad game. It was most definitely not. But later iterations of the classic Tomb Raider series were beginning to feel a little tired and one-dimensional).
The new iOS game offers adventures through mysterious lost worlds and the chance to collect valuable artifacts, battle enemies and other game players, plus combine new weapons to increase your power.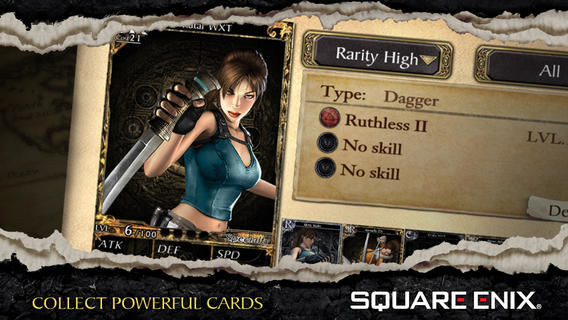 Top features include:
CHALLENGING QUESTS
Explore mysterious lands and battle powerful foes!

INTENSE CARD BATTLES
Collect powerful weapons to attack enemies and other players in massive real time PvP card battle combat!

WEAPON CARD EVOLUTION
Collect and combine weapon cards to level up and evolve new powerful weapon cards!

STEAL ARTIFACTS
Steal artifacts from other players and protect your artifacts!

LIVE BOSS BATTLE EVENTS
Participate in group battles to defeat powerful event bosses for massive rewards!
Currently out on the App store for Australia and New Zealand, Lara's newest free-to-play adventure should be making its way stateside soon.

Published Dec. 23rd 2013