Bag the Loot: A Payday 2 Review
Brandon's official review of Payday 2, a cooperative first-person shooter from developer Overkill Software.
I don't say this lightly, but Payday 2 may be the most fun experience I've had in cooperative multiplayer in quite a long time. That's saying something since I've played plenty of games throughout my time. Payday had qualities that I keep coming back to over and over. I enjoy it daily, it is my way of unwinding after a long day and hanging out with some friends to score some big money, in-game cash of course.
While you can play Payday 2 in single-player, the real fun comes from playing online, preferably with a group of well-known friends with headsets and Skype. Playing solo makes life a little harder, the AI isn't very competent and the enemy AI is more difficult than your lifeless teammates can handle. It isn't hard to tell the game was made to be played with human players, and that is evident very quickly.
AI Woes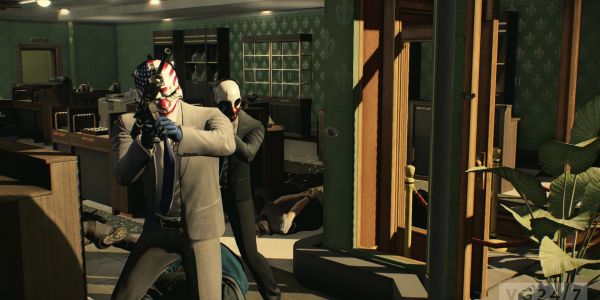 Your AI teammates have some basic combat skills and pathfinding. All too often, I've seen them getting stuck on objects, staring at walls while surrounded by the enemy, or just not shooting at those directly in front of them. This leads you to doing all the work, while trying to micromanage their every movement and push them off whatever invisible wall has them caught.
Forget about doing anything stealthily, the AI don't know the meaning of the word. They can crouch when you do, but they don't have the human instinct to hide very well from oncoming guards on patrol. You will get caught, you will most likely die and have restart the job all over again.
To make matters worse, the AI refuses to pick up a single bag, which is the lifeblood of Payday 2. If you do not get those bags of money/cocaine/gold/jewelry into the getaway vehicle, then you do not get paid. This leads the player to juggling numerous bags while defending. A task even the most professional of players can succumb to.
Do yourself a favor and move online
If you're lucky enough to find a good group that communicates well, you will be plenty richer and level up so much faster. Those with mics, of which there are few in the public, will ensure you work together cohesively and get the job done in a professional manner. The feeling of completely stealthing an entire mission is like none other. Bagging gold and moving it amidst a sea of guards, on the other hand, is difficult but better with human teammates. Just knowing that there are other players with guns backing you up makes the job move so much smoother.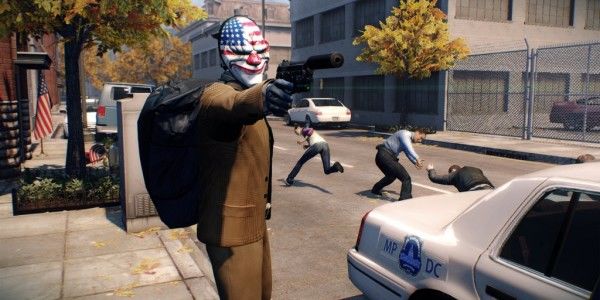 Developer Overkill tends to keep the game updated frequently. It is nice to see this type of support from a studio post-launch, we see too many launch and forget titles. Overkill has released multiple free expansions since launch, as well as three different paid DLCs. All of these are well worth the extra money. I've purchased each one and used everything included in the content packs on numerous occasions, more like everyday. We get new guns, masks, heists, achievements, and items.
The look and feel of the heist
Payday 2 may not be the most beautiful of games, but does it really need to be? I'm not paying attention to how everything looks when I'm trying to score the biggest payday in a heist that I can. This is a current-gen game and it feels right for that. I have no qualms with the way that everything looks. Though I would love to see it ported to the next-gen consoles.
Payday 2 handles quite well, both with a mouse and keyboard and a controller. I prefer to use a keyboard and mouse on my PC games, however, and had no issues while doing so. The key setup is quite nice and offers no difficulty while handling your armed robber. That said, there are some issues with the bags. While holding down the action button to grab a bag the game sometimes will not register and you can end up standing in one spot while trying to rectify this.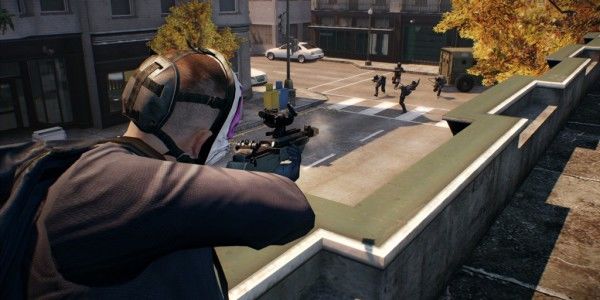 Payday 2 is no stranger to bugs and issues. Thankfully Overkill has worked hard to get to the point we see today. The majority of major bugs have been crushed and we now have an overall experience to be proud of. All games can be continuously fixed and Overkill looks to be doing just that.
I cannot recommend Payday 2 enough. If you've got a good group of friends looking for something interesting to take up far too much of your time, this may be the game for you. It takes patience, skill, and plenty of teamwork, but the end results are well worth the journey. This is for fans of cooperative shooters.
Our Rating
Brandon's official review of Payday 2, a cooperative first-person shooter from developer Overkill Software.
Published Jan. 31st 2014