ArcheAge Skill Set Guide - Occultism
A complete guide of what Occultism has to offer.
With the way the ArcheAge class system works, players will need to know what each skill set brings to the table. In my first series of ArcheAge guides I'll cover each skill set and what they offer.
Occultism is the epitome of "dark magic." This skill set utilizes drains, fears, silences, and summons to completely demoralize your enemy. Occultism works well with Sorcery and Witchcraft for the extra mana regen that you get from it. You can also utilize Occultism in assassin or brawler type builds for extra control over the flow of the fight. Occultism is a very versatile skill set.
The Skills:
Here I'll list all the skills of and what they do. I'll split the lists up between active skills and passive skills to make the list easier to read.
Active Skills:
These are your attacks, heals, or defensive abilities depending on the skill set.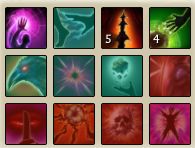 Mana Stars: Launches your mana as a razor-sharp crystal, dealing Magic Damage and triggering Mark of Death, which inflicts Distress when stacked up to 20 times. Combos increase damage by 3% up to a max of 30%.
Crippling Mire: Reduces an enemy's Move Speed by 30% and deals Magic Damage over 4.5 seconds. Damage increases over time. Spell ends if you move.
Hell Spear: Summons spears from the underworld to pierce all enemies within 6 meters. Deals Magic Damage and Impales targets for 1.7 seconds.
Absorb Lifeforce: Deals Magic Damage over 6.5 seconds to an enemy and heals caster for an equal amount. The spell ends with movement.
Summon Crows: Summons crows to attack all enemies within 5 meters. Reduces enemies' Physical Accuracy and deals Magic Damage over 7 seconds.
Mana Force: Shoves an enemy away, dealing Magic Damage. Restores Mana equal half the damage.
Teleekinesis: Allows the caster to control an enemy for a maximum of 12 seconds. Prevents target from doing anything but obeying it's master.
Retribution: Returns 50% of received Melee Damage to the enemy. Lasts 10 seconds. Doesn't trigger a global cooldown.
Stillness: Interrupts all enemy casting within 5 meters and inflicts Silence for 3.5 seconds. Removes all Fear effects from caster.
Urgency: Reduces the cooldown for Occultism skills by 9 seconds. Lasts 90 seconds.
Summon Wraith: Summons a Wraith that deals Magic Damage per second for a maximum of 9 seconds to all enemies within 7 meters. Inflicts enemies with Wraith Curse, reducing Move Speed, Attack Speed, and Cast Speed.
Death's Vengeance: As you die, blast your remaining energy to deal Magic Damage to enemies within 15m.
Passive Skills:
Passive skills require a certain amount of skill points used within the set to allow point allocation into them. Passive skills buff the skill set once you unlock them, allowing for easier combat. In addition to the skill's effect, I'll list how many spent points are needed before you can allocate points to the passive skill.
Enhanced Mana Recovery: Increases Mana Regen +7 every 1 second. (Requires 2 points spent in Occultism.)
Reprisal: Increases Magical Critical Chance by 20% for 10 seconds after receiving critical damage. (Requires 4 points spent in Occultism.)
Caster's Enrichment: Decreases health regen by 15 every 1 second while not in combat and increases mana regen by 15 every 1 second while not casting. (Requires 6 points spent in Occultism.)
Macabre Reach: Increases Magic Critical Damage by 50%. (Requires 7 points spent in Occultism.)
Overpowered Spell Locus: Upon receiving dmage, increases Magic Attack by 15% for 7 seconds and stacks up to 5 times. Movement cancels the effect. (Requires 8 points spent in Occultism.)
Intensified Harm: Increases Magic Critical Damage by 50% for 6 seconds after recieving critical damage. Disabled after 30 seconds if triggered too often. Does not apply to healing skills. (Requires 9 points spent in Occultism.)
Death's Beckoning: Decreases Occultism skill cooldown by 20%. (Requires 10 points spent in Occultism.)
I hope this gives a clear view of what the skill set offers your build. For more guides on ArcheAge check my content directory.
Check out our sister site Guild Launch to find an ArcheAge Guild or create a free ArcheAge guild site.
Published Sep. 23rd 2014