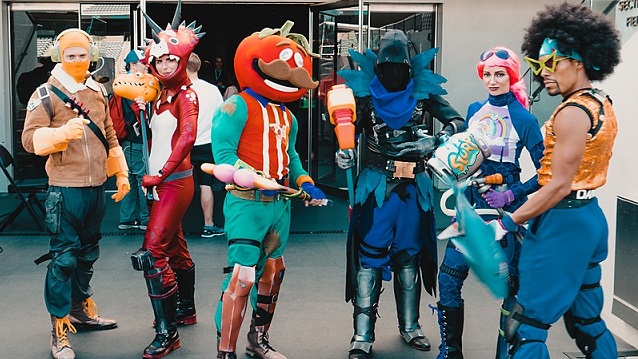 Since its release, Fortnite has steadily released skin after awesome skin. Some are generic, while others are clever and just downright funny.
As a result, fans have spent dozens of hours putting together fantastic cosplay, like the ones found here, and costume shops around the country have spent dozens of hours stocking their shelves with Fortnite costumes.
With Halloween just around the corner, we've collected some of the cheapest costume options and easier DIY alternatives spare your wallet and keep you from scrambling at last minute on All Hollow's Eve.
Here are some of the most popular Fortnite skins you can buy or recreate to impress your squad this Halloween.
Image source: Wikimedia Commons
---
Costume: Kitsune-Drift
One of the more recent Fortnite skins to release also happens to be one of the most affordable to buy (or even make). With a red vest jacket, a fox mask, and some dark clothing, you can effortlessly pull off this Kitsune Drift Costume for pretty cheap.
Though you could spend extra time crafting a mask such as cosplayer Gibson -- or shelling out some extra money for hand-made, 3D-printed masks -- you can also find masks from as low as $9.50 on Amazon.
Pair that with fingerless gloves, a long-sleeved dark shirt, and a red jacket to match the skin and you're all set. Essentially, this costume would be perfect for anyone on a tight budget and in need of a unique, yet fairly easy-to-make costume.
Here's what you need from Amazon:
Image source: Justgibsonnn cosplay
---
Costume: Teknique and Abstrakt
If you're the crafty type, you'll have fun designing bright splatter for the skin duo, Teknique and Abstrakt. But don't worry; It won't require too much money or time since the core components are simply a grey jacket and purple sweatpants.
Surprisingly, gas masks will only cost between $15-$20 and teal hats are as low as $2.00 online. Though the Abstrakt skin has an additional blue vest, the two will pretty much require the same amount of effort and materials.
Here's what you need from Amazon:
---
Costume: Raptor
Not only is this Raptor one of our favorite Fortnite cosplays, it's also one of the easier DIY Fortnite costumes. The best part is that you can get creative with items you might already have lying around the house.
You will need brown combat boots, a shovel, cargo pants, and knee guards. If you don't have a brown leather jacket, you can find a pleather pilot Jacket for around $40 on Amazon, along with a cheap yellow ski mask for $6.
Finish it off with a pair of yellow gloves and a headset, and you're good to go. This will be a warm costume so save all those layers for a cold Halloween night.
Here's what you need from Amazon:
Image source: SilentPillar
---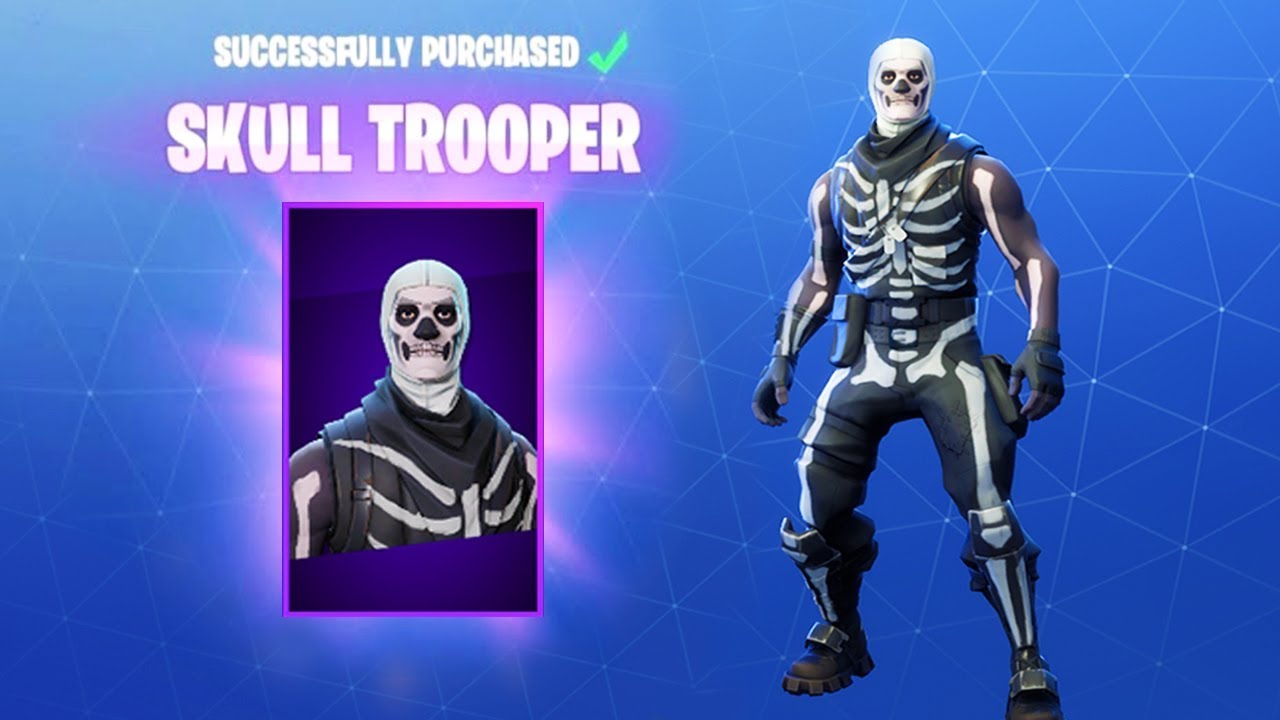 Costume: Skull Trooper
You can't go wrong with a skeleton costume on Halloween, but make yours stand out by getting combat ready. Skull Trooper is the perfect Fortnite skin for All Hallow's Eve, and it can even be a lot of fun to make.
This look can be created one of two ways. You can either purchase clothing that already has skeleton outlines printed on them, or you can paint your own.
Using black and white face paint, create an eerie skull and bones along your arms. Next, outline a rib cage and spine on a sleeveless shirt with fabric paint and continue painting the pants legs for a complete skeleton costume.
Be sure to dig out a pair of black combat boots from your closet, and don't forget to buy a white ski mask and black scarf to mirror this skin.
---
Costume: Leviathan
Though this one will be a little tricky and time consuming, the outcome will be an awesome Leviathan skin costume -- which will totally be worth it.
The key components to this one will be a breathable clear helmet ($18.90) and a fish mask ($6.00). But before you put on the clear helmet, make sure it's safe and breathable.
To recreate the fish himself, you can either get creative with green and pink face paint as well as color hairspray or you can purchase cheap printable fish masks from Etsy.
The main hiccup you might run into is with the suit. Despite there being few suits available that are identical to Leviathan's, you can pull it off with a grey/white onesie or jumpsuit and tan gloves from Amazon.
Here's what you need for this Fortnite costume:
---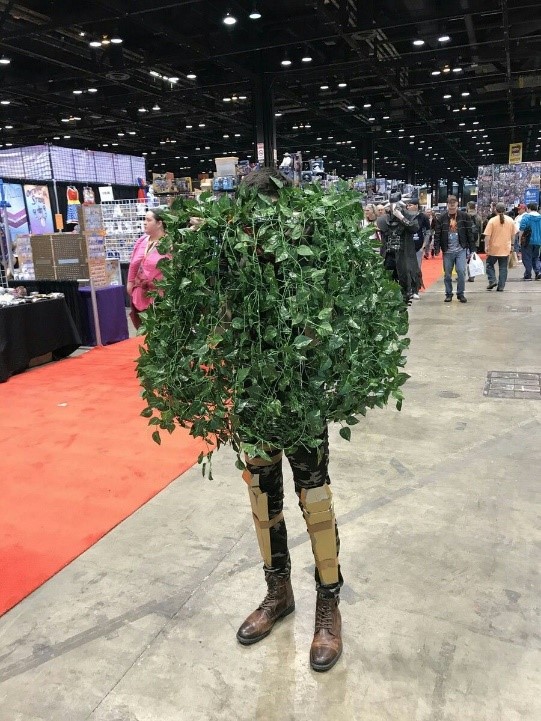 Costume: Bush Disguise
There are a lot of popular Fortnite skins you could model your costume after, but one really fun idea is to go as a player in a bush disguise. Not only is it easy to pull off, but this clever costume will give your friends a good laugh as you sneak around this Halloween.
Fake foliage can be purchased on Amazon for $14.48, and once superglued to an old set of clothes, you can camouflage yourself to fool your foes and perhaps jump scare a few strangers.
To get the look above, you can also buy a pair of cheap brown shoes, and cut up some cardboard to tape to your jeans as shin guards.
Here's what you'll need:
You probably already have a pair of old jeans and you can get four boxes from the USPS for absolutely free right here.
---
Costume: Love Ranger
Are you a hopeless romantic? If so, Fortnite's Love Ranger skin is the perfect choice for your costume.
However: Do be wary of this one if you have sensitive skin because it's going to require a full coat of body paint over your face, arms, and torso. Get ready to stretch to reach all those hard to reach spots on your back.
Using grey hairspray and body paint, you can cover yourself to imitate the stone figure.
You can also use any set of grey wings to strap onto your back. The only other clothes you need are pink sweatpants and grey gloves. If you aren't spooked by putting contacts in your eye, you can also find white color contacts to match the Love Ranger's.
Here's what you need:
---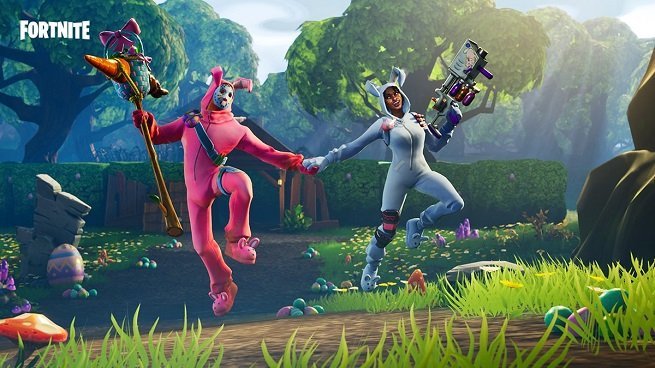 Costume(s): Bunny Brawler and Rabbit Raider
If you want to be cute and cozy in your Fortnite Halloween costume, look no further than this pair of bunnies for inspiration. Though it could be seen as a simple bunny costume, adding the unsettling buckteeth and whiskers to a hockey mask will get you into the fall feeling rather than the spring spirit.

All you will need is a bunny onesie, bunny slippers, an optional hockey mask, and some paint for the whisker nose. If you want to spend a little extra to bring the Fortnite skin to life, you can use an Easter egg style backpack for your egg grenades.
Here's what you'll need:
---
Costume: Dark Voyager
Dark Voyager has always been a favorite skin for Fortnite players, but it's also a favorite costume choice for cosplayers and Halloween shoppers. Spirit of Halloween has two costumes for the dark masked figure. The cheapest, however, is a $49.99 suit. Sizes range from adult to kids.
Helmets will cost extra, but if you're a dedicated fan, it may be worth the extra money.
If you don't want to spend more than you have to, try checking your garage for old motorcycle helmets or ask a friend. Once you have your hands on one you can get crafty with the color highlights by spray painting the lines.
You can also purchase black jumpsuits (or onesie) on Amazon and add neon fabric paint to finish the designs.
Whether you choose to purchase the finished suit or craft your own is up to your budget and time.
Here's what you'll need:
---
Costume: Rex
It's not quite as massive as the classic inflatable T-Rex costume, but it is still a fun one to wear.
The most complex part of this costume is the T-Rex mascot head and backpack, but the rest of this classic skin is simply an orange scarf, green onesie (or pants and T-shirt), and green gloves.
Spirit Halloween has a full costume available for purchase at $49.99, but if you would prefer to purchase separate pieces for a slightly better price, you can find a dinosaur mask on Amazon, as well as the items listed above.
Here's what you'll need:
---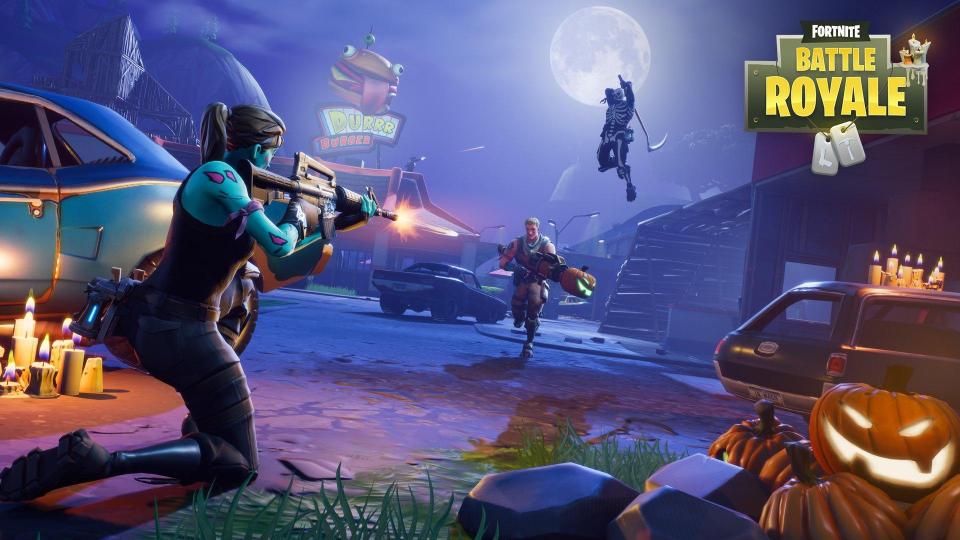 Whether your favorite Fortnite skin is Raptor, Love Ranger, Rex, or any of the ones we've put on this list, hopefully, this cheap, DIY costume rundown will help you find the right costume for Halloween.
Be sure to share your creations with us as you get ready to celebrate. Oh, and don't forget to wish the driver a Happy Halloween as we dive into one of the best months of the year.