Set in a skypunk fantasy world full of airships, pirates, floating islands, and giant airborne beasts, Black Skylands is a mix of genres that manages to work despite its patchwork nature. It's an ambitious project for indie studio Hungry Coach Games, but all the ingredients for success are baked in.
We were able to go hands-on with the latest Black Skylands playstest on Steam and came away with positive impressions. Here's what we thought.
Limitless Horizons
In Black Skylands, you play as Eva, a girl from a farming community who wants to explore the wide world beyond her Fathership, the floating paradise where she lives with her father and brother. Soon after a short segment introducing players to the game's farming and settlement building mechanics, your home is attacked by pirates and razed in front of your eyes.
You fight back, learning how to shoot enemies a la' Hotline Miami with Skylands' fun aim deviation if you spam fire. You're then introduced to the hook that drives the demo and the early game: your brother has gone off into the sky to fight the pirates on their home turf, and you'll need to take an airship out into the great beyond to find him. Taking the first steps into the sky lets you drink in the gorgeous pixel art on display.
For a demo of an Early Access game, Skylands already looks extremely polished, with flocks of fauna flying overhead as giant sky-faring whales casually float below. It's clearly far beyond your average retro-aesthetic, with lush detailing everywhere, and the only complaint is that the top-down characters are not quite as bold or instantly recognizable as they could be, which often leads to missing certain things here and there, such as important shopkeeps.
Piloting in Black Skylands is wonderfully tactile, and stocking your ammo and fuel involves grabbing crates from stores and physically carrying them to your hold. Fuel cans must be purchased, filled up, and then emptied into your ship's motor. Managing your ship's repairs feels unique, too, and operating its guns is done with the left and right mouse buttons. On top of that, you'll need to keep an eye on your firing arcs and how much fire as the guns can overheat.
Grand Theft Airborne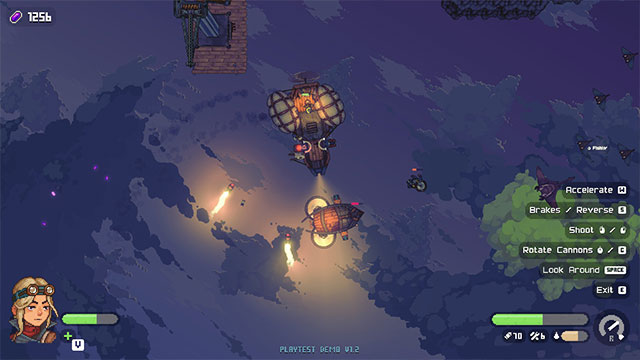 Cooling overheated armaments and repairing damage to the ship can only be done by letting go of the steering wheel and manually moving to the damaged area or affected gun and expending time (and often resources from the ship's hold) to fix the issue. While aerial combat is mainly you fighting against smaller ships and propeller-suit-wearing pirates (at least so far), it can get fraught as you try and orientate your ship's firing arcs while avoiding gunfire, rockets, stationary mines, and clouds of noxious gas.
Transitioning from ship to island is achieved by diving off the deck of your ship and latching to firmament with a grappling hook. The hook is a great tool in combat, as well, letting you zip around or pull enemies in for a melee attack or close-range shotgun blast. You are equipped with a dodge roll that takes you through projectiles, allowing you to dance through bullet-hell style waves of attacks and avoiding swarming melee grunts.
There are plenty of weapons to choose from, running the gamut from pistols to shotguns to submachines, and each is fully moddable with upgrades found at vendors and in loot boxes. There are also mods to craft for your airship, and buildings you can create and upgrade back at the Fathership, which makes the game feel familiar to recent Assassin's Creed titles.
Islands in the Sky
It may sound odd to say, but Black Skylands is very clearly trying to parrot some of the trends found in AAA open-world games, but with the kind of top-down, retro stylings that are so favored by indie studios. It sounds like an unlikely combination, but it's a good fit.
The small opening story quest ends the demo, but there is scope to carry on exploring the rest of the open world. Each island is occupied by a host of enemies, and clearing them all lets you stake a claim on the island, giving you new resource options and access to new vendors.
Black Skylands releasing in Early Access makes sense for a drip-feed of content. The map is limited right now, but there are clear plans to expand outside the demo area. The islands on offer currently present a good mix of top-down platforming, combat, and exploration with some minor secrets to find.
With the scope it has for constructing buildings on your Fathership, upgrading you weaponry, armor, and airship, and the vast expanse of the sky to explore, there's a great foundation here. Controls are a little finicky at times, and the distance and reliability of your grappling hook take some getting used to.
It will be extremely interesting to see where the developers take Black Skylands next, especially if new challenges and sky biomes are added. This is one to keep your eye on.
About the author