Desperados 3 has been a long time coming. The last game in the series — the amazingly titled Helldarado — came out in 2007. Even though the series has switched to a new developer, Desperados 3 is a direct sequel, featuring characters, gameplay, and plot mechanics that will be familiar to longtime fans of the series.
Real time tactics is an underrepresented genre, but there was a time when Desperados and Commandos were big names in PC gaming. So it's nice to see this, and Commandos, making a comeback.
We got our hands on an early build of Desperados 3, which is due out sometime this summer for PC (the version we played), Xbox One, and PlayStation 4. Saddle up and read on to find out how things are coming along with this cowboy tactics game.
Desperados 3 Hands-On Preview — Six-Shooter Strategy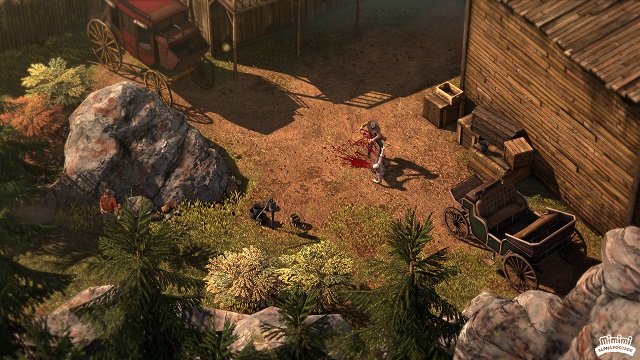 If you're unfamiliar with the genre, here's how a typical level works in Desperados 3.
You'll be put in control of a few different characters and given your mission objectives: steal something, killing someone, or simply making an escape. Then you'll be let loose in a carefully-designed level full of enemies, hiding places, and random bystanders. From there, how you achieve your objective is up to you.
You're vastly outnumbered, so you'll have to use each character's special abilities to thin out the pack or sneak around patrol patterns to get what you need. Using the environment to your advantage is key.
As you slowly make your way through levels and eliminate hostiles, you'll need to hide the evidence to create new pathways, eventually peeling back enough layers to achieve success. Early on, this is fairly simple. As you progress further, you'll have to think of ways to chain abilities together to achieve the intended result.
Desperados 3 might look similar to a turn-based tactics game, but it's much more akin to a puzzle game. One of the hints early on is that quicksaving and quickloading is a huge part of this genre; you're supposed to try several things (and fail several times) in order to put together a solution.
In My Prime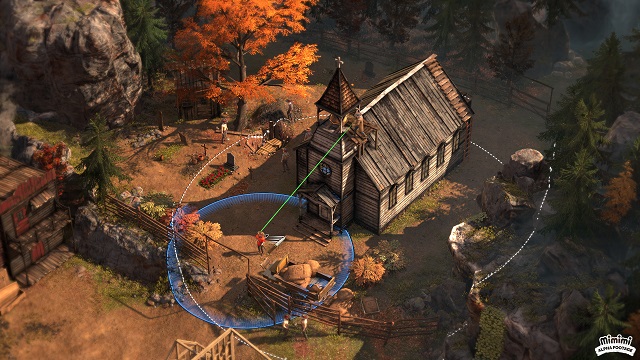 This is not nearly as tedious as it might sound. We're talking extremely quick turnarounds in your quicksaving — I basically started doing it every time I progressed in the slightest — and it all comes together into achieving a very satisfying conclusion. When everything works out in Desperados 3, you feel like a right clever cowboy.
I played the Commandos: Behind Enemy Lines series religiously in my younger years, so fitting back into the intricacies of the genre wasn't too hard. There's still a great deal of challenge here; the preview build had a few levels from later in the campaign, and they were extremely tough to crack if you cranked up the difficulty. It could be a tough world to slide into if you're unfamiliar, but there is a lot of fun to be had here if you want something a bit different.
It isn't all sneaking about and hiding bodies in closets in Desperados 3, either. You have a few options if things go sideways and you have to shoot your way past a few guards — just make sure you have an escape route ready if you decide to do that. Everyone within a country mile is about to come bearing down on you, and it only takes a few shots to put you down.
You're No Daisy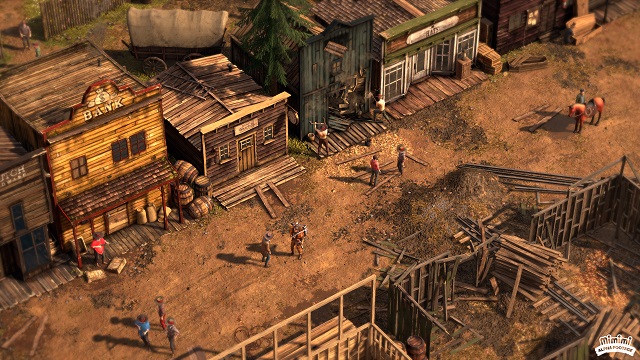 It also helps that Desperados 3 has a delightfully campy little cowboy story to go with it. Your ragtag team of Western cliches has revenge on the brain, and they all are drawn together under various coincidences to take on similar baddies.
Everyone is basically Doc Holiday from Tombstone. Trenchcoats, ridiculous weapons, and over-the-top slang are in the name of the game. The story seems aware that this is not a quiet meditation on a dying breed of gunslinger or a man's struggle between his bloodthirsty past and hope for redemption before he dies. This is white hats and black hats, twirling their six-shooters and making spittoons ring before blasting everyone at the OK Corral.
It's a different kind of cowboy tale than something like Red Dead Redemption 2. Luckily, this town is big enough for the both of those styles.
Room Service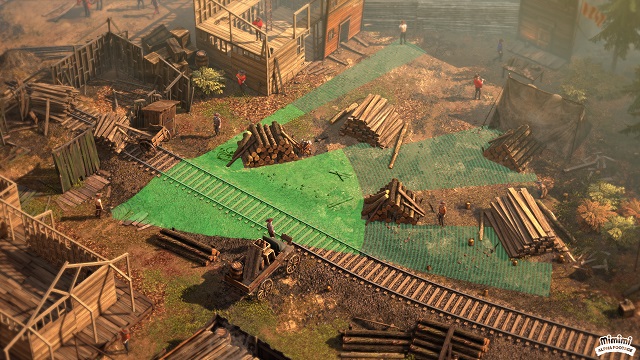 This self-aware attitude isn't just part of the story, either. It filters through into elements of the gameplay as well. This is an extremely "video game" genre of video games — some of the things you'll be doing don't make a lot of sense if you scrutinize them too much.
One of your characters carries a bear trap on his back that is literally big enough to cut a man in half. He can also set it up and lure guards into it. How do they not notice it? Well, Desperados 3 addresses that, claiming the weapon is "surprisingly stealthy." That's… it.
Another example is that most enemies are easily distracted or lured off their posts, but not the ones wearing ponchos. When a character speaks this warning aloud in an early mission, another character asks, "Why?" The only response is this: "Just trust me, I know."
In a game that took itself totally seriously, these details would break the immersion. Instead, these little things just kind of keep you keyed in on the matter at hand — that you're playing a fun puzzle game with a steely-gazed cowboy costume on top. It's your chance to create mayhem in a little spaghetti western sandbox, and that's just fine by us.
Speaking of sandboxes, you can also mess with a whole bunch of settings until you fix Desperados 3 to the perfect level of insidious difficulty. Each mission has several alternate goals to help you achieve "perfect" runs. Straightforward ones, like beating a certain time or limiting the amount of quicksaves are, again, "video game" goals, but there are also more interesting tactics, like making certain deaths look like accidents.
These goals, along with the nasty difficulty at the highest setting, are sure to appease anyone who thinks they're the fastest draw in the West.
Very Cosmopolitan
The build I played was an early one, and certain aspects of it showed. Hopefully, the final game has a bit more style in its presentation.
I generally needed to stay zoomed out pretty far so I could keep track of all the moving pieces on screen. As such, it's hard for Desperados 3 to make things personal. The story seems like a continuation of the previous games in the series as well, something I was not familiar with going in.
Graphically, things are still a little sloppy, too. There's a lot of clipping in some of the models, and the camera controls could be a little more elegant. Maybe they'll get better when the full game hits retail, but it isn't a major problem with this genre.
Overall, Desperados 3 is shaping up to be a great entry in an underrepresented genre. It's set to release on PC, PlayStation 4, and Xbox One in summer 2020, but an exact date has yet to be revealed.
We'll have more on the game, including a full review, as its release date approaches. Until then, shine your spurs and practice your shooting.
[Note: An early build of Desperados 3 was provided by THQ Nordic for the purpose of this preview.]
About the author