One of the best things about the gaming community is our enthusiasm. When a gaming company like FromSoftware is able to develop so many great games in such a short time, it's only natural that we'd rally around them. From animated videos to some pretty impressive artwork, here's some examples that prove the Dark Souls community is one of the greatest in the history of gaming.
Happy Souls
YouTuber Jameserton leads the pack with one of my favorite Dark Souls fan pieces in the history of ever. His video was only released recently, but details him and his friend's journey through the abyssal nightmare that is Dark Souls II. It has also spawned one of my favorite things to yell in a crowded room, "I GOT BOOOSSSS WEAAAAPOOOOONNNNS!" I've watched this piece an unsightly amount of times if only for the Weaponsmith Ornifex scene.
Shrek Defends His Swamp

Iron Pineapple and his crew have made quite a few videos detailing just how versatile a game like Dark Souls is. What makes this one stand out in particular is his dedication to the subject material. Donkey ONLY kicks using the Horsehoof Ring and Puss in Boots is using a rapier. Play this in the background for added experience.
Mimicry Men
Rounding out the videos is JellyElite~ with his video about emulating the life of one of the creepiest monsters in Dark Souls. Once again, what really sells this video is his attention to detail. He limits his killing spree against opponents who use the Undead Hunter Charm item which has the unique effect of putting mimics to sleep. Did you know their "teeth" are actually dozens of bonelike fingers? As if they weren't already creepy nightmare boxes.
Fan-made Estus Flask & Soapstone Necklace
Some of the creative people at Etsy have gotten in on the Dark Souls craze as well and make some pretty awesome stuff for the enthusiast who wants to bring the darkness of Lordran into their every day life. The people at VideoGameCollectorHQ have made some pretty cool trinkets for sale on their site, although the lead painted flasks are probably more likely to harm than heal.
Bonfire Night Light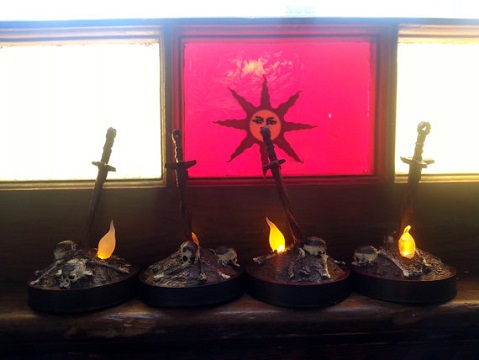 Etsy user ZanzibarLand has made a miniaturized version of the Dark Souls bonfire into a night light. Now you can feel that soothing glow call to you in your own home while you race from the kitchen to your room in the dead of night to avoid whatever monsters await you in the dark.
Dark Souls III Watercolor Posters
The last from the Etsy front is by Rob of EpicDecorations. He's done some amazing work with his water colored posters depicting the Dark Souls universe, as well as a few other popular franchises such as League of Legends. The Solaire of Astora poster is my favorite just because he looks so happy.
Watchers of the Abyss
Another testament to the artistic talents of the Dark Souls fandom is this piece by redditor Nathanpye depicting the boss Abyss Watchers. This entire piece was done digitally and nothing could do this enemy more justice.
Lordran and Beyond
While great fan art is amazing, it's even better when backed by a compelling story. Zach Sharpe, with help from artists Rachel Saunders, Chris Puglise and WitnessTheAbsurd have collaborated to make one the the coolest Dark Souls comics out there. The storyline is sweet as well as chilling, fitting in perfectly with the theme of the franchise. They're close to hitting their Patreon goal as well, so be sure to check it out if you'd like to see more like this.
Anything we missed or have a piece you'd like to share? Post them down below in the comments for everyone to see!
About the author