Only you truly understand the power that your partner holds.
They may not have the ability to fly like Superman or wield the Lasso of Truth like Wonder Woman, but you know that whenever you're in distress they are the first person who will be straight to your rescue!
So this Christmas, why don't you help them realize their own hidden powers by buying them some of these awesome superhero presents!
(Just make sure to stay on their good side once they master their abilities!)
---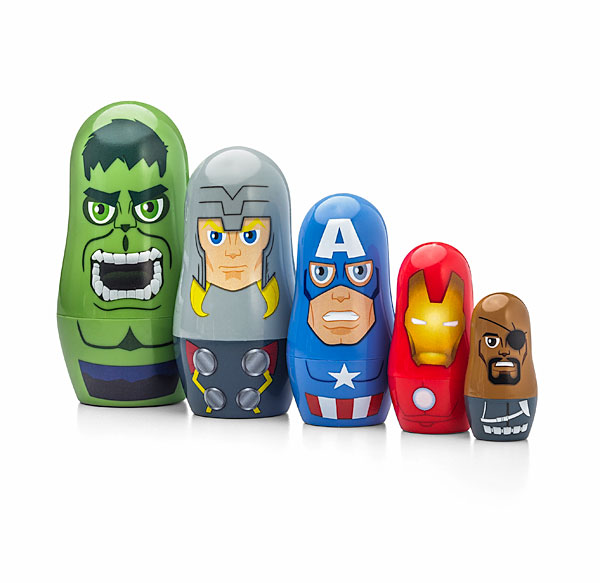 Marvel Avengers Nesting Doll
Rating: 4/5 (Related Reviews)
Price: $15.99
Buy it: Thinkgeek
We've all seen nesting dolls before, but none quite as heroic as the Marvel Avengers version!
Give them to your hero and they can have a handy pocket-sized nested doll of these notorious heroes (The Hulk, Thor, Captain America and Iron Man) in Marvel Avengers, keeping an eye on that pesky Nick Fury!
---
Batman and Superman Pillows
Rating: 5/5 (37 Customer Reviews)
Price: $24.46
Buy it: Etsy
Even superheroes need to relax every now and then. These pillows look perfect to rest your head (or backside) on after a hard day of fighting crime!
These pillows, with their built-in super powers, will stay in use way after Christmas!
---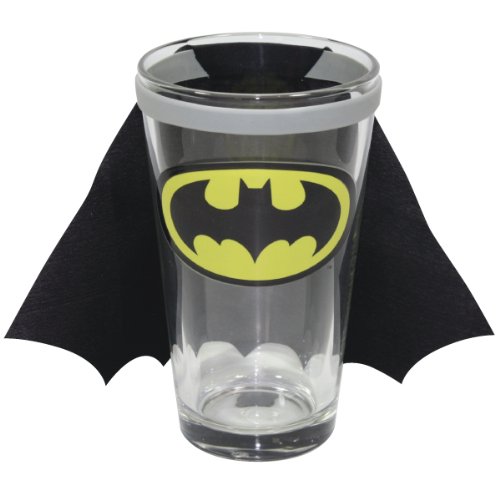 Batman Pint Glass with Detachable Cape
Rating: 4.5/5 (31 Customer Reviews)
Price: $13.99
Buy it: Amazon
Around Christmas we tend to drink just a tad more than normal. I blame the cold. With this in mind, would turning their pint of beer into a superhero be too over the top? Well, what if I told you that the cape was detachable?... SOLD!
---
Captain America Watch
Rating: 4.5/5 (Related Reviews)
Price: $29.99
Buy it: ThinkGeek
It might not be able to deflect bullets like Captain America's shield but this watch sure is practical and a whole lot more stylish! This is a subtle way to show the world their superpowers without having to hurt anybody. Oh, and it will help them keep track of all those important 'save-the-world' plans that they like to make!
---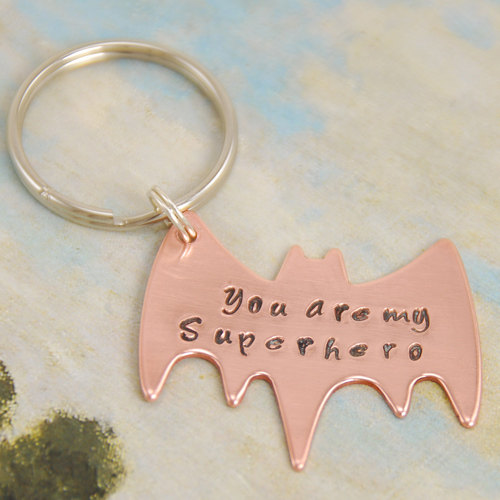 'You Are My Superhero' Key Chain
Rating: 5/5 (80 Customer Reviews)
Price: $15.40
Buy it: Etsy
This simple and adorable gift says it all. The key chain is a constant reminder of who they truly are, your superhero!
The bat is made with copper and comes with a stainless steel split ring. Each keyring is handmade using steel stamps, so every one is unique!
---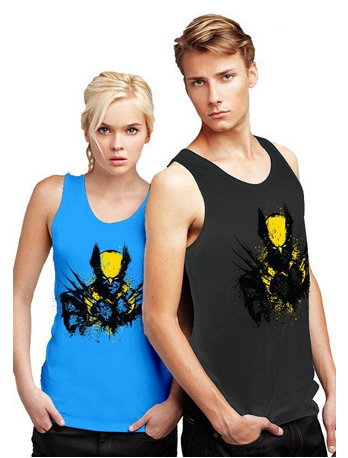 Wolverine T-Shirt
Price: $17.00
Buy It: OnceUponATee
Wolverine is undoubtably one of the coolest heros out there and this t-shirt definitely does him justice with its unique art style! It's available for both men and women, so maybe you could buy one for you both! (I'm sure you would rock it better than these posers!)
---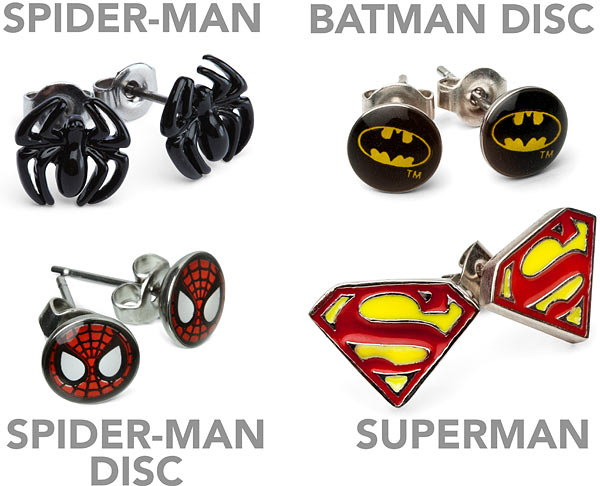 Superhero Earrings
Rating: 4.5/5 (18 Customer Reviews)
Price: $9.99
Buy it: ThinkGeek

These cute earrings are the perfect accessory for any Super Woman! Take your pick from Spiderman, Batman, Superman and even more on the ThinkGeek website!
---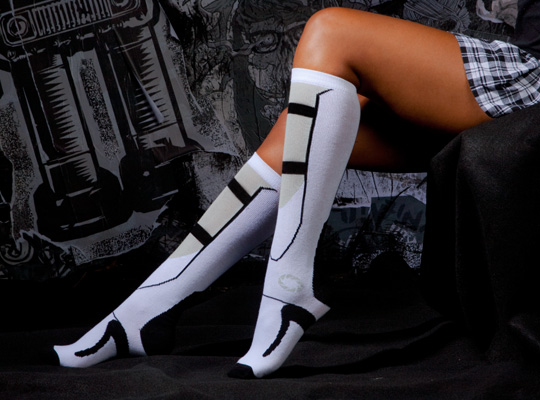 Portal 2 Knee High Socks
Rating: 4.5/5 (47 Customer Reviews)
Price: $11.99
Buy it: Jinx
Chell from Portal may not be seen as your typical hero, but I put that down to her silence. This girl doesn't need to scream from the rooftops about how heroic she is. She defeated GLaDOS not only once, but twice! To top it all off, she also mastered how to use a Portal gun to solve some of the trickiest puzzles I've ever seen. If that's not heroic, then I don't know what is!
If your partner is as humble a hero as Chell, then maybe she should try these on for size!
---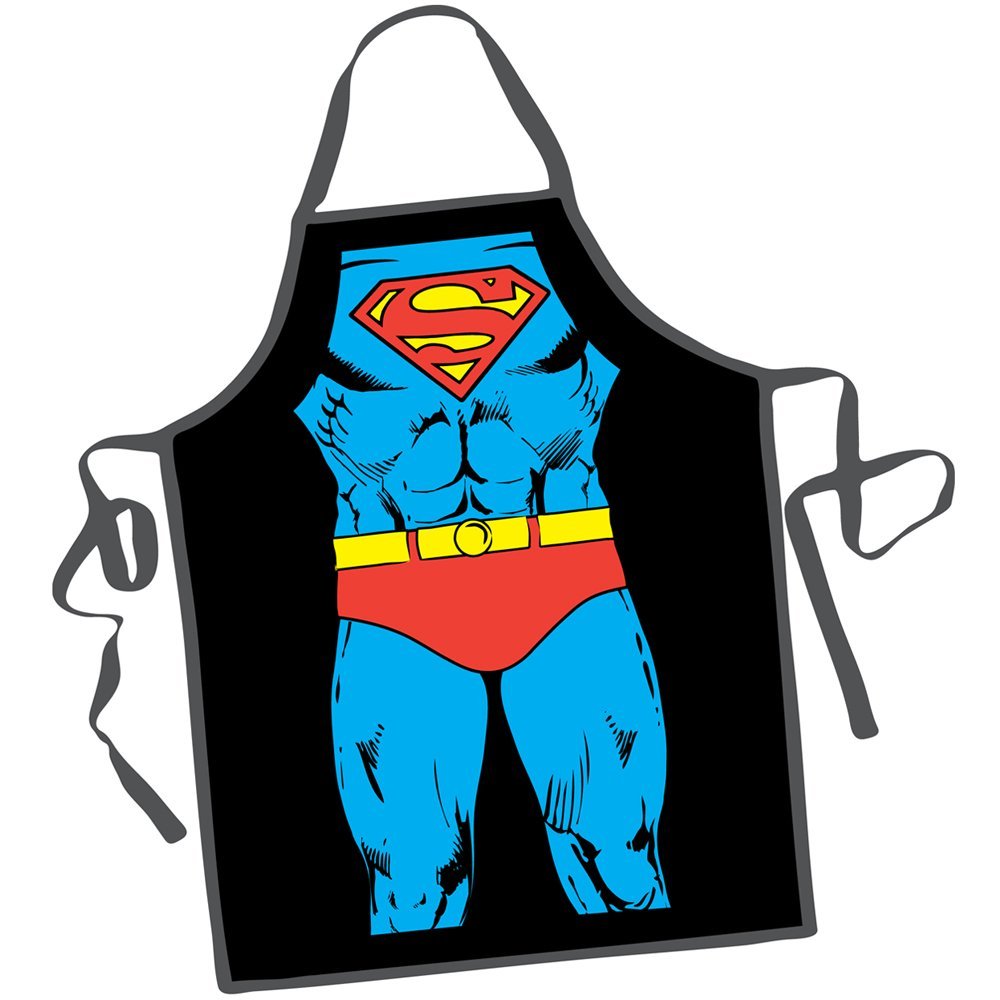 Superman Character Apron
Rating: 4.5/5 (522 Customer Reviews)
Price: $11.92
Buy It: Amazon
This could possibly be more for your entertainment than theirs... But c'mon, how cool would it be to say that Superman was cooking dinner tonight?!
---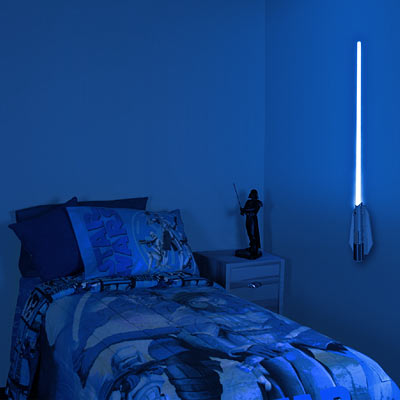 Star Wars Remote Controlled Lightsaber Room Light
Rating: 4.5/5 (23 Customer Reviews)
Price: $24.99
Buy It: Thinkgeek
Does your partner enjoy some mood lighting to help them relax? This is the mood light of all gamers' dreams; their very own lightsaber! This can also double up to protect them from anyone who tries to tempt them onto the Dark Side! (Just in case you were wondering: no, the Dark Side doesn't have cookies...)
---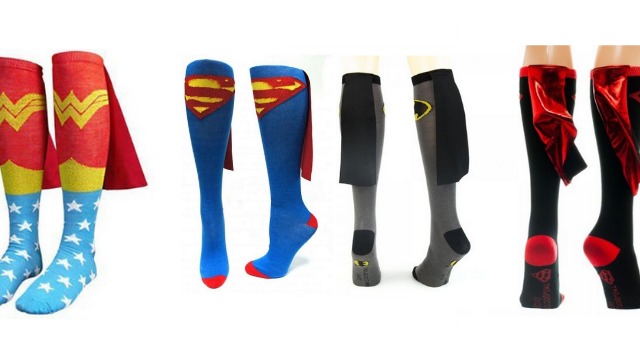 Superhero Cape Socks
Rating: 4.5/5 (542 Customer Reviews)
Price: $8 - $10
Buy It: Amazon
What better way to feel superhuman than to prance around the streets wearing these socks with built-in capes! Watch as they gracefully sway in the breeze while you partner walks out of the door to brave the day! (Or as they run around the house excitedly after receiving them!)
---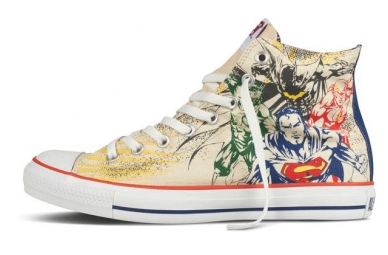 Justice League Converse
Rating: 5/5 (2 Customer Reviews)
Price: $79.99
Buy It: Bagginshoes
These shoes may be a tad on the pricey side but you have to admit, they look awesome! Whether your partner is running to chase down an enemy or trying to catch up to a cute cat for a cuddle, they should feel almost as speedy as The Flash with these on! (Or if not, then at least they would look good!)
---
Superhero Rubber Ducks
Rating: 4.2/5 (68 Customer Reviews)
Price: $6.50
Buy It: Oriental Trading
I saved the best for last! Now your hero can never be alone in the tub. These fellow superheroes are here to help! I'm still not too sure about what their individual super powers are, or if they really hold anything of value. But one thing is for certain: they are adorable!