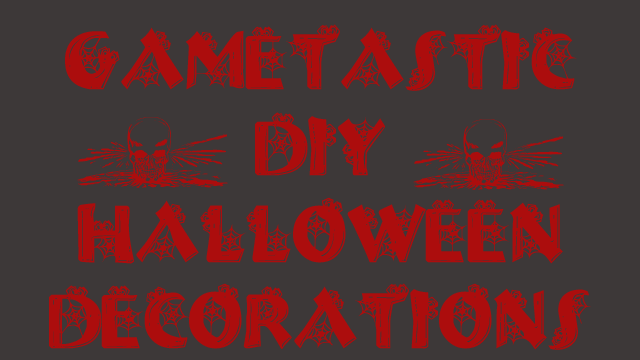 While decorating for Halloween can be filled with fun, store bought Halloween decorations can be pricey. Trying to put together a spooky party or haunted house using just store bought decorations can quickly eat up a budget, resulting in a lackluster display. Fear not! The following game inspired DIY Halloween decorations are fun to make and will scare the snot out of anyone.
---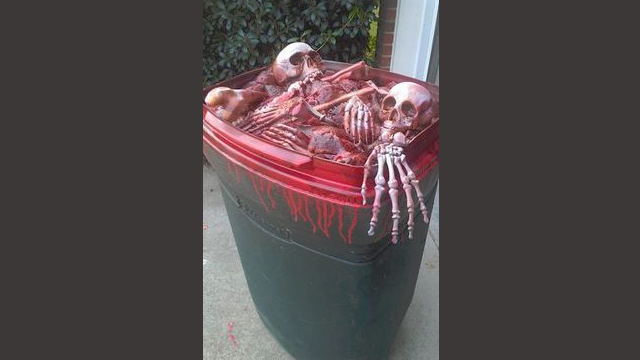 Creepy Barrel Topper by Hauntcrazy
This instantly reminded me of the meat bags super mutants carry around with them in Fallout. Gruesome, gory, and a great way to turn an everyday item into Halloween decor. Hauntcrazy gives a how-to on making his barrel topper. Using items around the house, cheap skeleton parts and spray paint, you too can have your own meat bag. Or meat trash can.
---
Asylum Halloween Wreath by Mara Macabre
Taking a page from Batman: Arkham Asylum as inspiration, Mara Macabre has created a spooky Halloween Wreath. Using a Styrofoam wreath ring, wound dressings and printed images, Mara outlines how she created her wreath here. While the site is in German, Google Translate makes it easy to understand the basics of constructing the piece.
---
Mandrake by Pumpkinpie and Hilda
Halloweenforum.com is a great resource for finding DIY projects. This one, inspired by the mandrake from Harry Potter, has spawned many different results, all of them creepy enough to scare unsuspecting party-goers. Pumpkinpie lays out how she created her mandrake, along with necessary materials on post #9. The first post by Hilda on the page has a link right to the tutorial. Running through the whole thread shows the variety of mandrakes created, some scarier than others.
---
Resident Evil Dog by The Hog Flu
Resident Evil is an iconic horror game and movie series. Filled with various creatures, most notably dogs, turned into vicious zombies. Taking to hauntforum.com with his tutorial, The Hog Flu shows how he made his zombie dog, with pictures from various stages of the DIY. Read the thread for answers to questions and more comments from The Hog Flu.
---
Budget Bodies by Dave the Dead
What horror game doesn't have dead bodies sprawled about? Dave the Dead wanted to make a meat-locker type room filled with hanging dead bodies, but needed a budget friendly way to do it. Thus came his tutorial. Using various things found around the house, available for free or cheap, you too can make bodies to hang around your home.
What project will you be tackling this Halloween to adorn your home? Personally I like the Mandrake DIY as I can leave it out and not feel bad about scaring people...too much.