If you are a Trekky, then you already know who this guy is. If not, then let me introduce you to this charming man. Meet Wil Wheaton, an American actor, writer, blogger, and your nominee for "Notable Gaming Personality" in the 2013 Guild Launch Dragon Slayer Awards! From television, books, and YouTube, Wil has done it all.
Wil first began his career in acting in the 1981 TV film A Long Way Home. He then voiced Martin Brisby in the classic animated film, The Secret of NIHM. A few years later, he got his big break when he was cast as Gordie Lachance in the 1986 movie Stand By Me. This led to him being casts as, perhaps his most memorable role to all of us geeks, Wesley Crusher in Star Trek: The Next Generation.
In the years that followed, he has had many roles in television, movies, and animated films. However, while acting is his job, gaming is his passion. Wheaton is a gaming fanatic and enjoys tabletop gaming specifically. He hosts his show, TableTop, on YouTube where he explains and shows us how to play various games including The King of Tokyo and Gloom. A second show called Not the Flog is an extension of TableTop where he talks more about geek culture and topics associated with that, like Math and cat muffling. He also works closely with members of Revision3, Penny Arcade, and will be staring in a new game funded by Kickstarter, There Came an Echo.
Wil Wheaton is a geek at heart and has earned his place as a nominee. If you are a fan of his, head on over to vote for him as your "Notable Gaming Personality." Voting for the Dragon Slayer Awards is open now, so make sure you click on the picture below and cast your vote today!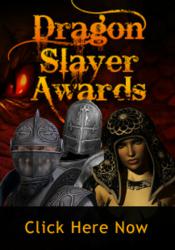 About the author