Halloween is upon us. The time to dress up as your favorite character, ghoul or monster and prowl the streets in a hunt for candy grows ever closer. Not only do we celebrate Halloween "in real life" but many games celebrate the holiday as well. Some of these games, particularly MOBAs, give their characters new skins centered around a Halloween theme. Celebrate with these amazing cosplays that bring the Halloween skins to life.
---
Jinx is one of the crazier champions in League of Legends. She causes mayhem wherever she appears, blowing things up and leaving places riddled with bullet holes. Slayer Jinx is ready to take that explosive energy and direct it towards killing zombies. Kinpatsu Cosplay is an amazing Slayer Jinx. The pose, the attire, Fishbones and the editing all come together perfectly.
---
Symmetra received a new look in the first release of Halloween themed Overwatch skins. Infected by the vampire virus, Symmetra is now a beautiful vampire, with red accent colors for her attire and pale, undead skin. Lunar Crow unveiled her spot on cosplay the day the skins were released.
---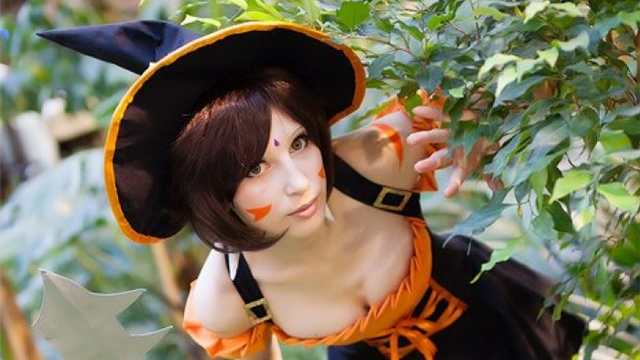 Bewitching Nidalee by Nyandalee Cosplay; Photoghrapher Souru
Nidalee was one of the first champions to receive a Halloween themed skin in League of Legends. Channeling candy corn and the iconic Halloween witch look, we have this delightful orange and black Bewitching Nidalee skin. MicukoHikaru poses hiding in the bushes, waiting for her prey, spear in hand. All the details are spot on, from the orange corset lacing in the front, to the striped stockings to the markings on her face.
---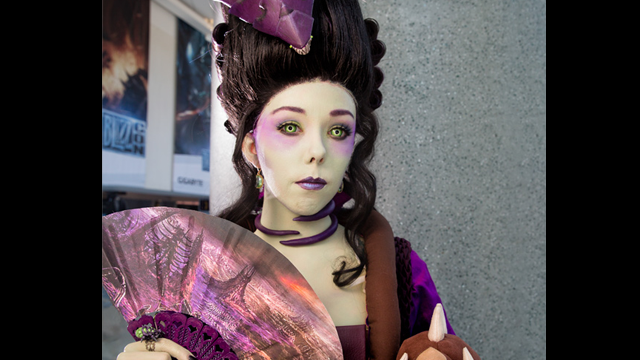 Heroes of the Storm takes Blizzard's venerated characters from various games, sticks them together and let's them duke it out in their MOBA. Kerrigan, being the most beautiful of the Zerg, looks even more regal in this Countess Kerrigan cosplay. Alice of Triple A Cosplay, also known as Arms, Armor and Awesome, is simply divine in this cosplay. The glowing buttons, the hand fan, the contacts, and Alice holding a Zerg all make this costume come alive.
---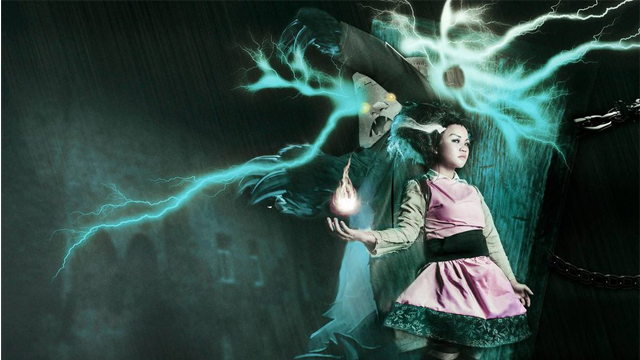 FrankenTibbers Annie by Gazxiii; Photographer Johann Lim
Annie is already a pretty scary champion in League of Legends. Give her the look of the Bride of Frankenstein and Tibbers the look of Frankenstein's Monster and you have a scorching Halloween skin. Gazxiii takes this cosplay to a whole new level. Not only is her costume on point, but her pose and facial expression all help Annie and Tibbers come to life. The background and editing done by Johann helps sell the spooky Halloween feel even more and brings Annie's fire powers alive.
---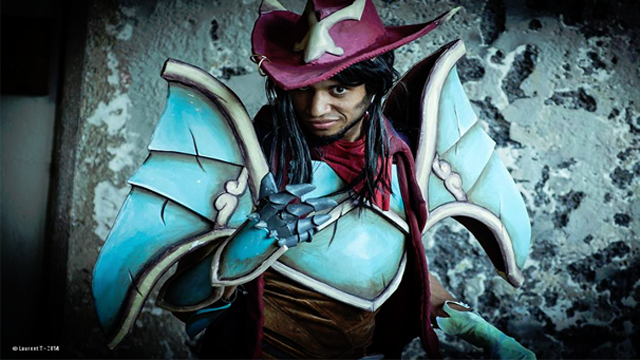 Underworld Twisted Fate brings the spook of the Shadow Isles with him to Summoner's Rift. This cosplay is out of this world (see what I did there). Not only is PlatyYep's costume spot on in everything from construction design to color scheme, but the background the photos were shot in front of is superb.
---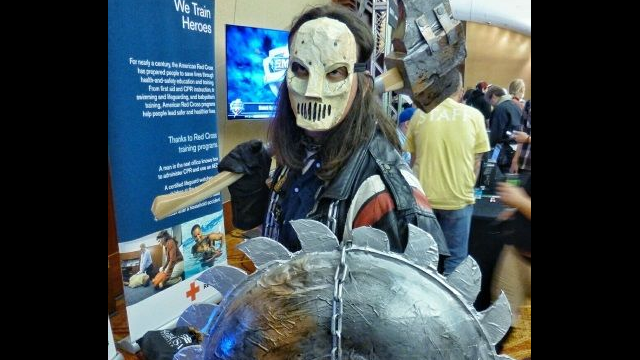 Slaughterhouse Chaac at SWC, cosplayer unknown
Slaughterhouse Chaac from Smite is reminiscent of the serial killers featured in hack and slash horror films. Wielding a giant weapon, face covered with a hockey mask, and protected by a saw blade inspired shield, he is the stuff of nightmares.
---
Ravenborn Leblanc is full of regalia fit for someone who used to rules Noxian politics from the shadows. As head of the Black Rose secret society, her magic was unrivaled. Seeming to never age, the beauty of this skin is only rivaled by Bloodraven's abilities as a cosplayer.
---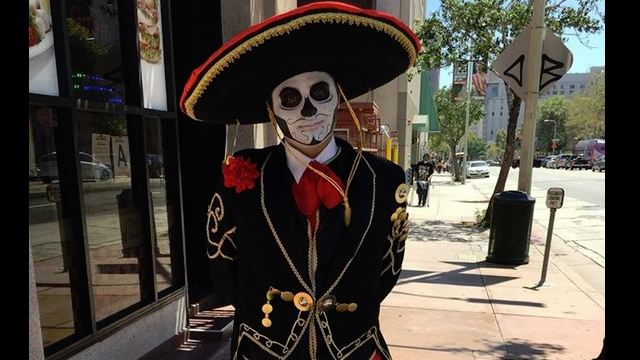 Another God from Smite, Loki took a holiday and decided to try out some Dia de Los Muertos Sugar Skull styled face paint. Clad in a more traditional black velvet suit embellished with gold detailing, Greengiller makes for an amazing Grim Mariachi Loki.
---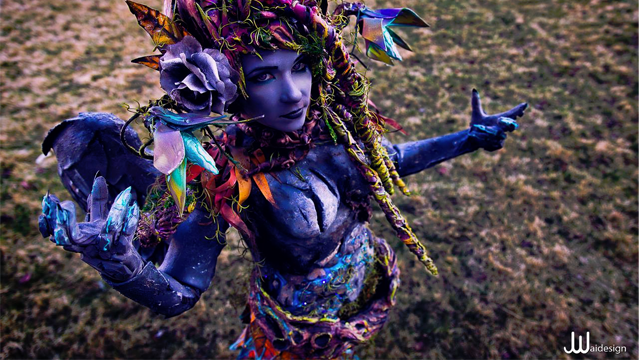 Haunted Zyra is a cosplay full of intricate details. Not only does one have to make themselves appear plantlike, but they also need to appear otherworldly. Danielle makes this cosplay look easy. Seamlessly blending plant and human, the details in this costume are mind blowing.
---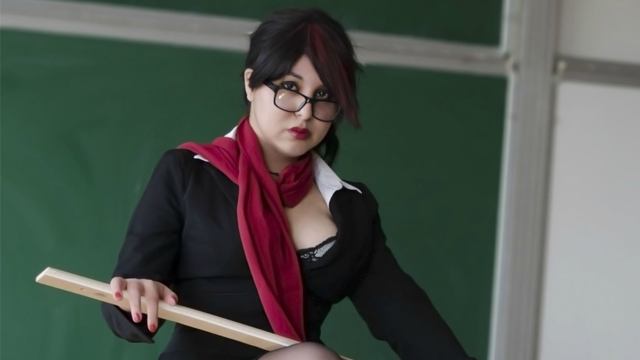 Headmistress Fiora by Platypa
Headmistress Fiora is one of the more popular Halloween themed skins from League of Legends. Playing off the school teacher idea, Fiora received a sexy new look. Even though it may seem like an easy cosplay, hitting all the details and looking the part are still difficult. Platypa does a fantastic job. And beware, even though she is wielding a ruler she can still take you out.
---
Kitty Cat Katarina is another popular Halloween skin from League of Legends. The assassin takes stealth to a whole new level, channeling the feline prowess of a white cat. Stalking her prey in the jungle, the white eared, white furred, red haired beauty is deadly and silent. The various props are spot on in terms of creation. The small details, such as Katarina's scar are well done. Anissa Cosplay makes for an amazing Kitty Cat Katarina.
What do you think of Halloween skins? Do you wish more games would include Halloween content? Let us know your thoughts in the comments!