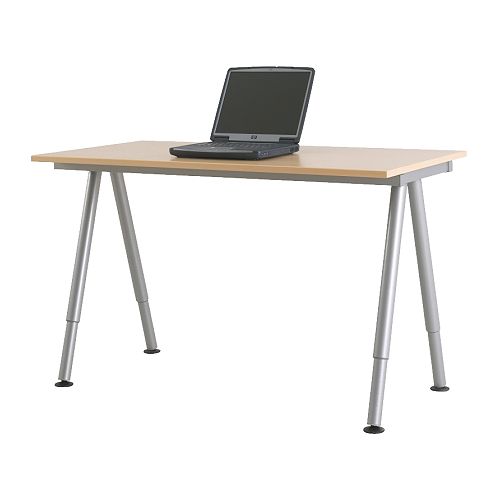 You're a member of the PC-Master Race. You have a custom built PC, ready with the graphics set up and processors you need to make sure that you can run Battlefield 4 or any current game on the highest settings with no problem.
Do you take that home and put it on your IKEA desk? No. This is not the time for puny, build your own desks. This is the time for fine hardware, for elevating your gaming experience above that of the traditional glass-topped modern creation.
This list has some of the finest, most expensive desks tailored for your gaming experience.
---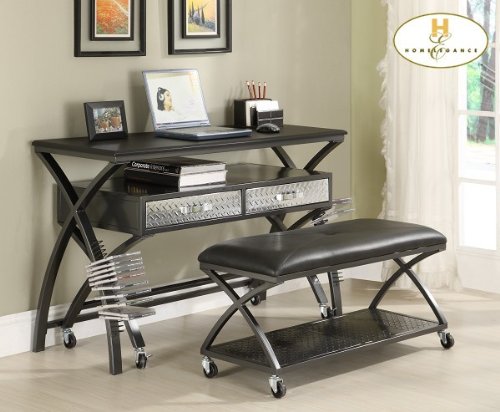 For starters, something on the lower end of the price point.
This gunmetal grey with diamond plate is a bit gaming retro (it is definitely a throw back to nineties gamer sensibilities) but it's overall sleek look and understated lines speak to the professional nature of it's construction.
Also, check out that two-person bench? The table is technically designed for a console, but would work just as well for your PC set-up.
You can find this on Amazon for $463.
---
After long hours gaming, maybe you want to stand up and stretch. But you can't just stand up for a break in the middle of a round of League of Legends. In that case, take a look at Combine 9's electronic height-adjusting desk.

This desk has a great deal of style, designed after older bridges and can feature reclaimed wood on the table top. But as well as a unique aesthetic, it's also functional, able to change heights with 800 pounds on top (so it should be able to last if your dumb friend tries to jump on top of it while it's moving).
You can check out this and more desks at Lee Cowen's Etsy shop. This desk is priced at $3,480.
---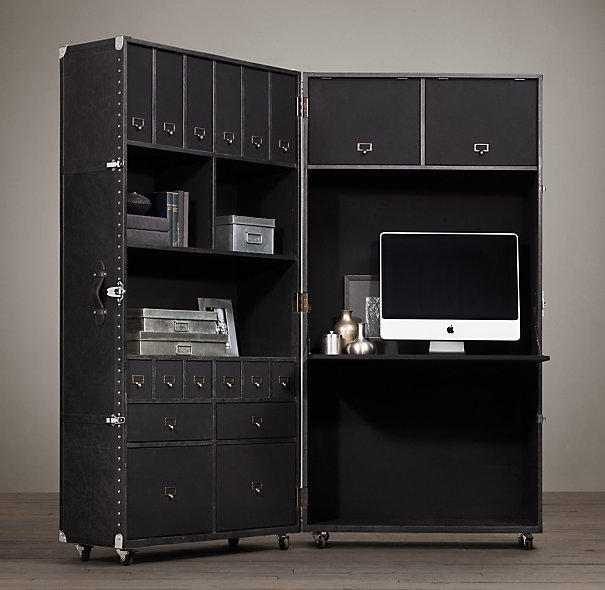 Everyone says high-end, but rarely do they get classy.
This is the Mayfair Steamer Trunk Secretary, and IT CLOSES. With those casters, it (meaning your gaming desktop, large monitor and all of the accessories) are completely portable.
Need to go to a LAN party? Why not pack up your Steamer Trunk and go? Stylish, large-and-in-charge, as well as being top-of-the-line? What's not to like?
You can pick up this beauty from Restoration Hardware for $2885.
---
Like to make it look like you're operating a Silicon valley start-up? Prefer a standing desk to the traditional seated one? Look no further than this sturdy, butcher-block and steel pipe standing desk.
Elegant and simple, you can pick up this butcher block desk from Etsy seller SoilandOak for $650.
---
Keep it simple and natural with this beautiful, handmade desk from Taylor Donsker Design. The top is a slab of naturally fallen Claro Walnut, with a black patina'd metal base.
Really, this is the kind of piece that elevates an entire room. So, perfect for the PC master race.
You can check out more on the Taylor Donsker Design Etsy page. This desk is priced at $4,200.
---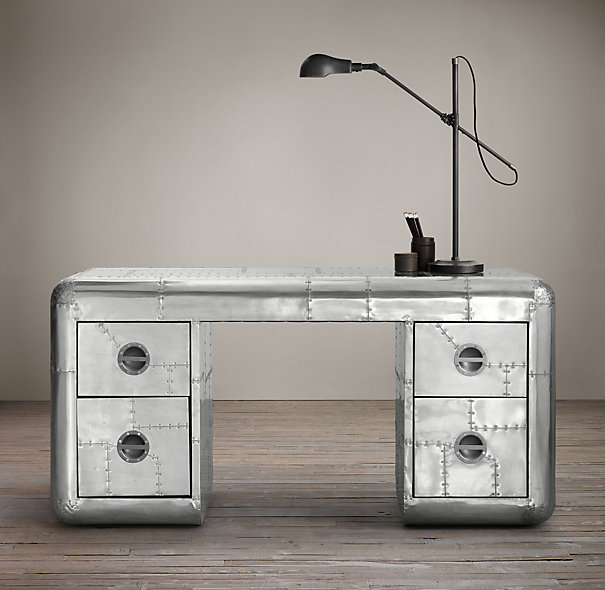 "Inspired by the nose cones and fuselages of mid-20th century aircraft"
Smooth, but riveted. Tough but elegant. This desk is exactly the kind of statement piece on which to set your Alienware desktop. It's a great juxtaposition from the sleek science fiction lines of a well made custom-PC to a old school fighter jet desk.
You can check out this desk at Restoration Hardware for $1695 (and there's even a rolling secretary version of this design)
---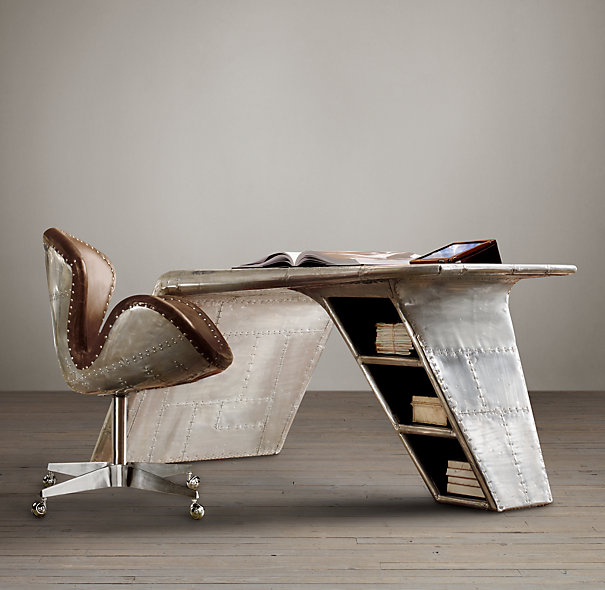 Designed to evoke World War II era fighter planes, this is elegant and badass simultaneously. And you really have to pair it with that chair.
The Aviator Wing Desk is a classy addition to your living situation, as well as being a fantastic way to showcase your gaming PC.
You can pick this up from Restoration Hardware for $1950.
---
Why bother with aviator inspired, though, when you can just get a desk made out of an actual B-52 Bomber wing?
This beautiful piece of executive furnishings is crafted by Motoart out of a honest-to-goodness aircraft wing, and features all of the mechanics of the once proud bomber.
So exclusive, the aircraft wing desk does not have an officially listed price, though you can check out more pictures on the Motoart site.
---
Maybe you're not a PC gamer, but prefer to kick-it old school? Well then, look no further than this Pacman-themed, 16 game cocktail cabinet.
Perfect for those situations where you want to destroy your friends and family in Pacman, and have a nice drink as well, this arcade cabinet is a fine addition to any gamer home.
You can find it at Frontgate for $3499.
What are your favorite gamer desks?