I decided to go to iFest 2014 on a whim and man, am I glad I went. iFest is an international indie gaming festival put on by the Academy of Interactive Entertainment. This version showcased 30+ indie titles from local Seattle developers. It was an absolute blast to see everything from quick minigames to educational games about how cells work. It actually felt more like a game jam with some developers tweaking their games on the fly based on feedback.
Even though all the games were interesting and diverse, five games kept me coming back for more. These are the games I will have my eye on as they are released or Greenlit on Steam. I bring you my five favorite games from iFest 2014.
---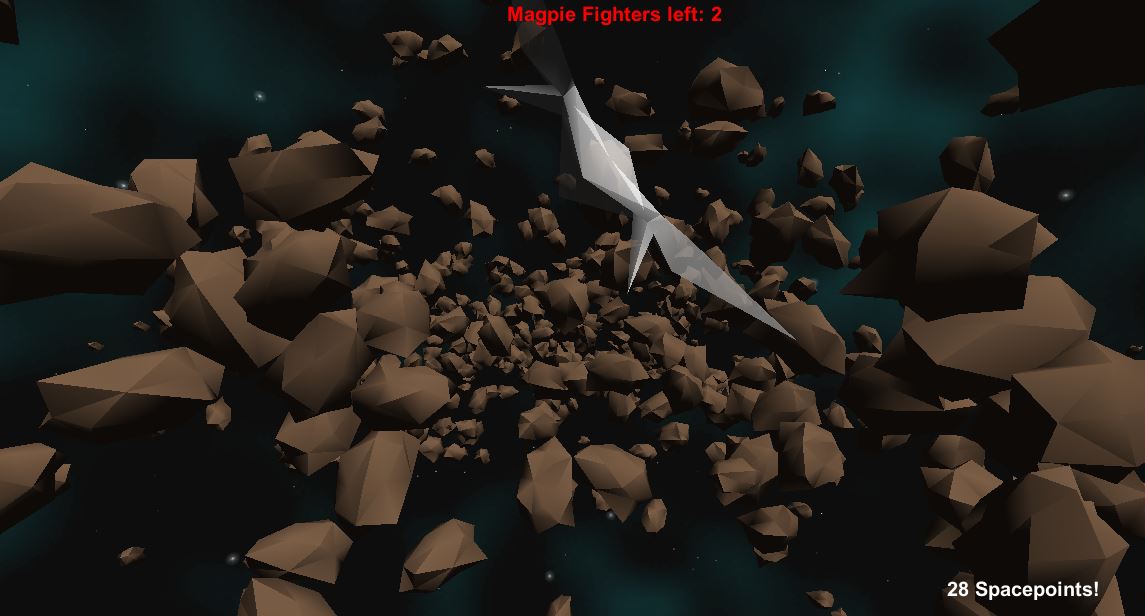 Number 5: Project Galgamari
This one is a guilty pleasure. The developers of Project Galgamari describe their game as "Star Fox meets Katamari Damacy." The premise here is that when you destroy your enemies, you run into the wreckage and gather parts that are used as shields and weapons. Sounds familiar, right? The catch is you don't get to choose how it goes onto your ship; the parts stick where they hit.
The game is still in very early alpha (they were still using an Arwing as a placeholder), but the fun is already here. There's no feeling like having six turrets firing in all directions in a barrel roll of death. I'm so looking forward to seeing what the developers do with this promising game.
---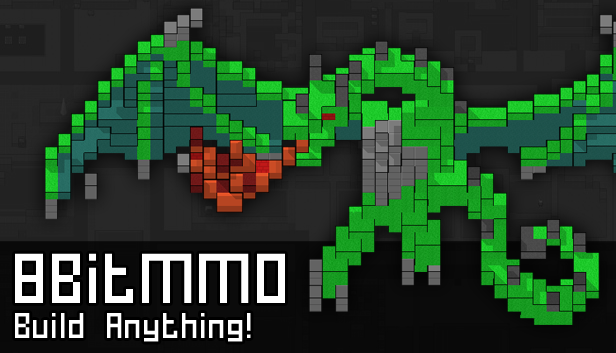 Number 4: 8BitMMO
8BitMMO already has a decent following, and there's a reason for that. The game allows you to create your own dungeons and instances for other players to play and explore. It also doesn't hurt that the sense of humor at play is fantastic. You'll fight everything from slugs to LawyerCats to Evil Game Reviewers (wait....).
The best part? You can play this game for free right now at the official website. I highly recommend giving it a try.
---
Number 3: Paperbound
The fast paced frantic action of Paperbound was my introduction to the show and wow, did it leave an impact on me. It's a multiplayer game in the vein of STARWHAL: Just The Tip where up to four players duke it out for one-hit kills. You can cut people with your sword, use scissors like grenades, and invert your gravity to quickly traverse the battlefield.
What makes this game so wonderful is the brilliant way the developers put these elements together. It's absolutely awesome inverting your gravity for that midair sword kill or hitting someone with your scissors from across the map. I hope to see this come out on consoles in the future as this is the best kind of local multiplayer game.
In the meantime though, you can vote for it on Steam Greenlight. Trust me, it's way better than most of the stuff currently there.
---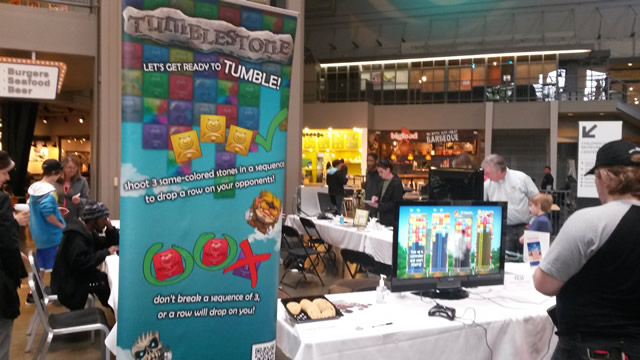 Number 2: Tumblestone
The best way I can explain Tumblestone is if Tetris was inverted and never stopped playing. This was a lot of people's pick for best in show and it isn't hard to see why. The idea is simple: match up three blocks of the same color to drop a row on your opponents. Choose a different color before you get to three, however, and you'll get a row on your board instead. It's a familiar concept, but done with excellent design choices and the intensity turned up to eleven.
If you're a fan of matching puzzle games like Bejeweled or Puzzle Bobble, you'll find a lot to love in Tumblestone.
---
Number 1: Sportsball
My favorite game of the show, Sportsball from Too DX is Joust meets air soccer. Words don't do the game justice, but here's the basic concept. You are riding a flying ostrich and trying to stomp or dive on the heads of your opponents (exactly like Joust). When you do hit them, they die for a few seconds and leave behind a ball. kick this ball into the square "net" hovering in the middle of the level and score your team a point. Look out though, because if the other team touches a ball, it becomes their color and they can score the point instead!

Matches are a beautiful mix of chaos and strategy. There's no limit to the amount of balls you can create, so scenarios of 8-12 balls being kicked around at once are a real possibility. It's style is incredibly similar to Sportsfriends (and the developer admits to being heavily influenced by that game), but Sportsball has a feel all its own. I can't wait to get a group of friends together and smack some ostriches around.