When most of us think about gaming, consoles, PCs, and mobile phones come to mind. As Virtual Reality (VR) and Augmented Reality (AR) continue to grow, new possibilities and nuances of the gaming experience are now arriving on the market. Razrwing, a Georgia-based company, is working to expand your gaming experience to include the clothes you wear.
Through blending augmented reality and mixed reality, Razrwing is carving a new niche in the gaming space. The company is building an interactive game that is linked to clothing and accessories. If you're having a hard time wrapping your head around it, take Pokemon GO's AR capabilities with Hot Topic's edgy designs and spin it into a story-based gaming experience that takes place in-app and on apparel.
As players collect different clothing items featuring symbols from the game, others will be able to see gaming components come to life in AR.
Players will be able to see in-game avatars and battle actions using their phones.
A larger view of the battle animation that takes place on the clothing.
"We want to create the next stage and bring tomorrow's entertainment and gaming to retail," said Gian Ruggeri, Razrwing's Chief Operating Officer and Director. "Our mission is to set a new standard through wearable interactive entertainment technology using AR on phones, MR via headsets, and holograms."
What started as a concept in 2003 grew into a business venture in 2008. The core game now contains an interactive battle system and character selection to support this interactive adventure. Character personalities are based on traits like aggression, obsession, seduction, and attention and serve as representations of different factions. At the time of this writing, there are four characters in the game, but the roster will expand as the game evolves.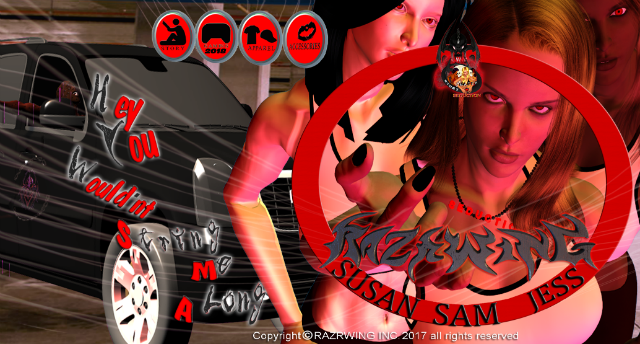 As you encounter other people playing the game and collecting apparel, you'll either have a hostile, friendly, or neutral interaction with them. Each interaction is paired with an AR-based reaction that is linked to the gamer's clothing. As you play, you can battle other players for purchase points, and the decisions you make in-game will influence the future storyline, which faction reigns supreme, and the direction of the Razrwing brand.
Though initial plans involve seeing the in-game events via a smartphone or tablet, future plans include creation of glasswear or a headset for a hands-free experience. Razrwing is currently partnering with Focusteck and Skinit to complete a prototype of the game.
If you want to know more about how this company is gamifying the clothing industry, check out the company's website or support Razrwing on Patreon. Stay tuned to GameSkinny for more gaming technology news and announcements.
About the author