Cosplay, the art of creating a costume, dressing up and acting as a character, has quickly become a favorite pass time for many. Expressing their love of a character as well as being creative brings a large amount of joy and pride for those that cosplay. Taking this a step in another direction, some cosplayers employ body paint to bring their chosen character to life. A bit more difficult, completely awe-inspiring and often needing an expert to apply the paint, these creations are amazing. Take a look at the following eight cosplays done primarily with body paint.
---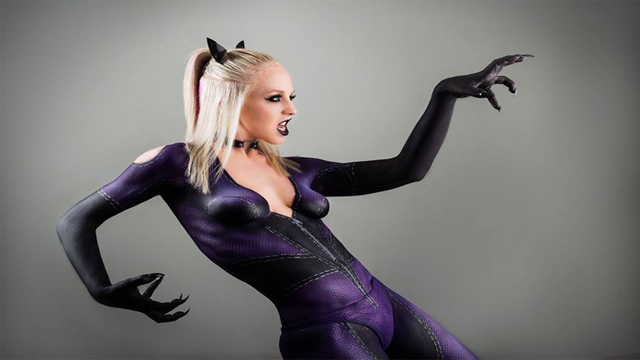 Catwoman
Catwoman has been a character in a variety of Batman themed games, including Batman: Arkham Knight. Her latex bodysuit lends itself perfectly to body paint. Going with the purple and black motif seen in some of the comics, Erin Geer created a stunning costume for Chelsea Brennan to model. The appearance of stitching, as well as the different textures of "fabric" really help sell that Chelsea Brennan is wearing a costume instead of just paint.
---
Elektra
Elektra is a popular body paint subject. Another character who wears tight fitting clothes, and not many of them, she lends herself well to body paint. Vivienne Vermuth nails Elektra's signature look, while Cat de Lynn helps bring to life her kick ass attitude.
---
Robin
Cosplayer/Painter: Kay Pike
The Boy Wonder is another character seen in a variety of video games, Batman: Arkham Knight among them. Kay Pike has taken the body painting world by storm with her on point recreations. This Robin body paint is only one of her fantastic pieces, which she often paints on herself on her Twitch.tv stream. Nailing the small details when painting on herself show how much talent Kay Pike possess. To watch her in action go check out her Twitch channel.
---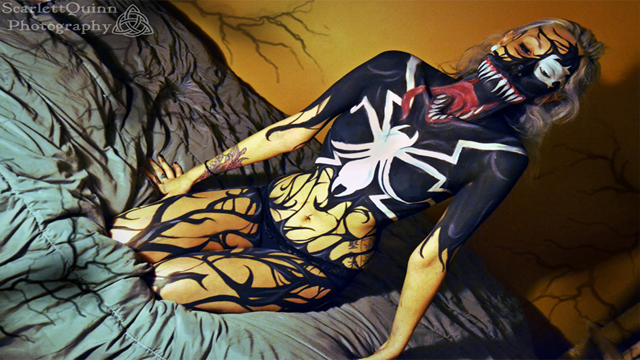 Venom
Venom is another character that lends easily to body paint. Often seen in association with Spider-Man, this Marvel villain is a playable character in a variety of games, one of them being Lego Marvel Super Heroes. With his gaping mouth, long tongue, and the creeping black that occurs when a host is overtaken by the Venom-symbiote, it is a great choice for painting a canvas. This rendition of Venom overtaking its host is superbly done. His mouth is spot on with the spider symbol just right. Hands down this is an amazing Venom body paint.
---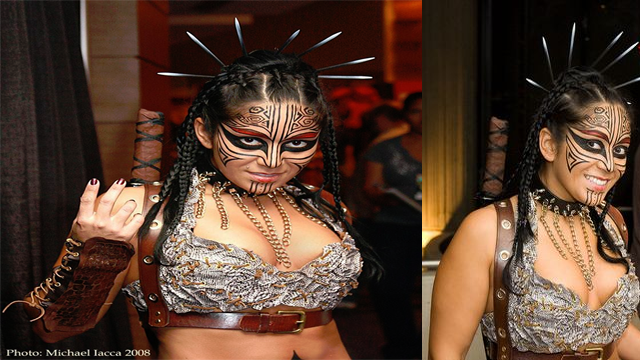 Viper
While this cosplay in particular is not a full body paint costume, it is still amazing. Nailing the small details on Viper from Doomsday's face, while making them legible and neat, is a feat unto its own. Devious Body Art also has an array of works to her name, from face makeups to full body paint creations.
---
Tron
Cosplaying anything from Tron can be a pain. But, some people want to do more than play Tron Run/r. With the iconic skin tight suit and the flowing components, logistically it can be a nightmare to create a costume from the series. Doing a Tron costume with body paint, however, can be easier. This Tron costume is no exception. With glowing orange lines down her black painted body, the costume screams Tron.
---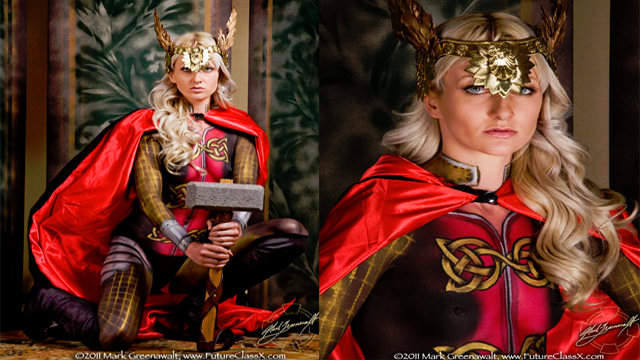 Sif
Inspired by the movie Thor, artist Mark Greenawalt wanted to create Thor's wife Sif through body paint. Instead of going with already created versions of the character, he decided to come up with a new concept. The result is simply astounding. Not only does Jen Amber look beautiful and regal, but also deadly just like the character she is portraying.
---
Dr. Mrs. The Monarch
Cosplayer/Painter: Laurie Foster Photographer: Erik Foster
Lastly, Dr. Mrs. The Monarch, our title character cosplayed by Laurie Foster. Falling in love with body paint, Laurie decided to execute a full body costume. Choosing Dr. Mrs. The Monarch, she self-painted the costume with a wee bit of help from Erik Foster, who also took the stunning photographs.
What to do you think of body paint creations? Let us know in the comments!