Button-mashing and raging won't do you any good with this game. In order to dominate the battlefield, BfB Labs' Champions of the Shengha requires players to control their emotional state.
In this tactical card battling game, players alternate between duels that incorporate card play and magic matches that measure your heart rate to see how chill you can stay under pressure. Launched on IndieGoGo earlier this year, the campaign successfully raised more than $82,000 to completely fund the project in November. The game is set to hit the market in April 2017.
In addition to playing Champions of the Shengha, I had an opportunity to interview Simon Fox, Co-Founder and Design Director of BfB Labs, to learn more about the game. One of the first things you'll notice upon booting it up is the bright and colorful artwork that immediately sets the scene for epic spell battles in a fantasy land.
A lot of our team are from Malaysia and the art of that part of the world has definitely been an influence on the art of the game. We've been asking ourselves the question – what if your breath and your emotions were magical powers?

The gameplay takes influences from many places. It's a colorful card dueling game and so it has its roots in that genre. It also uses data from your body as an input and to work with that we've been reading tons of research about heart rate dynamics and how they interact with the nervous system, with your breath and with external stressors.
The game itself is an amalgamation of unique concepts and ideas, including scientific research, emotionally responsive gaming, and wearable technology. In order to play, you must put on a BFB sensor — a Bluetooth monitor you clip onto your ear so the game can keep track of your heart rate in the heat of battle. Your heart literally becomes a controller.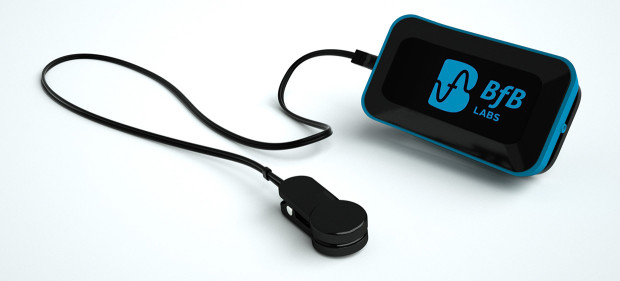 The larger piece is light enough to clip onto your collar.
According to the campaign website:
The Bluetooth ear-clip measures players' Heart Rate Variability (HRV) – a psychophysiological marker of stress and anxiety. Through play, players learn to master the skill of raising their HRV through breathing and consciously exert control over the way they respond to stress.
Sounds cool, doesn't it?
It is. Especially when you get a chance to see it in action.
Gameplay
Battles are similar to your standard tactical card games where you race to knock out your opponent's defense or hit points. Winning a battle unlocks new cards and allows you to level up. There are four types of cards you can use to defeat your opponent:
Spells: Various attacks you can use against your opponent
Healing Cards: Medic! Heal yourself or your creatures
Creatures: These cards can used to attack or defend
Weapons/Armor: Buff your creature cards or yourself for additional defense or damage points
As you go through your turns, you'll need to use power to buy more cards to use in battle (or upgrade them). This is where the game expands into something extraordinary.
In magic matches, power is gained through focused breathing and a controlled heart rate that determines how many points (power) you receive. The game prompts you to take deep, even breaths that slow your heart rate. Your progress is measured by a meter on the left side of the screen, and you gain the most power when you achieve a consistent state of calm.
Compared to the way you normally breathe, the effects of deep (or diaphragmatic) breathing are apparent and wonderfully relaxing.
Alternating between battles and magic matches adds to the challenge, as the stressors of gameplay must be forfeited in order to focus and get the power you need to do well in the next round. Magic matches do get harder as you progress (who would have thought breathing could be so difficult?). As things get more intense, it's even more important to be still and focus.
It's not just the in-game stress that can get you, distractions and straying thoughts that take you out of the moment and rip your attention away from breathing can cause a lower power score, too. In the magic matches, I was never able to score higher than a 5, but BfB Labs' Research Manager, Naomi, gets a 10 all the time. For those looking to improve their breathing skills, there is a game mode in which you hop directly into a magic match to practice.
You can also hop online to battle friends and strangers. According to Simon, the multiplayer feature truly brings the game to life.
Competition amplifies the stress of the situation and so it makes it more crucial that you learn the skill at the core of our game – managing your response to stress.
With all the mention of stress management, scientific research, and keeping calm, it's obvious that the game was created for more than just a fun experience. The impetus for the project was to help young people in Britain suffering from anxiety disorders.
In addition to an in-house research team, BfB Labs conducted clinical trials with groups of players between the ages of 10-15 to help them better manage their emotional state. Their efforts have met resounding success — so much so that the campaign featured options for backers to purchase sets of the game for schools. To date, trials demonstrated:
84% of players were able to reliably raise their Heart Rate Variable (HRV) during focused breathing time, a state that correlates with lowered stress and anxiety
3 out of 4 players reported getting better at staying focused within the game
1 out of 4 players reported they had already started applying these focusing techniques outside of the game by the end of the trial
And, why isn't there a Nobel Peace Prize equivalent for games yet?
Looking Forward
Though Champions of the Shengha is a ground-breaking game in its own right, Simon and BfB Labs still have big plans leading up to and after release.
In the full game, there will be three tribes that players can choose to join: Joy, Fear, and Fury. Gameplay is different for each tribe from the type of creatures you can use to attack style. There are even ideas on differentiating breathing techniques among the different tribes. It's something Simon and his team are in the process of researching.
At the moment the breathing technique is the same for each tribe of magic but we are looking at the heart rate dynamics produced by different breathing techniques from the realms of meditation and yoga, and we're exploring whether that's something we want to incorporate into the game. The biggest barrier is evidence base – we want to be sure that anything we're asking a user to do frequently is definitely going to help them and that means doing original research of our own.
Ultimately, Simon's vision for the game once complete is to continue to build upon its legacy of helping people learn better ways to cope with stress and have fun in the process.
I want these characters and stories to communicate serious psychological education. We think of this as a multi-modal approach to creating impact in your health. On the one hand, we have physiological exercises which – if you regularly perform them – have an impact on your health. On the other hand, we have this cognitive component which is teaching you understand that and bring it into your life. These approaches working harmoniously in a product that feels effortless to use seems like something really cool to me. I think about our core audience – the younger players who can really benefit from learning these skills – and I want to build a narrative for them that feels exciting and compelling and brings these exercises and concepts to life.
Apart from being a well-designed and fun tactical card battling game, Champions of the Shengha is an experience that lingers long after the application is shut down. In the midst of the escapism gamers love so much, BfB labs has created an experience that provides players with their own set of spells to conquer stress and anxiety. It allows players to become Champions of their own lives.
For more information about the project, visit the BFB-Labs website. The game will be available on Android and iOS devices.
A copy of the game was provided to GameSkinny for this article.
About the author