League of Legends: Is it Legen... dary?
Is League of Legends just another Free to Play game?
I tried to avoid it.
I really did.
Then I saw they were looking for a review on League of Legends. Now I find myself checking the clock to see if I have enough time for a game. I've only played about five or six games, but I think I've gotten a good sample.
Isn't this just another Free-to-play?
The first thing that I think of when I hear "free to play" is the never-ending grind from one level to the next. Most of these "free" Facebook games and MMOs are there to elicit cash from your pocket. Each level, you can buy new items and fight new enemies; or, in the case of Farmville, uh... new plants? The whole point in completing quests and getting better items is so your character can complete harder quests and get better items. In the end, most of these games are a time sink and, hopefully, not a money sink.
League somehow combines the two and shreds the similarities at the same time.
Don't get me wrong. Riot Games still asks you for your money, but it's not like the overly obnoxious brat, "You could beat this challenge right now if you just paid us 100 fun monies!" Which is probably just as convoluted as the first Microsoft points and would probably cost you somewhere in the area of $350 US dollars.
Instead, they offer champions for a price in real money (Riot points, after you buy them) or Influence that you can earn in the game. Everything I have seen has both ways to pay for it. I have yet to find something that you can only spend your hard-earned cash on.
The first few games I played were the demos and the walkthroughs, which are pretty solid for teaching you how the game works and, most importantly, how to kill your opponents.
The gameplay reminds me of one of my little favorite games, X-Men: Legends. Each champion has a stable of powers that they will gain access to throughout the game. As you level in the game, you will be able to pick new attacks or strengthen the ones you already have.
When you kill opposing champions, towers, or grunts, you gain gold. This gold can be used to buy items while the bloodbath is going on right outside.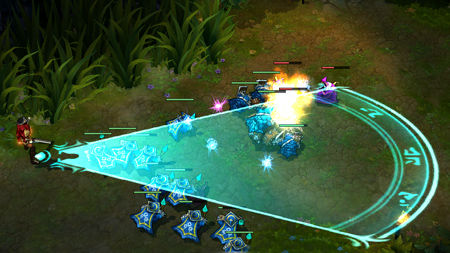 Here on the game is where Riot tricked me.
Keep in mind, I had only played the walkthroughs and one game versus the bots at this point. When I went into the next game, I picked the same champion I had used before. Surely, I would be in a group with higher level equipment and champions, therefore, I would need a champion I had already worked on. To my surprise, when the game loaded, I was back at level 1. At first, I was a little upset. All that work I had put into the character was gone. I had to start over. I had to buy items again. I had to level up my skills again.
Was this a glitch? No, this was part of the game and now, I got it.
This is where League of Legends shines against its free to play counterparts. It's a Real Time Strategy game where you control a champion and attempt to level up and gain better items.
The catch is, you lose all that stuff each time you play.
Wouldn't that be maddening? It's just part of the game. You still gain some benefits for playing more often and winning more often. You get the option to buy some of the champions permanently instead of playing with the free ones that get rotated in and out every few months. You can add runes and masteries, which are subtle advantages. Nothing like the "Super bird" in Angry Birds that just lets you beat the level in one shot. A lot of the rune and mastery bonuses that I have seen are less than a percent increase at my level. You can buy new skins for your champions, and give them a cooler outfit that's different from the one your opponent with the same character has.
I dare say, it reminds me of World of Warcraft's PvP levels, but better.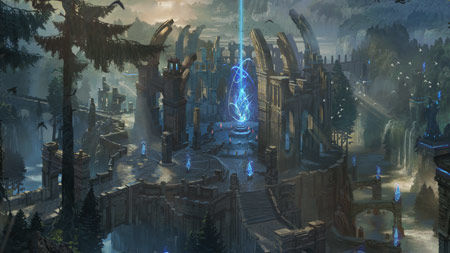 The only level that I have been able to play on is Summoner's Rift. It is a map that has three major channels heading to your opponents base. Along the way, there are turrets and, of course, your enemies. The layout reminds me of Arathi Basin from a silly old game I used to play, World of Warcraft.
There is something better about League of Legends. It's the community. In WoW, you could quite often get told you're a "noob" or you have no idea how to play that class, so get out. In LoL, this just isn't true. Quite often, online games have to say that the "online experience may vary based on player interaction." This is a good thing for League. I've had several players give out "honor" to me, which is a way for the players to say they enjoyed playing with you or against you. Very little shaming and insulting exists in this game from what I have seen, and that alone is worth a better rating. If you enjoy the curse-laden streams of insults coming from twelve-year olds, you won't find it here. Better go back to Call of Duty: Whatever It's Called This Time.
There are plenty more things to be said about this game, and I'll leave that to the experienced players here on Gameskinny.
Our Rating
Is League of Legends just another Free to Play game?
Published Nov. 8th 2013