Grand Theft Auto V Is the Most Expensive Game Ever Made
According to reports, GTA V has been five years in the making and the game's development and marketing budget is equivalent to a blockbuster film.
Grand Theft Auto has been a staple title ever since the late 90s; it is at once one of the most infamous and yet universally acclaimed video game franchises to date. With 10 games and 4 expansion packs, plus Grand Theft Auto V set to explode on the big screen in two days, there is no stopping Rockstar Games' major powerhouse.
GTA V takes the story back to the fictional state of San Andreas in the city of Los Santos (that is, modern-day Los Angeles in Southern California with a twist). It is set to be the biggest open world GTA game to date and features three playable characters. With the ability to conduct high-octane activities from bank heists and skydiving to run-of-the-mill stock trading and yoga, the open world of GTA V is set to redefine the parameters of video gaming.
It is developed by Rockstar North, a studio based in Edinburgh's Greenside Row and features a satirical Scotsman's view of life in America. According to Brian Baglow, who worked as a writer for the first GTA game and now runs the Scottish Games Network (an umbrella body for the nation's game sector:
"By any sort of commercial scale, Grand Theft Auto is easily Scotland's largest cultural export ever. The series has sold something like 135 million copies so far. It's coming up to 17 years since GTA began and it's become something I don't think anyone involved with the original game would have expected.

"The series has come on not just in leaps and bounds, but in long jumps since then. It's become far more than the sum of its parts, it's a fully global phenomenon. This is the fifth major release, and the nice thing is that all of them have been made here in Scotland."
Five years in the making, the game's development and marketing budget is £170 million - the equivalent of a blockbuster film.
But that's just fine with Rockstar; with expectations by industry experts that are set to rewrite the record books, that's nothing compared to what they'd be getting back if all things go as planned. 25 million copies are expected sell in the first year alone which would achieve sales of £1 billion.
And they aren't the only ones that are confident in GTA V's success. Shares in Take-Two Interactive (Rockstar's parent firm) have nearly doubled in value in the past year.
Which isn't surprising considering the work that's gone into this game.
Rockstar North's staff is 300 strong, and was put to work analyzing census data, vehicle sales records and hundreds of thousands of photographs to depict Los Angeles and its environs. They shipped out Aaron Garbut, University of Dundee graduate and series art director, to California several times to consult off-duty police officers and architectural historians to create a bustling alternate reality. According to him:
"I think, most of all, what we've done is create a world that you can lose yourself in. A place that's interesting and fun to live in. I've effectively lived more in the game world than I have in Edinburgh over the past several years as we've filled it out."
And while the filthy ESRB ratings spoilers and the sporadic leaks of gameplay and music have gotten people talking, Baglow believes that the GTA franchise has really become a cornerstone of modern entertainment:
"For many people in power globally, GTA is just a great big red flashing light because it's perceived as something bad and violent, defined by tabloid hysteria," he said. "But if the series was just about gratuitous violence, it would not have achieved the sales and success it has.

"It is a massive cultural and creative success. It's arguably bigger than the next Star Wars film, and the games industry has been behind GTA from the get-go. I'd really like to see the UK government acknowledge the fact one of the biggest entertainment franchises in the world was made here."
And while it is all about a fictional America, GTA V's Scottish roots will continue to show up in the game: an in-game stock exchange is named Bawsaq and one of the vast bridges in the game is a replica of the Forth Road Bridge.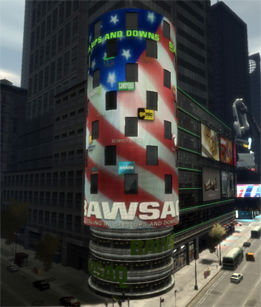 As Baglow says:
"We can sometimes have a schizophrenic idea about culture in Scotland. There's an idea that because GTA is set in contemporary America, it has nothing to do with this country. On the other hand, we are critical of things dripping with tartan, shortbread and wee Scottie dogs.

"This isn't something exclusive to video games, it's the entire cultural sector. Until we feel confident enough to go out and achieve a big product which happens to have been made in Scotland, but isn't necessarily Scottish, I think we will keep running into problems."
Console gamers will be able to get their hands on a copy of GTA V on September 17 when it will be released on the PS3 and Xbox 360. A PC release is expected but has not yet been announced.
Published Sep. 16th 2013