Update: Sarkeesian FanArt Issue Under Debate
Sarkeesian resolves copyright allegations with quick open dialogue.
Earlier this morning, I wrote that Anita Sarkeesian had been accused of stealing FanArt for her Troves vs Women in Gaming project. However, as of fourteen hours ago, Tamara Smith reports that Sarkeesian has been in touch, and the issue is being resolved.
While I predicted that only the trolls would be quick to judge, I failed to realize that my immediate condemnation of Sarkeesian also came too soon.
For that I apologize to both Sarkeesian and Smith. Their polite debate and engagement is a model that I hope to follow in the future as I endeavor to first give people (particularly my heroines) the benefit of the doubt.
I had hoped that Sarkeesian and Smith could publicly resolve Smith's complain in mature dialogue. This hope has been realized, something I thought impossible given the gaming community's history of responding to detractors.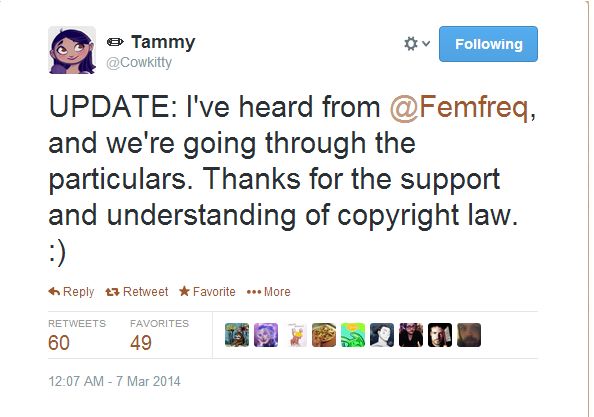 While the situation has not been resolved to Smith's satisfaction, Sarkeesian has been in touch and the two are continuing dialogue regarding the use of Smith's artwork in Sarkeesian's work.
Tamara Smith and Anita Sarkeesian have ultimately provided us with positive model for both criticism and response.
It is a completely valid thing to criticize an issue, particularly if you feel like your work has been stolen. In both her initial letter and in her public address of copyright concerns, Smith was by open and honest, allowing for polite debate of the issue. Her insistence on polite dialogue and working through the proper channels has been amazing to watch, as has her clarification of copyright law.
While simple bibliography may have circumvented this issue in the first place, Sarkeesian's willingness to engage is exactly how a creator of any public content should respond when faced with valid criticism. Hopefully Sarkeesian can continue to this dialogue to the satisfaction of her own followers and Smith.
While I may still have some mixed feelings regarding Sarkeesian's initial use of the image (and whether Fair Use laws are completely adequate in many regards), I am appreciative of the conduct of both parties. Thanks to both ladies for modeling how professional an internet argument can be, and teaching me to: 1) hold my horses 2) check my sources.
Published Mar. 7th 2014