EVOLVE or Die: First Impressions of Turtle Rock's Goliath New 4v1 Alien Co-Op Multiplayer
This IS pretty much running from a Tyrannosaurus Rex
Just yesterday, a first time demo of Turtle Rock's new gaming title, Evolve (developed by many of the original Left 4 Dead staff) , was presented to the gaming public at the gadget show in Birmingham, UK.
I had the fortune (and adamant desperation) of playing two matches on this title, despite having to spend most of the day picking times to creep into the slightly smaller queues. I managed to have a game with both the 'Beast' (known as 'Goliath' in this particular level), and a gun-slinging medic from a foreign planet, or universe, or somewhere that's not here.
From what I've briefly seen so far, this game has a fantastic balance of intense concentration, and adrenaline pumping insanity. I couldn't help but also try and shine with each individual class I got to play as; trying to best utilise their special abilities. Although perhaps more can be said about my pathetic, mandatory neediness toward impressing absolute strangers.
Anyway...
The objective of Evolve is to -- as the 4 player human squad -- eliminate, or 'hunt' the 'beast'. There are four main classes: Assault, Support, Medic and Trapper. Each has very unique characteristics that are all integral to eliminating the beast.
Assault deals the main damage, using proximity mines and Assault Rifles. Support provides a balanced amount of offence and defence, providing shields to his comrades, whilst also wielding a laser cannon.
The medic is the cornerstone of the team's survival. She provides health to the team, exposes weak points on the beast with a sniper rifle, and exposes and slows down the beast with a tranquilizer.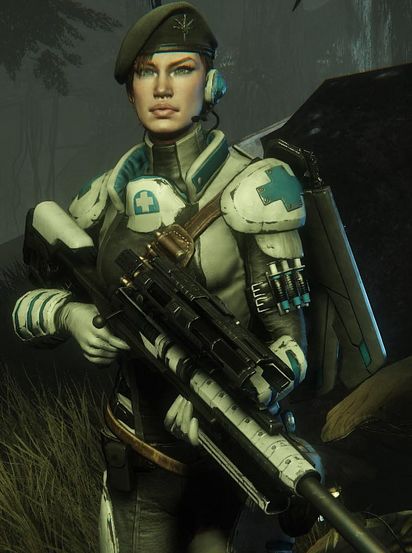 The trapper is also extremely crucial in the early game; as the best, if only seemingly possible time to eliminate "Goliath", is in its early stages of 'evolution'. He must use his abilities effectively keep the beast within range early on. For example, setting up large impenetrable domes that surround areas to keep the "Goliath" trapped, or temporarily stopping the monster in its tracks with a harpoon gun.
"Goliath" gets a 20 second headstart in order to begin evolving (each evolution is a level up for "Goliath". To do this as the 'Beast', one must find, kill and devour succulent alien giblets. All the while, the main intention is to avoid the hunters. This process is drawn out, all whilst the hunters devise how to kill you. If, however you evolve twice to the level cap..how the tables do turn. Essentially:
The hunters become the hunted.


In the demonstrated scenario, once the beast has evolved to level 3, that player then gets the objective of destroying the not so elusive generic generator (AKA the 'genericator').
"A bit like Dino Horde!" you might ponder. Erm.... yeah? But, actually good. Can you spot the difference?
Although seemingly daft, it forces a conflict to have to happen. A time limit is initiated. And if the initial hunters are still surviving after then --provided Goliath hasn't destroyed the genericator -- they win.
My first thoughts were that the 'Beast' seemed too over powered. Given the context of my time playing it however, this is understandable.
Team work and strategy are the roles of the 4 man team; Playing with three equally socially awkward strangers in your peripherals does not optimise the level of social cooperation.
Evasion until having enough power is the beast's main strategy. Playing a round as Goliath, and then a round as a medic respectively, I found the dynamics between the two very satisfying; as if they were two different games.
The feeling of beating an entire group of four people at once is a great one. Setting them alight, throwing giant rocks at them, knocking them flying 40 foot across the map, or charging and slamming into multiple players at once was truly gratifying.
Eye contact was not made with my adversaries when I beat them.
It's not as good on the receiving end, however. Losing the second game made me appreciate how it in fact felt to be beaten by one player against four. I think there is a degree of embarrassment felt by losing to one against four, which makes you try that little bit harder.
What is great about this game is that it can be played in an aggressive and almost reckless way as the 'Beast', or particularly strategically. I hope to see the matchmaking cater for this. It'll be interesting to see how "Quick Matchmaking" works, given the strong dynamics of this game. Could it dilute the gaming mechanics?
Being Goliath against a team that has never played the game before is all too easy. there are real prospects to what this title could present. The very unique game mechanics, that ironically give the larger side at times detrimental disadvantages, excites me.
It will mean that this game requires, even forces players to play as their class role in a very specific manner. If the learning curve for the final release is acquired by most, it will make for some very special multiplayer moments.
The Goliath is too fast. It is too powerful. But I'm anticipating that this is the entire point. It is hard to see in barely an hours worth of gameplay the true potential of this game.
On the surface it is primarily founded upon such a simple basis. Yet it does this in such an intentional manner, cloaking the far deeper concept and intricacies. It shares team fortress class based weaponry, with a DotA ideology. I mention the latter in the sense that it appears that not one single individual can be a weak link within the team and still win. And it obviously shares strong ties with Left 4 Dead and its strong ties to essential cooperation.
My least favourite aspect of L4D was (and still is) the community itself- I would love to see this game force the more narcissistic players to avoid playing altogether, whilst changing what people think gaming and teamwork is about. But that's probably high hopes from playing a new game for an entire 50 minutes.

This gaming ideology very much runs parallel with Left 4 Dead; however in L4D, a weak individual on the human side can always be counterbalanced by a weak 'infected' player. When one giant, overpowering, vastly speedy monster is both capable of quick evasion and intense ambushes that can finish a game in mere seconds, that counterbalance is not in place. Unless of course, the Goliath character is particularly bad or off form.

Its honestly difficult to assess the true potential of an admittedly heavy skill and knowledge based game, when played amongst equally unskilled, unknowledgable players. But there's certainly still a lot of potential to pick up on.

I felt perhaps one of the biggest issues is that --although you are equipped with jetpacks -- you can never keep up with the beast. In the same respect, it is very difficult to maneuver away from it also.
I feel there needs to be a greater number of NPC aliens, and less to be gained from the monster eating them. perhaps even introducing more evolutionary levels would balance it out. From the beast at level 2 evolving to level 3, it goes from vulnerable to almost invulnerable.
But maybe I am missing the point - maybe that jump in the beasts empowerment is what will greatly steepen the learning curve and the full extent by which players must not only skillfully play, but immaculately cooperate.
Also, it would be great to see the other levels with different beasts have alternate 'special' moves. Perhaps that is in the pipeline - or perhaps it is asking too much.
In around 6 months, we will be able to see what is in store. I'm betting something very good, if not great. But I think for now I'm over-speculating.

Turtle rock have a very good thing going on here, and if they manage to tweak and perfect it come the release date, then it could be an absolutely fantastic piece of gaming.


Published Jun. 16th 2020