Toxic Players Finally Getting Their Just Desserts In League of Legends
Have you ever gotten sick of the bile spewing, puss-filled mud hut lurking troglodytes that the League Of Legends community has? Well you're in luck because now, after all these years Riot is finally dealing out swift justice to those who poison the game experience for everyone else.
Have you ever gotten sick of the bile spewing, puss-filled mud-hut lurking troglodytes that the League Of Legends community has? Well you're in luck because now, after all these years Riot is finally dealing out swift justice to those who poison the game experience for everyone else. Riot will be dealing fourteen day bans up to permanent bans to these sort of players.
They said they will be testing this method of curbing the sort of behavior caused from these sort of players one sever at a time. These will then apply to certain regions then to the entirety of the game of League of Legends itself.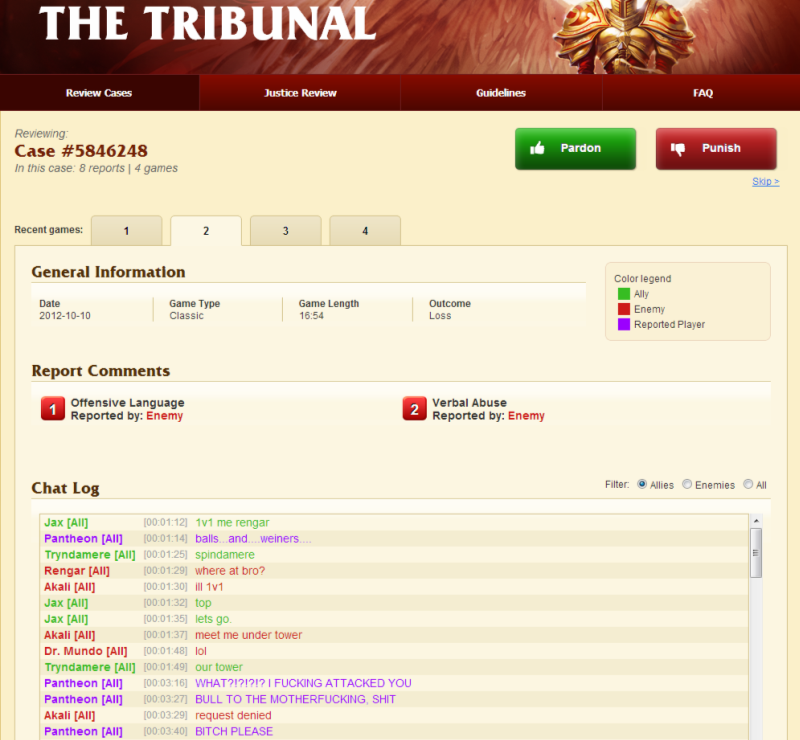 In the past people have been able to fight their bans and this won't change but now Riot has updated their overall policies on publicly naming and shaming players that exhibit toxic behavior. On Reddit Dr. Jeffrey Lin or "Professor Doctor Lyte" made a comment explaining the new system :
"[W]e've learned in recent months that being transparent is extremely critical to the player base's trust in our systems, so we've decided to do a compromise. If players complain about unfair bans for this particular system ... we're going to be fully transparent and posting the chat logs that resulted in the ban.

"Some players have also asked why we've taken such an aggressive stance when we've been focused on reform; well, the key here is that for most players, reform approaches are quite effective. But, for a number of players, reform attempts have been very unsuccessful which forces us to remove some of these players from League entirely."
Other than causing the team to lose the game because they didn't get what they want, toxic players have also been known for being racist, sexist, giving out death threats, rape threats and being unkind people in general. Anything that will help clean up the filth that lines the otherwise very fun community of Riot Games is a welcome change of pace.
Published Jul. 23rd 2014