Grand Theft Auto: San Andreas Comes to iOS, Android, and Kindle Fire HDX
Take the massive world of San Andreas with you in your pocket!
With Grand Theft Auto (GTA) V tearing a hole in all previous records and successes, it's easy to forget some of the classic installments in the series that came before it. However, Rockstar Games seems keen to remind us that GTA V isn't just a one-off by making one of the earlier GTA Games, Grand Theft Auto: San Adreas (GTA:SA), available on our mobile devices.
Port Perfect?
Console game ports to mobile devices haven't always been the most successful and user-friendly. The problem is how to recreate games that would have been played on a fully functional controller playable on a flat surface. Whilst Rockstar Games have made every effort, there are already reports that the standard touch-screen controllers are actually very goo. Touch Arcade (reviewing the iOS version) makes one of these claims that Rockstar Games have actually done a decent job.
"There's a number of virtual control options, including digital and analog steering, analog sensitivity, invert look, complete customization of where the buttons are on screen, and tons more. If you've got an iOS game controller the game works with that too… And while it's definitely "better" with physical controls, GTA:SA isn't a game I'd drop $99 on a controller for exclusively--Particularly with how much effort Rockstar put into the touch interface. The default controls are good enough that I haven't really even bothered with strapping my controller in, which I think is exactly what you'd want in a game like this. The only real benefit of using a controller is it feels like the camera becomes a little easier to control, but, again, it's not like it's difficult to control to begin with."
GTA:SA Gets A ProLaps Work Out
As well as building comprehensive controls into the port, Rockstar Games have also taken time to give the game a bit of a buff-up. The graphics are now in higher-resolution and boasts improved colour pallets and lighting, proclaiming it to be the "best looking" version of the game ever.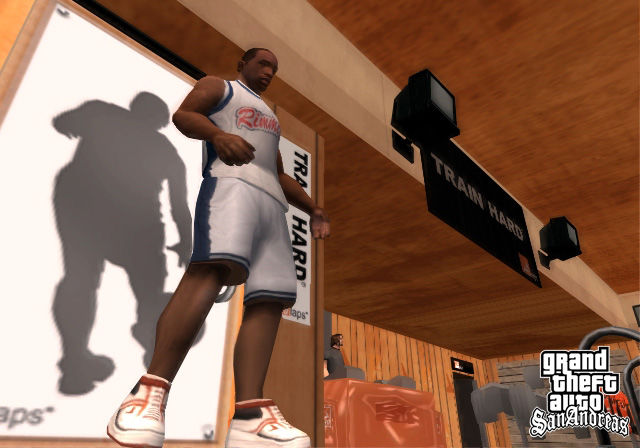 As for the game itself, you can't really go wrong with a Metacritic rating of 95. Back then, it was the largest and longest GTA game to have ever been released. Full of the tongue-in-cheek British satire on 'Murica that made the series such a hit, it's as mad-cap and outrageous as they come.
So, whether you've never played it before and are eager to experience one of Rockstar Game's other masterpieces, or just fancy beating up hookers with a giant double-ended pink dildo all over again on your commute to work, then this port is a real humdinger of a buy.
Grand Theft Auto: San Andreas is available to buy now from respective iOS, Android, and Kindle Fire HDX stores. For more information on the game, visit www.rockstargames.com/sanandreas.
Published Jan. 9th 2014